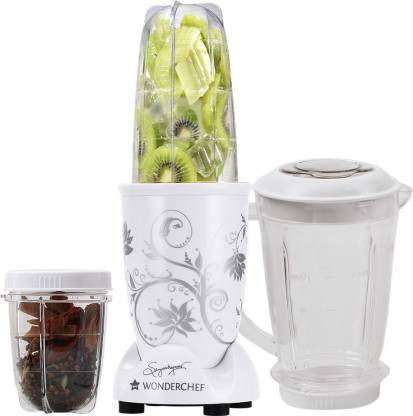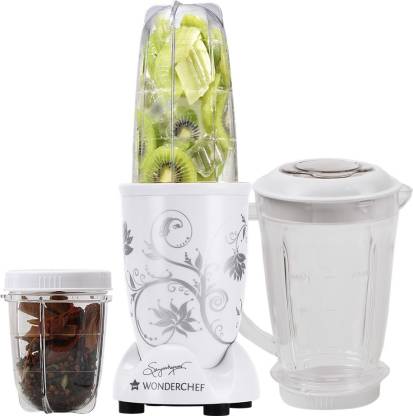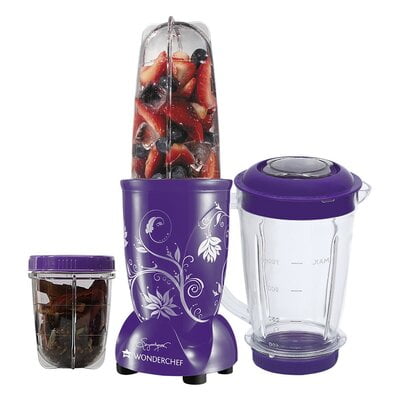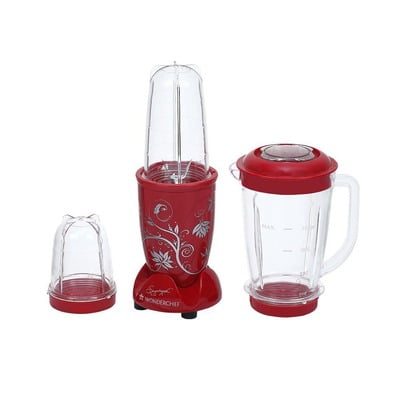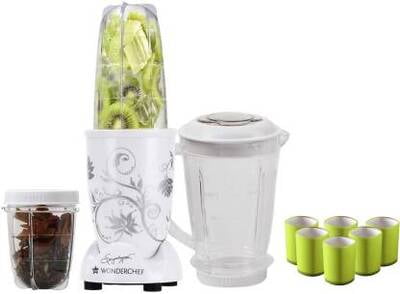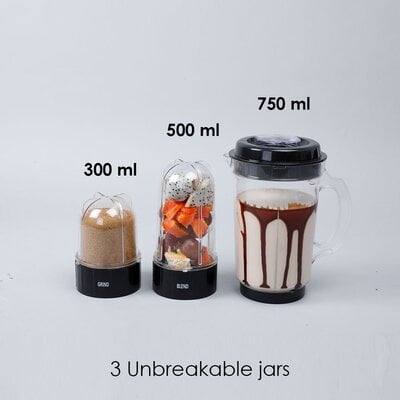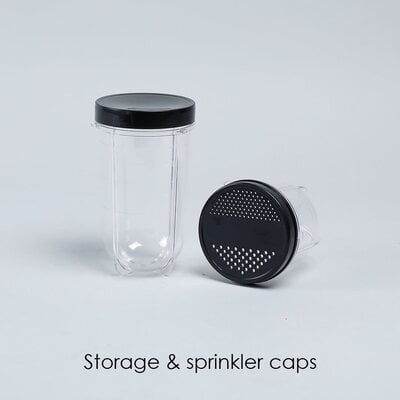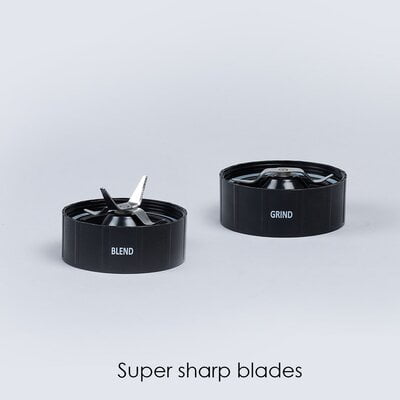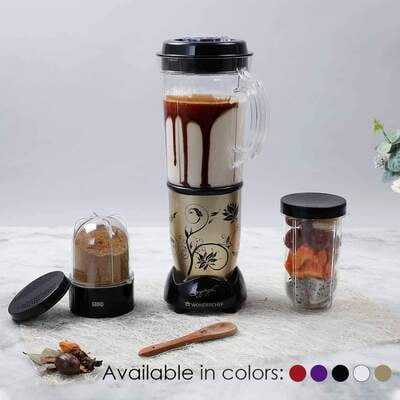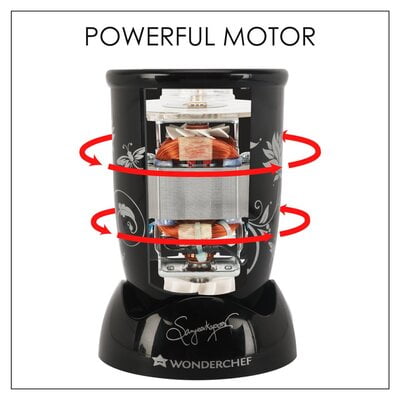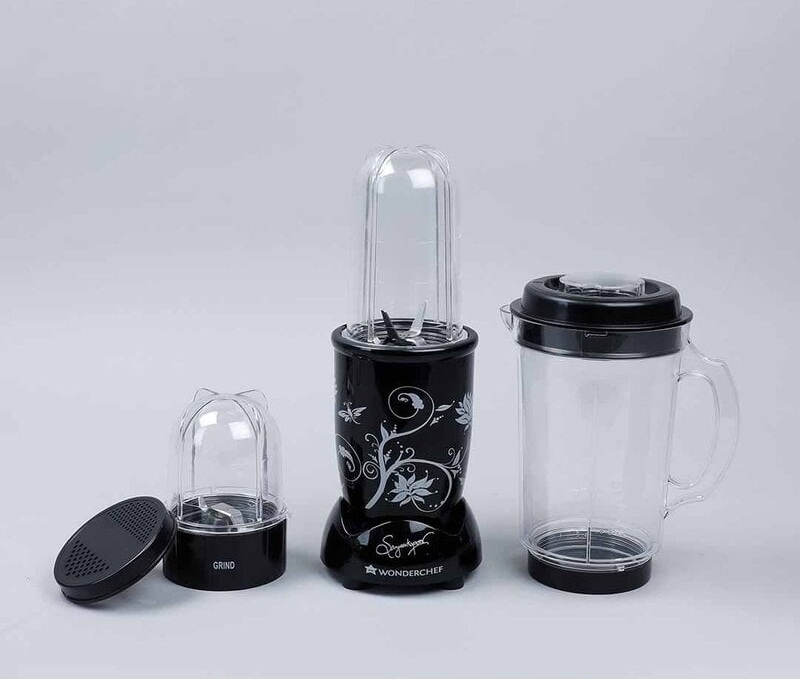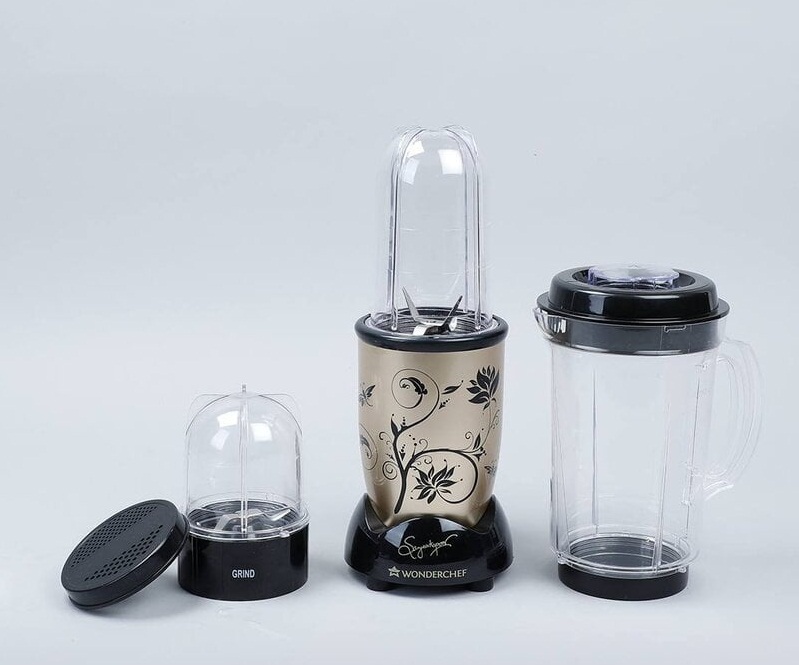 Wonderchef Nutri Blend 400 Watt Mixer Grinder with Big Jar
Get 100% Branded Products Only
7 Days Replacement Guarantee
400W super-fast motor blends and grinds in seconds
Comes with 3 interchangeable jars and 2 separate blades apt for grinding the hardest spices like garam masala, cumin seeds, etc
Steady and safe to use with non-skid rubber
All parts are detachable and easy to clean (additional lid and seasoning cap provided)
Mixing jar to be used with wet blending blade (4 teeth) to make super blends, mixes and purees
Revolutions - 20000 RPM
Warranty: 2 years on motor and 6 months on spare parts and reliable wonderchef warranty
Wonderchef Nutri Blend 400 Watt Mixer Grinder 3 Jars
Wonderchef Nutri Blend 400 Watt Mixer Grinder 3 Jars
Nutri-blend is India's #1 mixer grinder for so many reasons. It's not only the great looks and superb performance, but also the finely engineered construction and attention to detail that have made it the favorite of over 20 Lakh families across India and many other countries. A Nutri-Blend is sold every minute!Care Instructions: Don't run the Nutri-blend for more than 1 minute at a time. Give it a 3 minute break before using again for best performance. For most applications 20-40 seconds of operation would be enough. Do not use blending blade for dry grinding.
India's Favorite Mixer, Grinder
India's favorite mixer-grinder, Nutri-Blend is known for its power,durability, performance, reliability & great looks. Now Nutri-blend is available with 3 jars - Mixing jar, Grinding jar & a large family-sized jar for shakes and delicious smoothies. It comes with two distinct blades designed for a specific purpose. Nutri-blend is the favorite of every home because of its quality and simple functioning with just a single twist. Get ready to make luscious smoothies, finely ground masalas, tangy chutneys, chopped veggies and so much more in a jiffy.
| | | |
| --- | --- | --- |
| Brand | | Wonderchef |
| Model | | Nutri Blend |
| Generic Name | | Blender, Mixer |
| Manufacturer | | Wonderchef |
| Color | | Red/Black/Purple/White/Champagne |
| No of Jars | | 3 |
| No of Blades | | 2 |
| Jar Types | | Long Jar, Short Jar & Mixer Jar |
| Motor Speed | | 20000 RPM |
| Power Supply | | AC 230 V |
| Warranty | | 1 Year |
| Country of Origin | | India |