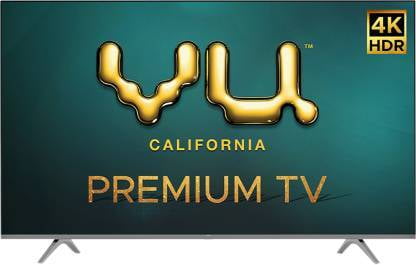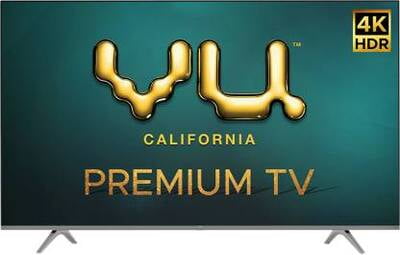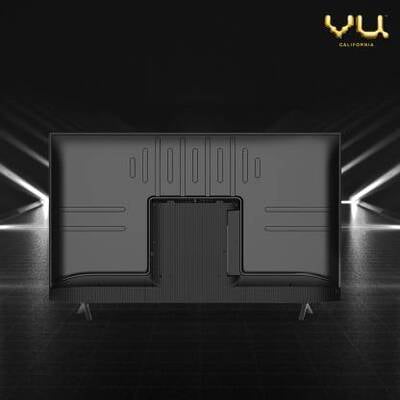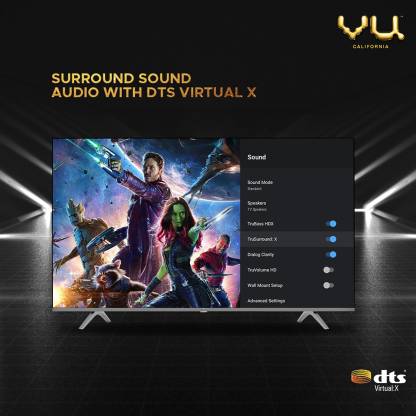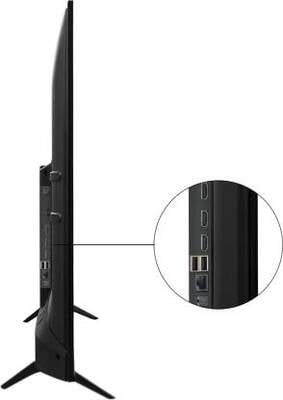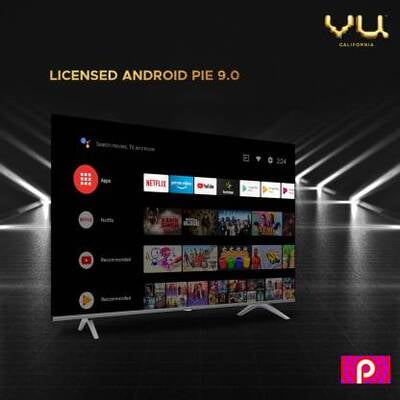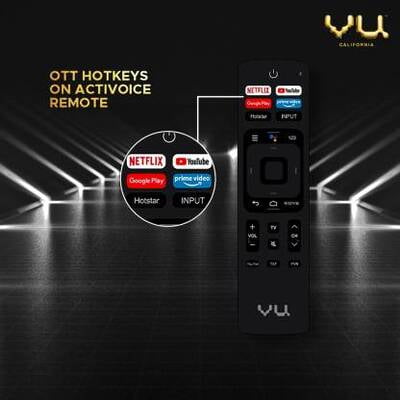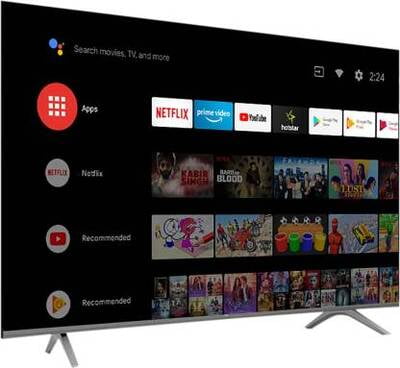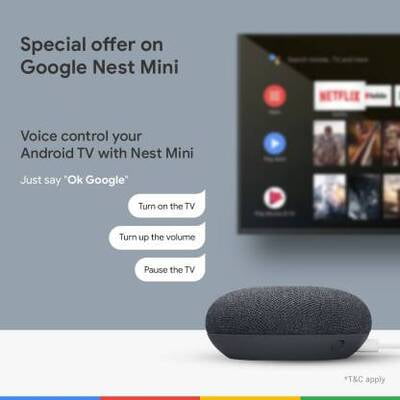 Vu Premium 126cm (50 inch) Ultra HD (4K) LED Smart Android TV 50PM/UT
Get 100% Branded Products Only
7 Days Replacement Guarantee
Supported Apps: Netflix|Prime Video|Disney+Hotstar|Youtube
Operating System: Android (Google Assistant & Chromecast in-built)
Resolution: Ultra HD (4K) 3840 x 2160 Pixels
Sound Output: 30 W
Refresh Rate: 60 Hz
Vu Premium 126cm (50 inch) Ultra HD (4K) LED Smart Android TV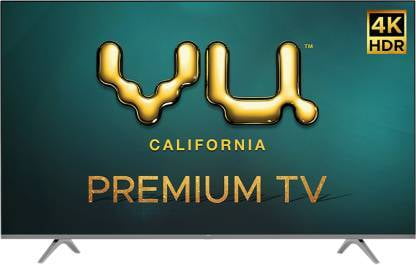 This Vu TV is here to mesmerise you with a cinematic experience in the comfort of your home. The 30 W Box Speakers of this TV with Dolby Audio, help you enjoy every sound and clear vocals so that you can enjoy an immersive experience. The Bezel-less Design ensures that you enjoy a larger than life experience while streaming movies, gaming, and more.
You can enjoy an immersive viewing experience even in broad daylight as this TV comes with a special optical film. With enhanced light reflection and greater overall brightness (with accurate white balance), your TV-watching experience will be enhanced.
This TV makes use of a noise-cancellation technology that reduces noise in the content you're watching. And, with 30 W box speakers, you can clearly hear every detail while watching TV.
Thanks to the 64-bit Quad-core Processor and 2 GB RAM, you can enjoy smooth TV performance. You can also enjoy seamless streaming of content with this TV as it's equipped with a 4-core CPU with a powerful GPU and up to 16 GB of storage space.
The Active Voice Remote of this TV allows you to stream content across various preloaded licensed apps, such as Netflix, Prime Video, YouTube, and more with the touch of a button.
This TV features a thin and bezel-less design. The LED panel produces accurate colour tones and an optimal black and white balance. This way, you can enjoy the clear visuals on the TV screen.
This technology combines multiple advanced machine learning algorithms with a state-of-the-art DSP (digital signal processor) to give you seamless audiovisual playback for VOD content. This way, you can enjoy a cinematic experience while streaming content on Netflix, YouTube, and more. The upscaler technology showcases actual colours and details to give you a real-life viewing experience.
This TV makes use of Dolby Vision, HDR10, and the HLG technology to ensure sharpness, depth, colour details, and more to enhance the clarity on the TV screen. This way, you won't miss out a single detail.
Deeper Black Details and Active Contrast
Even in dark settings, you'll be able to view minute details on-screen, thanks to the direct LED matrix, optical polarized film hardware and the unique Active Contrast technology. With this technology, you can enjoy viewing improved details in the images.
With the Vu TV Cricket Mode, you can enjoy a stadium-like experience in the comfort of your home. You can enjoy up to 100% Ball Visibility even during fast-paced moments in the game.
Surround Sound Audio with DTS Virtual X
You can enjoy enhanced sound quality, a powerful surround sound experience, and greater dialogue clarity, thanks to the TruBass HDX, TruSurround X, and the Dialogue Clarity features of this TV.
You can clearly hear every dialogue and song lyric in every movie, thanks to the Dolby Multistreamer Decoder MS12 feature. It helps decode almost all universal audio content to give you an enriching experience.
With this TV, you can go through unlimited content from the Google Store, Google Games, Google Movies, Netflix, and more so that you can stream content and play games. The simplified user interface with fast navigation will help browse through content and play whatever you like with ease on the TV.
Thanks to the Google Play Store, you can gain access to dozens of shows, movies, and games. You can customize your content preferences and apps with a simplified interface. Parental control enables you to block unsafe content for your child's betterment.
With the built-in Chromecast feature of this TV, you can watch movies, photos, and shows from your compatible Android phone or Windows or Mac laptop on the large screen TV. The Google Home mobile app can serve as a smart controller so that you can cast and control the content from your mobile phone.
This TV is equipped with many ports to give you a range of connectivity options. You can use the USB HDD port to play movies. You can directly connect your Blu-ray player or setup box with the HDMI port so that you can easily watch movies on the big screen. You can even connect external speakers through ARC, Bluetooth, and so on.
| | | |
| --- | --- | --- |
| Brand | | VU |
| Model | | VU 50PM |
| Model No | | 50PM |
| Generic Name | | Television |
| Manufacturer | | VU |
| Display Size | | 126 cm (50 Inch) |
| Screen Type | | Led |
| HD Tech & Resolution | | Ultra HD (4K), 3840 x 2160 |
| Series | | Premium |
| HDMI | | 3 |
| USB | | 2 |
| Built In Wi-Fi | | Yes |
| Number of Cores | | 4 |
| Processor | | Quad Core |
| Graphic Processor | | Dual Core |
| Ram Capacity | | 2 GB |
| Storage Memory | | 16 GB |
| Operating System | | Android |
| App Store Type | | Google Play Store |
| No Of Speakers | | 2 |
| Speaker Output RMS | | 30 W |
| Power Requirement | | AC 100 - 240 V, 50/60 Hz |
| Power Consumption | | 120 W, 0.5 W (standby) |
| Warranty | | 3 Year |