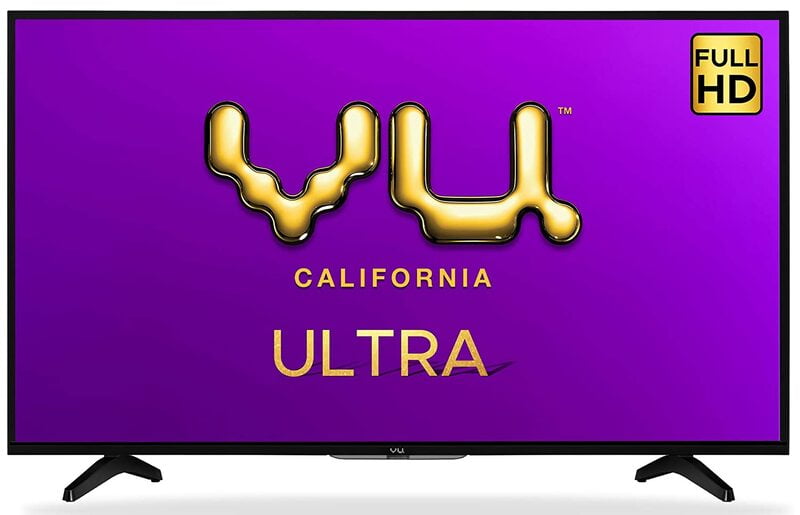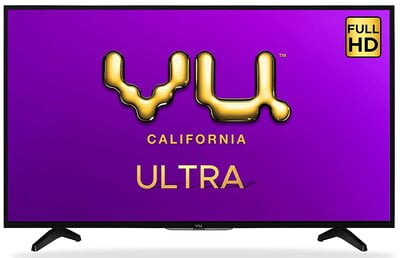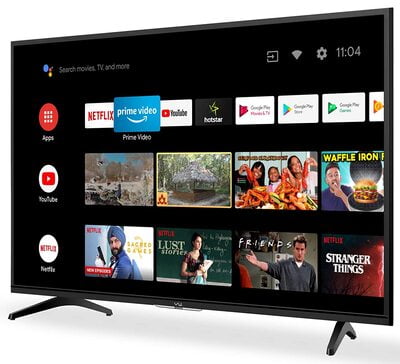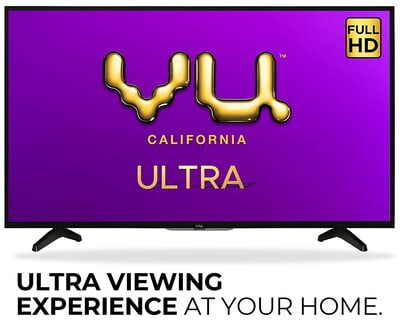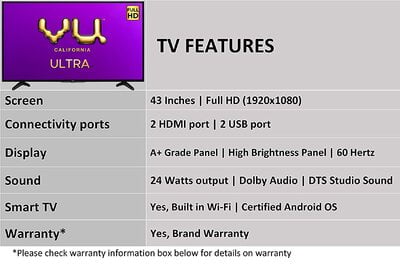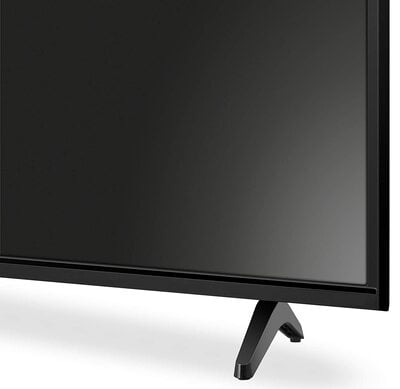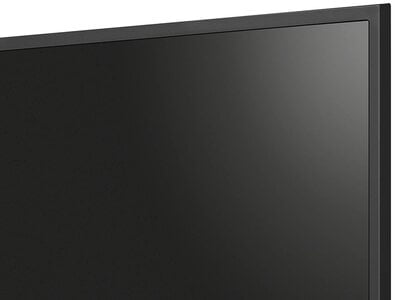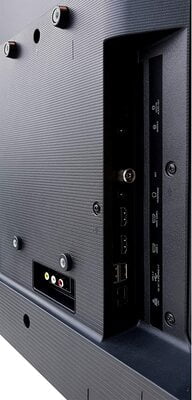 VU 108 Cm (43 inches) Full HD Ultra Android LED TV 43GA
Key Features

:-
Resolution: Full HD (1920x1080) | Refresh Rate: 60 hertz
Connectivity: 2 HDMI ports to connect set top box, Blue Ray players, gaming console | 2 USB ports to connect hard drives and other USB devices
Sound : 24 Watts output | Dolby Audio | DTS Studio Sound
Smart TV Features : Official Android Pie 9.0 | Google play store | Google Eco-system (Movie, TV, Music, Games) | Google Games | Chromecast Built In | Bluetooth 5.0
Display : A+ Grade LED Panel | High Brightness Panel | Adaptive contrast | MPEG Noise Reduction | PC and Game Mode
Additional Features : Licensed Apps-YouTube, Netflix, Prime Video, Hotstar, Google Play Hotkeys on Remote Control | ARC and SPDIF port to connect external sound system
Warranty Information: 1 year warranty provided by Vu from date of purchase
VU 108 Cm (43 inches)
43GA
Full HD Ultra Android LED TV
Dillimall Provides you a wide range of LED TV ait reasonable price some of Android and Smart. VU is one of the Premium international brand. VU 43GA 43 Inch Full Ultra HD Android LED TV comes with 24 watts output Sound, Dolby Audio and DTS Studio Sound. There is Built in Chromecast or 5.0 latest Bluetooth Technology.
It comes with official Android Pie 9.0, Google Play Store, Google Eco-system and Goole Games, Chromecast Built in and Bluetooth 5.0. A+ Grade LED Panel, High Brightness Panel Adaptive Contrast and MPEG Noise Reduction and PC Or Game Mode.
Pure Prism Panel with best viewing experience




OTT hotkeys on Remote with Licenced Apps

With pure prism panel, Vu delivers high intensity colour definition and accurate white balance for best viewing experience even in day light. Vu ensures even brightness across all edges and corners and calibrated white balance for bright colors tones.



Netflix, Amazon Prime Video, Hotstar, YouTube& Google Play Premium Licensed Apps on Remote

:

Licensed apps like Netflix, Prime Video, YouTube, Hotstar & Google Play on remote which creates more engaging and effortless opportunity for users to use videos & apps in the fastest way. At touch of a button you can instantly access your favourite apps.
.

Official Google Play store with Android PIE 9.0




Adaptive Contrast with Digital MPEG Noise Reduction

Powered with Android PIE 9.0 give access to the entire Google ecosystem like Play Store, Google Games, Google Movies. Official Google Play Store with 8GB Storage and thousands of movies, shows and games from Google Play, YouTube and your favorite apps. Now explore more content with official Android OS.




See every picture details with intense contrast. Automatically darken dark areas and lighten light areas of images to see more details. MPEG noise reduction reduces MPEG block noise and provides clearer edge transitions. Improve how clear the picture appears by reducing noise.

.

Amplified sound with Dolby Audio




Surround sound audio with DTS Studio Sound

The Dolby Multi stream Decoder provides TV with a single-package solution for decoding all universal audio content worldwide. Supported Dolby Audio formats are Dolby Digital, Dolby Digital Plus.




Delivers an immersive surround sound experience and boost the frequency range of human voice so dialog is clearly understood and heard above audio or surround effects.

.

Thrilling performance with PC and Gaming Mode




Google Chrome Cast with Bluetooth Connectivity

Calibrated refresh rate and resolution for best Gaming experience and Computer mode. See every detail very clearly with optimized brightness for using the screen for long time without hurting your eyes.




With Chrome cast built-in, you can easily cast movies, shows and photos from your Android, Windows device to your Vu TV.Built-in Bluetooth with 5.0 versions you can connect your external sound bar, headphone, gaming joystick & other Bluetooth devices.

.

Premium Matt Design with Black Aesthetics




Vu TV with Cricket Mode

The ABS+GF materials for steady quality. Plastic mat black bezel with glossy black decorative strips adds some pulsating luminosity. "Matt Black" embodies classical elegance and a fascinating lifestyle.




Get the stadium home with Vu TV Cricket Mode! Advanced technology to always ensure 100% Ball Visibility, even when it is in full motion against the backdrop of the stadium with respect to the ground, sky or audience.

.

Powerful Performance with 64-bit Quad –Core Processor




Seamless Connectivity with ease

This Vu TV comes with a 64-bit Quad-Core Processor and 1 GB RAM for smooth operations. The new generation 4-core CPU with powerful GPU and 8 GB storage offers seamless performance for functioning and streaming of your favourite content.




Play your movies with USB HDD, Blue Ray player or directly connect your setup box. Connect your external speakers through ARC, Optical or Bluetooth. With 2HDMI, 2USB, LAN, stream any content on the big screen.