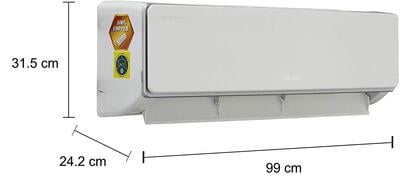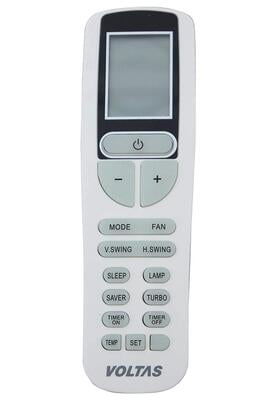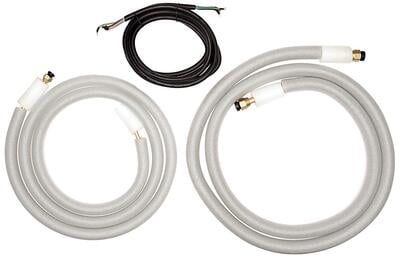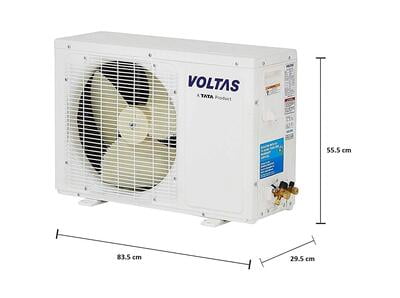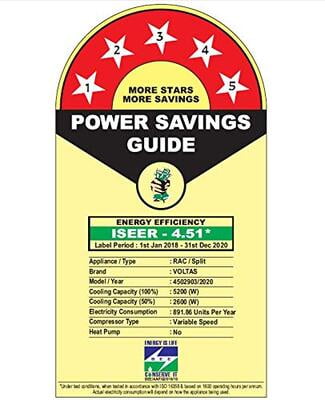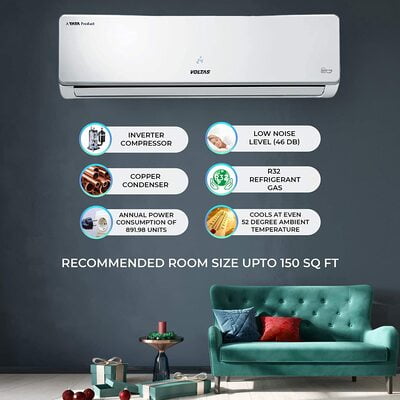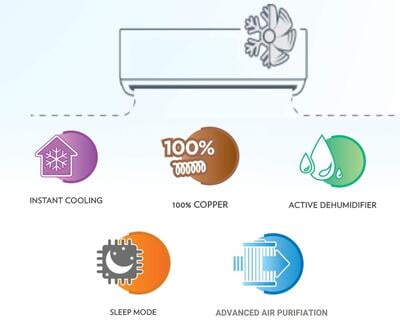 Voltas 1.5 Ton 185V SZS(R32) 5 Star Inverter Split AC
Get 100% Branded Products Only
7 Days Replacement Guarantee
Split AC; 1.5 ton capacity
Energy Rating: 5 Star
Warranty: 1 year on product, 1 year on condenser, 5 years on compressor
Capacity: 1.5 ton. Suitable for medium sized rooms (111 to 150 sq ft)
Refrigerant type: R-32. No ozone depletion potential & low global warming potential
The latest features and technology make this Voltas 1.5 Ton 5 Star 185V SZS Split AC a lovely addition to your living space
Voltas 1.5 Ton 185V SZS(R32) 5 Star Inverter Split AC
Dillimall Present The Voltas 1.5 Ton 185V SZS(R32) Inverter Split AC.
The latest features and technology make this Voltas 1.5 Ton 5 Star 185V SZS Split AC a lovely addition to your living space. The air conditioner is an ideal option for your home cooling needs. Beat the temperatures outside and enjoy a relaxed atmosphere in your room as the Air Conditioner with its efficient cooling system and even more efficient power consumption level ensures that you enjoy the best results.
Voltas All Star Inverter AC Advantage
Powered by DC Inverter Technology, it reduces power consumption by maintaining an ideal temperature without frequently turning the compressor on and off.
| | | |
| --- | --- | --- |
| | | |
| | | Stabilizer Free Operation |
| Keeps you comfortable even at 52°C. | | Works under a wide operating range, protecting the AC if there are voltage fluctuations. Moreover, there is no need to use an additional stabilizer with the AC because of its low startup voltage. |
| . | | |
| | | |
| Copper condenser coil | | Active Dehumidifier |
| Copper condenser coil is more durable & delivers efficient cooling. | | Senses the indoor humidity and controls it in monsoon. |
| . | | |
| | | |
| R32 refrigerant | | Advanced Air Purification |
| R-32 refrigerant minimizes harm to the environment. | | Provides cleaner air by removing harmful odours. |
| . | | |
| | | |
| Low Frequency Torque Control | | Multi Stage Filtration Advantage |
| Constant temperature and energy saving. | | Removes dust and other harmful particles to give you cool and fresh air. |
| . | | |
| | | |
| 4 Way Auto Louver | | Steady Cool Compressor |
| Delivers air uniformly across the room | | Voltas All Star Inverter AC is powered by the Steady Cool Compressor, that leads to Steady Cooling and Steady Savings. This helps in optimized power consumption, and helps maintain an ideal room temperature, so you enjoy complete peace of mind! |