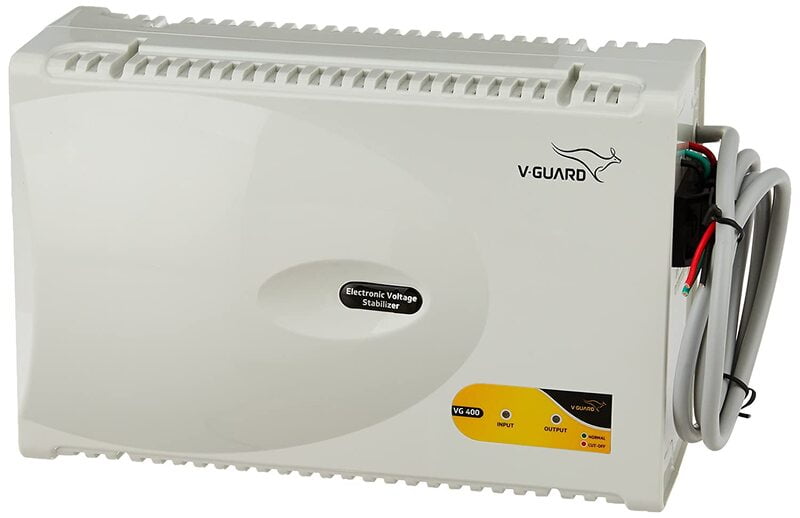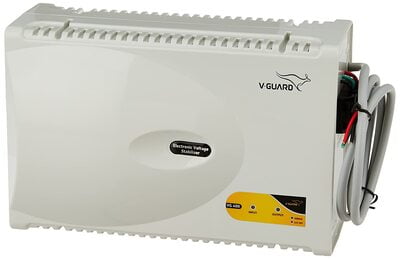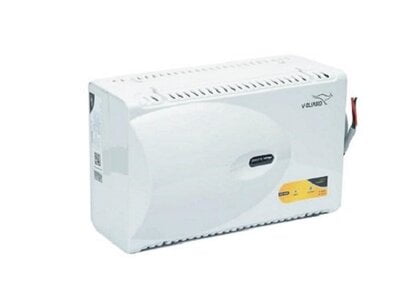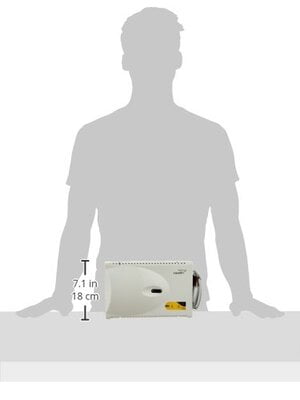 V-Guard VG 400 Upto 1.5 Ton AC Voltage Stabilizer
Key Features

:-
For AC upto 1.5 Ton
LED Indicator
Built in thermal overload protection
Low and high voltage cut off
Initial Time Delay System
V-Guard VG 400 Upto 1.5 Ton AC Voltage Stabilizer
Dillimall provides you a wide range of Voltage Stabilizer in India. Buy V-Guard VG 400 1.5 Ton AC Voltage Stabilizer with Built in Thermal overload protection and Initial Time Delay System.
V-Guard VG 400 Voltage Stabilizer powered by advances technology to match with your highly
sensitive
and efficient appliances and enhance their productivity. In case of a high temperature burnout, the VG 400 is loade with an in-built Thermal Overload Protection that protects the appliances from such
travesties
. The VG 400 is made of ABS material that is durable and lasts a long time. It can be mounted on wall for your convenience. It works in a range of 170 V to 270 V. So now you can go on with your daily routine peacefully and rely on the V-Guard Voltage Stabilizer VG 400 to keep your appliance safe from uncertainties of power outages and fluctuations.
Smart and intelligent Voltage stabilizer
Your climate control system can shield you from the mid-year heat yet who will shield the forced air system from the force vacillations and abrupt blackouts? Introducing the V-Guard Voltage Stabilizer, that can shield your AC from such everyday force glitches. Keeping such a machine-like forced air system or cooler shielded from power variances likewise makes them solid for a more drawn-out time. The VG 400 is worked with better IC innovation than give your apparatuses high-level security. The Intelligent Time Delay framework innovation helps the blower gather appropriate adjusting time when there are incessant blackouts. The successive voltage variances can make significant harm to your apparatuses. The VG 400 has a Low and High Voltage Cut-off Protection which shields your apparatuses from threats of unexpected upsurge or really low voltages.
Why Stabilizer for your AC?
The intricate functioning of the air conditioner requires consistent power to the compressor and PCB modules that are highly sensitive to voltage fluctuation. These components work efficiently between 170V - 270V range. Any voltage supply beyond this range can cause significant damage to the compressor and control PCB that are highly expensive to repair. Specially designed range of V-Guard AC Stabilizers deliver precise output voltage (170 - 270V) irrespective of any variation in the input voltage supply.
Intelligent Time Delay System(ITDS)




LED Indicator

ITDS technology ensures a proper safety net for the compressor of your AC. The stabilizer will be switched on immediately if it is in the OFF condition for more than 3 minutes. If the power supply fails and resumes within 3 minutes, there will be a time delay depending upon the period of power failure. If power failure lasts for more than 3 minutes, the stabilizer will be switched ON automatically at the arrival of the power.

The V-Guard VG 400 comes with the user-friendly LED Status Indication to demonstrate the input and output performance. The Input LED will glow when the device is powered up. The output LED will let you know the mode of operation at a glance.



.

Advanced IC Technology Design




Built-in Thermal Overload Protection

Even a small voltage fluctuation may harm the sensitive components of your expensive gadgets such as their PCB, Display Panel, etc. The advanced IC based design circuitry in the V-Guard VG 400 Stabilizer corrects the input voltage much better than the conventional circuitry, thereby ensuring a more reliable output voltage.




Excessive current consumption due to component damage or internal short circuit in the Circuitry or the PCB or the Wiring can lead to overheating of your device. The Thermal Sensor function in V-Guard VG 400 Voltage Stabilizer can sense the excessive current consumption and disconnect the power load, thereby preventing your appliances from burning out.

.

Elegantly Designed Cabinet with Wall mounting Facility




Safety Features

The V-Guard VG 400 comes in a sleek cabinet with wall mounting option so that you don't worry about finding extra space to install it. Its stunning looks will add to the aesthetics of your AC as well as the wall interior.




ow and high voltage cut-off
Advanced IC technology design
Initial time delay