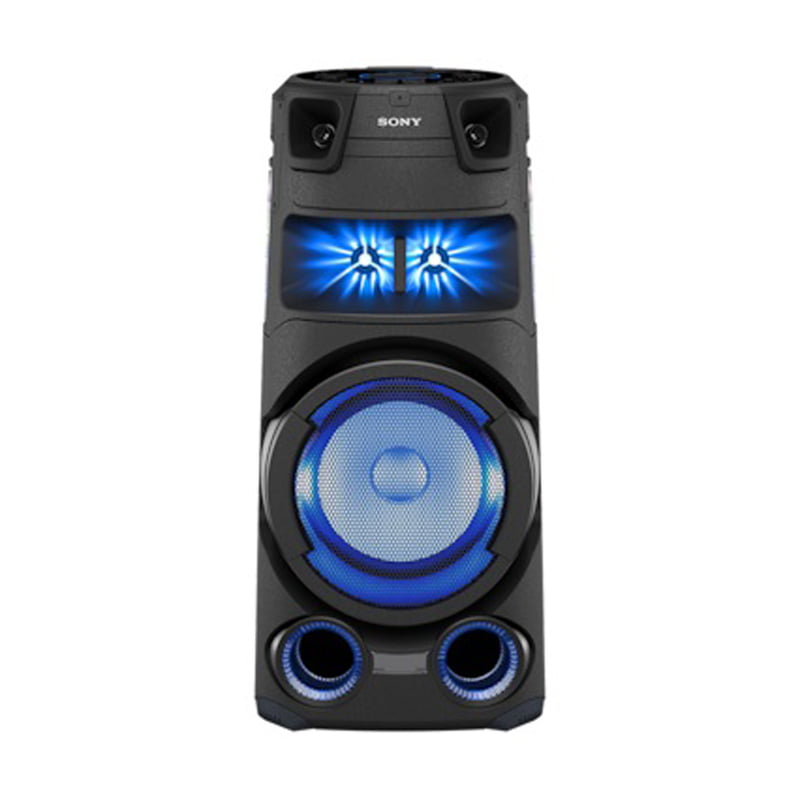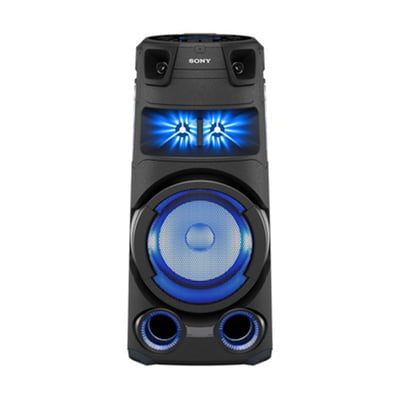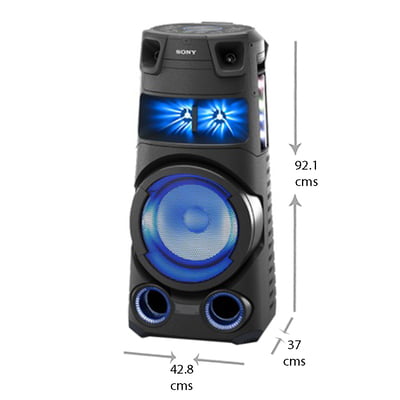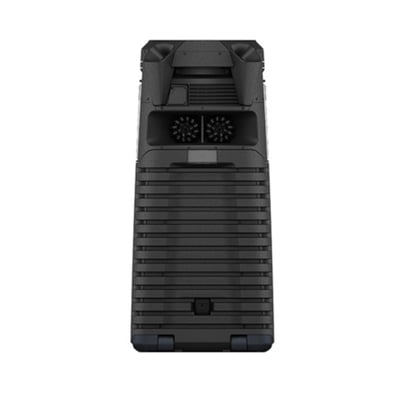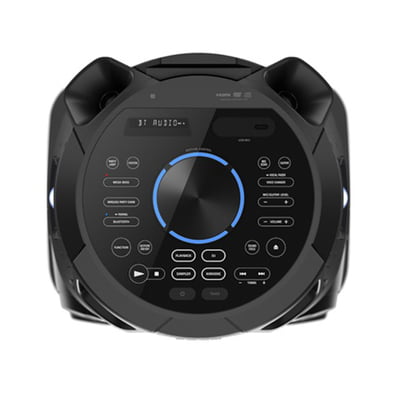 Sony MHC-V73D Bluetooth High-Power Party Speaker
Get 100% Branded Products Only
7 Days replacement Guarantee
Omnidirectional Party Light and Speaker Light
Omnidirectional Party Sound
Party Playlist and Karaoke Ranking, via Fiestable
Gesture Control for Fun and Easy Operation
Integrated DVD Player with HDMI Output
Splashproof Control Panel for Durability
Sony MHC-V73D Bluetooth High-Power Party Speaker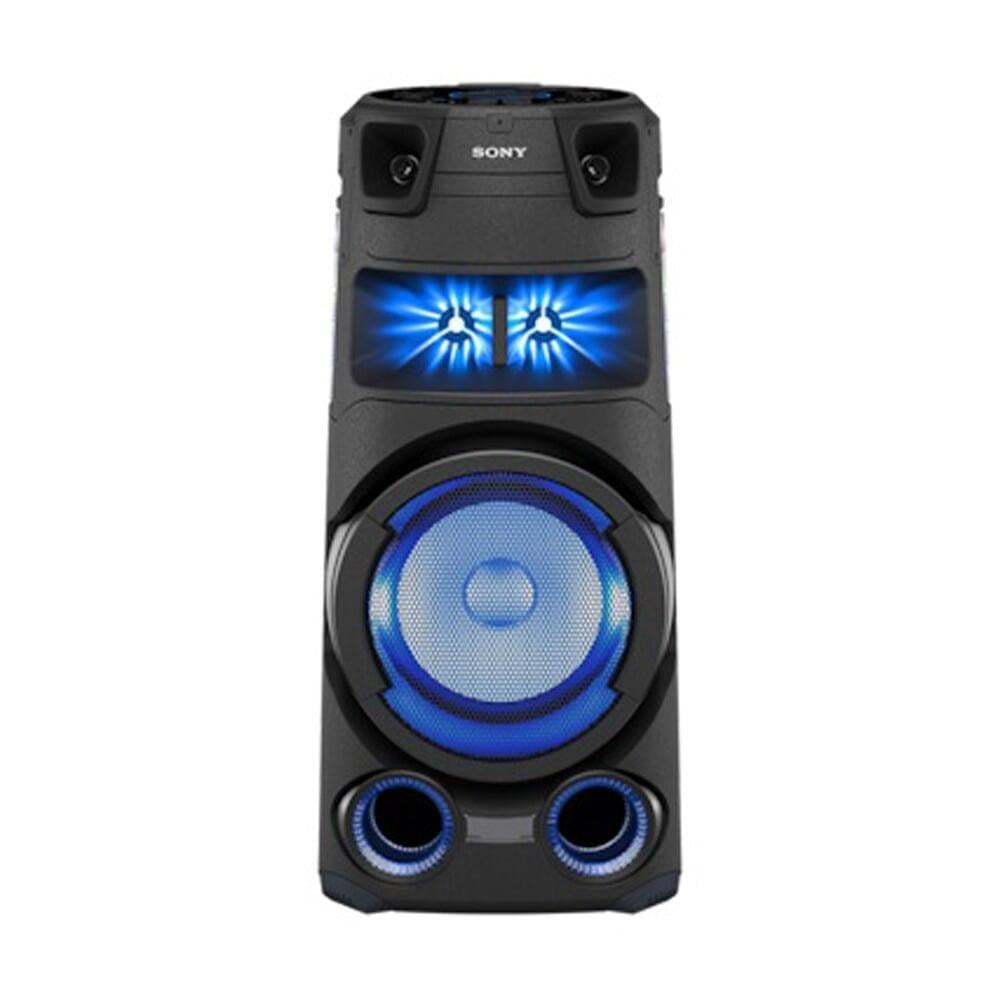 Dillimall Present The Sony MHC-V73D BT Pary Speaker.
Feel the beat of your favourite tracks in every corner of your venue with Omnidirectional Party Sound, then watch as your dancefloor comes to life with the Omnidirectional Party Light and Speaker Light.
Bring stunning sound to the party
Dance and sing along to your favourite tracks wherever you are in your venue. With High-efficiency Tweeters, High-efficiency Mid-range Drivers and angled Mid-range Drivers, your parties will be booming with powerful, vibrant sound to please every partygoer.
Bigger sound with Omnidirectional Party Sound for the best parties ever
Bring the party to everyone, no matter where they are at your venue. With Omnidirectional Party Sound, created by High-efficiency Tweeters and High-efficiency Midrange, your music will reach everyone at your party, whether they are standing or sitting, singing or dancing.
Four High-efficiency Tweeters will completely fill your venue
The four upward-facing High-efficiency Tweeters that use horn tweeters, two on the front and two on the back of the unit, expand the soundstage and increase the sound pressure level upwards, spreading the sound around whatever venue you choose.
High-efficiency Mid-range Drivers, better vocals
High-efficiency midrange that uses mid horn speakers on the front and back distributes sound with improved clarity and sound pressure for the vital mid-range frequencies. This means that whether you're in front of the unit, behind it, close up or far away, you can enjoy clearer vocals as you dance or sing along to your favourite tracks.
Feel the beat at long distances with JET BASS BOOSTER
A tapered bass reflex duct structure concentrates the airflow of the bass sound, so you can hear it clearly and feel it physically, wherever you are in the crowd and over long distances.
Hear it like it's live
DSP Technology creates a festival vibe, giving your music the realistic ambience of a live concert.
Restores detail to digital music
The Digital Sound Enhancement Engine (DSEE) restores detail to compressed music files, producing high quality sound that's closer to the original CD recording.
Create an unforgettable atmosphere
Light up the party from floor to ceiling with the Omnidirectional Party Light and Speaker Light. Send out waves of deep blue, sky blue and green, with a multicoloured stripe, so you can enjoy an authentic nightclub or outdoor festival atmosphere.
Unleash your inner pop star
Keep everyone entertained—with two microphone inputs, you and your guests can go head to head singing along to your favourite tunes. Alternatively, add a rock and roll layer by connecting a guitar to one of the inputs and using the system as a guitar amplifier. Enjoy three modes: Clean for a clear sound, Overdrive for a distorted guitar sound, and Bass for your bass guitar. And when you're finished, the unit has two microphone holders, so you can store your mics safely.
Vertical and horizontal Gesture Control
Skip a track, change up from flanger to wah, turn up the karaoke mic, control the pitch of the mic and music, or turn up the volume with a vertical or horizontal wave of your hand. Gesture Control lets you control the functions
of the MHC-V73D quickly and easily, so you can stay right in the heart of the party moment.
Play along to the beat with TAIKO Mode
Add your own drumming into the mix with TAIKO Mode, and put your rhythm to the test when you play against friends in TAIKO Game Mode.
TAIKO Mode
You can play along on samplers including bongo, djembe, surdo and the Japanese Taiko drum, just by tapping the top panel in time to the beat.
TAIKO Mode
You can play along on samplers including bongo, djembe, surdo and the Japanese Taiko drum, just by tapping the top panel in time to the beat.
Put the party in your hands with Fiestable
Entertaining, intuitive and easy to use, the Fiestable app is a fun feature that hands you over complete control of the MHC-V73D. To use the Fiestable app, you'll need to download the Sony | Music Center app first2. Then, take control of the music, lighting and more, all by simply tapping your phone or using your voice.
Let your friends create the party playlist via Fiestable
Everyone can add their favourite tunes to your playlist with the Fiestable app. Let your guests add music stored in their smartphones over your Wi-Fi® network2, so your party never needs to stop.
Find your singing superstar with Karaoke Ranking via Fiestable
Compete to find the king or queen of karaoke at your party with Karaoke Ranking. And if anyone ranks in the Top 10, they can record their name and song title in
Be the Party King
Share your party status on social media with just one click from the Fiestable app. Then, turn up the music and climb the party people ranks to become the certified Party King.
Run everything from the dancefloor
The Sony | Music Center app lets you control music and sound settings right from your phone. Plus, the Fiestable app puts you in charge of the light colours and lets you activate DJ and KARAOKE Modes. Make changes with a flick of your wrist, thanks to intuitive motion control.
Movies and TV, now with added drama
Connect the MHC-V73D to your TV and experience your favourite movies, TV and sport in a whole new way.
HDMI™ output for simple setup
With the HDMI™ (Audio Return Channel) output you can easily connect the system to your TV. Watch TV and DVDs on your normal screen while enjoying huge sound from the MHC-V73D speakers.
Watch movies with a built-in DVD player
Turn your living room into a cinema and host amazing movie nights with family and friends. Feel the drama in every scene with powerful volume and sound pressure that puts you at the heart of the action.
Expand the party atmosphere with wireless connection
Enjoy a bigger, fuller sound and synchronised lighting. With Wireless Party Chain you can connect your MHC-V73D to any of the 50 compatible High-Power Party Speakers via Bluetooth
NFC™ One-touch for instant connectivity
Near Field Communication (NFC™) and Bluetooth® technology
3,4
eliminate the need for wired connections and complex set-up sequences. Simply touch your NFC™-enabled device to the MHC-V73D for a quick, seamless connection, then start streaming your music collection. No NFC™? No problem. Connect via Bluetooth® and you're
Sync your sound with Wireless Party Chain
Connect up to 50 compatible High-Power Party Speakers via Bluetooth® connection3,4 for a more powerful audio experience, and watch as your lighting syncs alongside the speakers too.
Multi-device connection
You and your friends can pair up to three smartphones with the MHC-V73D simultaneously using Bluetooth®3,4 technology. You'll all be able to play tracks from all your music libraries, giving you even more choice.
Designed to withstand the party atmosphere
Built for usability and durability, you'll never have to worry about whether the MHC-V73D is able to
withstand a party atmosphere.
Built for partying hard
A hard plastic exterior that covers all sides of the unit and strong corner protectors help make the MHC-V73D long-lasting and easy to transport to wherever your party is.
Splashproof control panel for durability
The MHC-V73D's top surface is splashproof5 and easy to clean, so you can keep the party going even if you spill a drink. There's even a Party Lock button which disables all other buttons for 30 seconds, so you can clean up.
Tilt and roll for easy transport
Whenever you want to move the MHC-V73D, just hold the convenient carry handle and tilt it back. Sturdy castors let you roll all the way to the party.

Specification
General
| | | |
| --- | --- | --- |
| Brand | | Sony |
| Model | | MHC-V73D |
| Model No | | MHC-V73D |
| Generic Name | | Speaker |
| Manufacturer | | Sony |
| FM Radio | | Yes |
| | | 4 cms x 4 |
| | | 30 cms |
| | | Yes |
| | | Yes |
| Enhance Sound quality of compressed audio | | Yes |
| TV Sound Synch | | Yes |
| Audio Formats | | MP3 |
| Karaoke Mode | | Yes |
| Compatible Apps | | Fiestable |
| Splashproof | | Yes |
| Handles for Portability | | Yes |
| Child Lock | | Yes |
| Sleep Timer | | Yes |
| Wheels for movement | | Yes |
| MP3 Support | | Yes |
| Equalizer | | Yes |
| Phone APP-based Controls | | Yes |
| DJ Effects | | Yes |
| Gesture Control | | Yes |
| LED lights sync with beats | | Yes |
| HDMI (ARC) | | Yes |
| Microphone (inputs) | | Yes |
| CD/DVD Player | | Yes |
| NFC | | Yes |
| No. Of Microphone Inputs | | 2 |
| USB Direct Recording | | Yes |
| Bluetooth Synch with phone | | Yes |
| HDMI | | Yes |
| Warranty | | 1 year |
| Country Of Origin | | Malaysia |