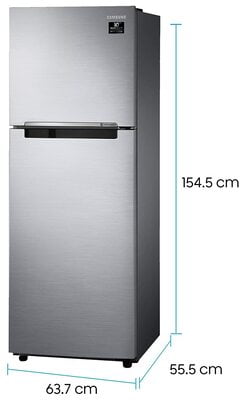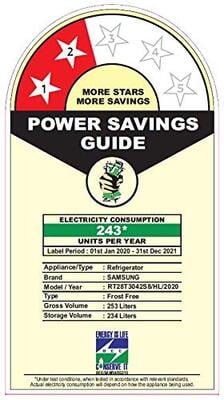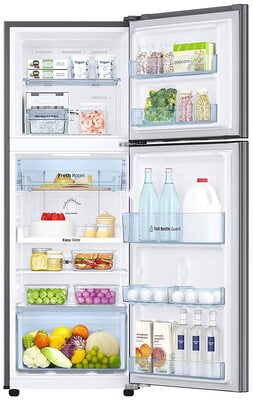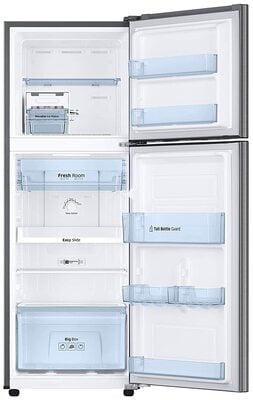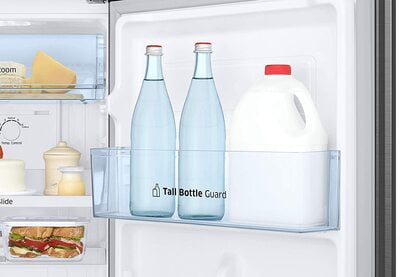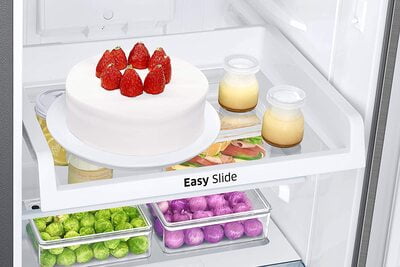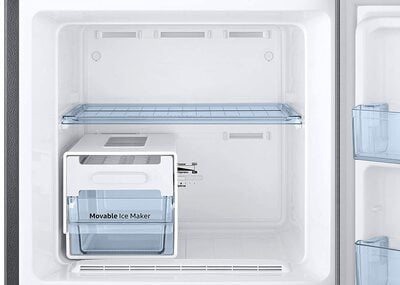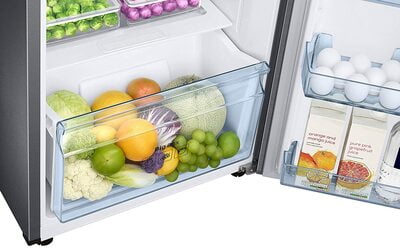 Samsung RT28T3042S8/HL 253 litre 2 S Inverter Frost-Free Double Door Refrigerator
Key Features
:-
Frost-free refrigerator; 253 litres capacity
Energy Rating: 2 Star
Warranty: 1 year on product, 10 years on compressor
Frost free refrigerator less than 300L: auto defrost function to prevent ice-build up
Suitable for family of 3 to 4 members
Digital inverter compressor – energy efficient, less noise & more durable
Toughened glass shelves
Samsung RT28T3042S8/HL 253 litre 2 S Inverter Frost-Free

Dillimall Present the a wide Range of Products Such as AC, Refrigerator and much more The Samsung RT28T3042S8/HL 253 litre 2 Star Refrigerator with Frost free refrigerator less than 300 litre auto defrost function to prevent ice-build up. It comes with Digital inverter compressor for energy efficient, less noise and more durable with toughened Shelves.
This Samsung refrigerator comes with High energy efficiency certified by BEE, so it saves money by using less electricity without sacrificing performance. It's BEE 2 star rating makes it one of the most energy efficient refrigerators available. Digital Inverter Technology automatically adjusts the compressor speed in response to cooling demand across 7 levels. It uses less energy, minimizes noise and reduces wear and tear for longer-lasting performance. Has toughened glass shelves that are designed and tested to hold a weight of up to
150kg safely. So even large vegetables, like marrows, or dishes prepared in heavy pots and pans can be kept cool and fresh.

| | | |
| --- | --- | --- |
| | | |
| 2 Star | | Power Cool |
| Samsung Smart Refrigerators with 2 star rating are one of the most energy efficient refrigerators thereby saving electricity and running cost. | | Enjoy a rapid cooling performance. At the touch of a button, Power Cool blows intensely cold air into the fridge to quickly cool your groceries or favorite drinks. |
| . | | |
| | | |
| Twist Ice Maker | | Deodorizer |
| Samsung Twist Ice Maker is easy to use. Simple twist is all you need to dispense ice cubes. Also Comparatively less freezer area means fast ice making, which means you can have more ice cubes in short time of period. | | Keep the inside of the refrigerator deodorized and preserve the original flavor and aroma of food for longer. The built-in natural fiber Deodorizing Filter eliminates strong smells as the air is continually passed though activated carbon filters. So you don't need other odor fighting solutions. |
| . | | |
| | | |
| Digital Display | | Fresh Room |
| The LED display add a touch of sophistication while putting a wealth of controls at your fingertips. Change temperature settings or turn on Power Cool to quickly chill recently bought items | | The Fresh Room is a cooler compartment that ensures freshness even if you frequently open the fridge door. It's the ideal place to keep green salad and dairy food, like cheese, as they will stay fresher for longer. |
| . | | |
| | | |
| Easy Slide Shelf | | Toughened Glass Shelves |
| Organize, put in and take out food more easily,so there's no 'dead space'. The Easy Slide Shelf is built on rolling hinges and simply slides in and out. It means you can quickly find what you want and easily reach things at the back and in every corner without items getting squashed or broken. | | Has toughened glass shelves that are designed and tested to hold a weight of up to 150kg safely. So even large vegetables, like marrows, or dishes prepared in heavy pots and pans can be kept cool and fresh. |
| . | | |
| | | |
| Stabilizer Free Operation (100v - 300v) | | Recess Handle |
| Protect the refrigerator from power fluctuations*. The Stabilizer Free Operation keeps it working steadily and reliably. If the voltage increases too much it automatically cuts the power to prevent electrical damage. The compressor even operates at 50°C. So you don't need a separate stabilizer | | Recessed handles and hidden hinges provide a touch of elegant minimalism that complements any modern decor. |