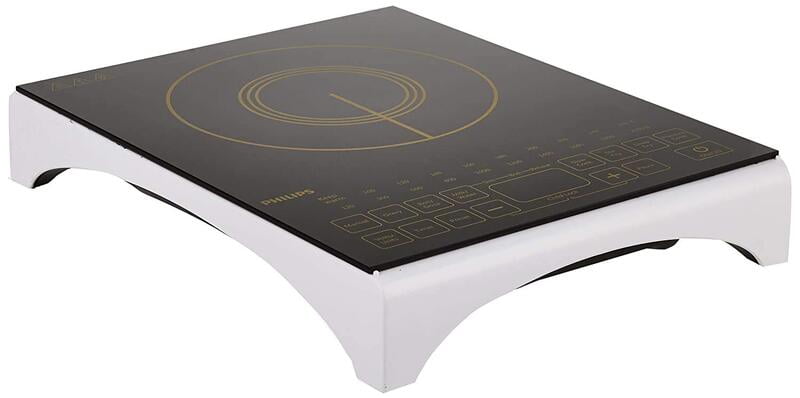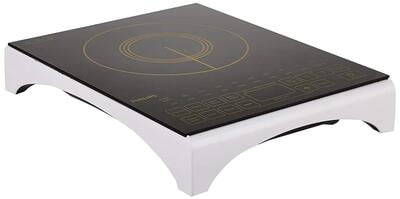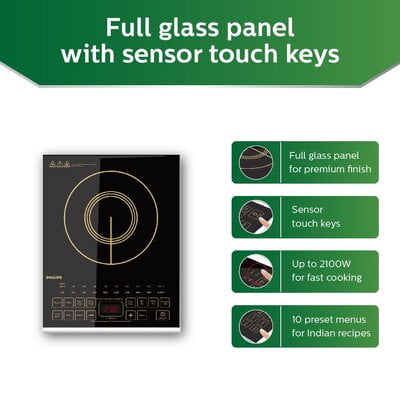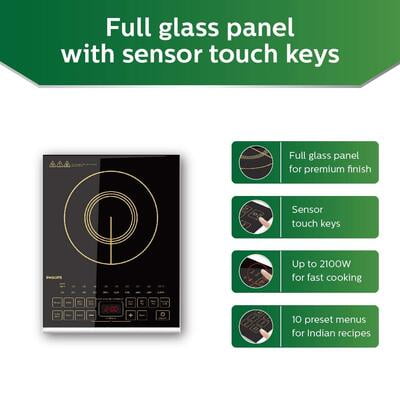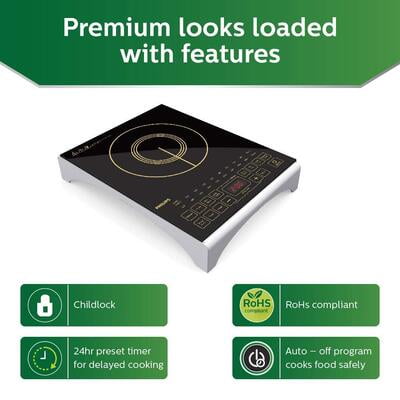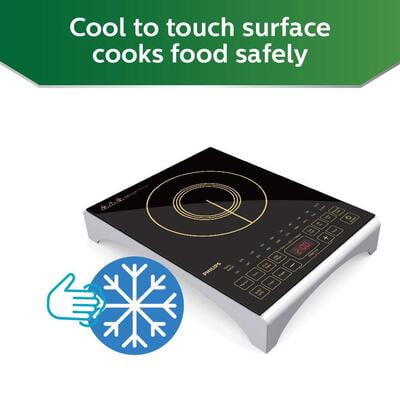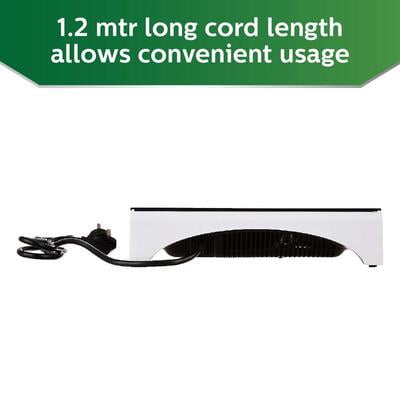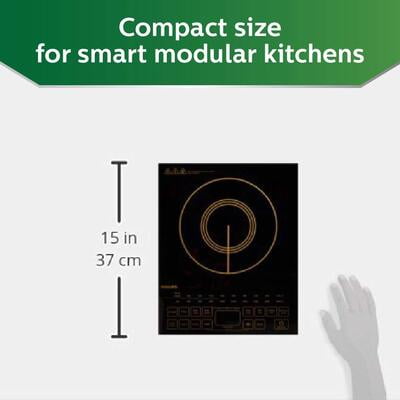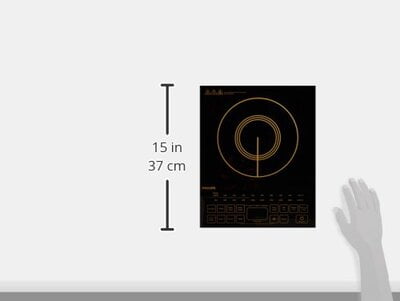 PHILIPS Viva Collection HD4938/01 2100-Watt Glass Induction Cooktop with Sensor Touch (Black)
Get 100% genuine and authentic products
7 days replacement guarantee
| | |
| --- | --- |
| Brand | PHILIPS |
| Material | Glass |
| Color | Black |
| Item Dimensions LxWxH | 39.2 x 29.2 x 6.8 Centimeters |
| Item Weight | 3060 Grams |
About this item
0 to 3 hours time setting
10 preset menus for different Indian recipies
24 hours preset timer function for delayed cooking
High quality full glass panel for premium finish and easy cook
Sensor touch keys for ease of use
Auto-off program cooks food safely
More comfortable cooking without flame
Cool-to-touch surface cooks foods safely
Warranty: 1 year on product
Power: 2100 watts
Operating voltage: 220-240 volts, Frequency: 50 Hz ; Cord length: 1.2 m
Includes: Induction cooktop and User manual
Note- Induction based cookware to be used
Product Description
The Philips viva collection induction cooktop is a sleek and sturdy glass panel cooktop for convenient and fast cooking. Its electromagnetic induction technology provides high heating efficiency and cooks food faster than the conventional gas stove. Unlike cooking on direct flame, where the vital nutrients and vitamins from the food are lost, this Philips induction cooker seals nutrition into the food and aids healthy cooking. Simple to use and maintain, this induction cooktop saves you a lot of money, especially with the rising lpg prices. Besides, its cool touch surface and auto-off program ensure safe cooking. Compatible Utensils: Stainless Steel Pots, Stainless Steel Rice Cookers, Cast Iron Frying Pots, Oil boiling Pots, Stainless Steel Water Jugs, Cast Iron Pots, Color Pots, Grilling Iron Plate preset menus and sensor touch keys choose from over ten preset menus for different Indian recipes. Just place the required amount of ingredients per the recipe suggested and press the menu button to get piping hot food ready in minutes. You can select from 0 to 3 hours time setting for cooking food. Furthermore, a 24-hour preset timer function allows for delayed cooking as well. The full glass panel of this philips hd4938/00 induction cooktop features sensor touch keys for feather touch cooking. This Philips induction cooktop also delivers up to 2100w of power for fast cooking. brand: Philips model: Viva collection hd4938/00 2100-watt induction cooktop with sensor touch colour: Black power: 2100W operating voltage: 220-240V full glass-paneled body with sensory touch buttons ten preset menus with twenty four hours preset timer function durable and easy to clean problem reasonactionerror code e1 or e2internal failure error code e3 or e6very high internal temperature or over glass topswitch off appliance to cool down error code e4internal failure error code e5 ,e6 , e7the voltage is either too high or too low. please check power supply. Start the unit once power supply back to normal voltage error code e7the fan has malfunction. ( Hair / dust stuck-up )error code e8internal failure error code e9internal failure.
From the Manufacturer
Joyful Effortless Cooking
Cooking is easy with full glass panel and preset menus Electromagnetic induction technology ensures high heating efficiency, cooks food faster than a gas stove. Seals nutrition into the food and prevents vitamin loss.
Simple panel design makes cooking easy
High quality full glass panel for premium finish and easy cook
Sensor touch keys for ease of use
Induction cooking seals nutrition into food
24 hours preset timer function for delayed cooking
upto 2100W for fast cooking
Ideal for cooking a variety of healthy dishes
10 preset menus for different Indian recipies
0 to 3 hours time setting
Highlights
0 to 3 hours time setting
0 to 3 hours time setting
10 preset menus
10 preset menus for different Indian recipies
24 hours preset timer function
24 hours preset timer function for delayed cooking
High quality full glass panel
High quality full glass panel for premium finish and easy cook
Sensor touch keys
Sensor touch keys for ease of use
upto 2100W for fast cooking
upto 2100W for fast cooking