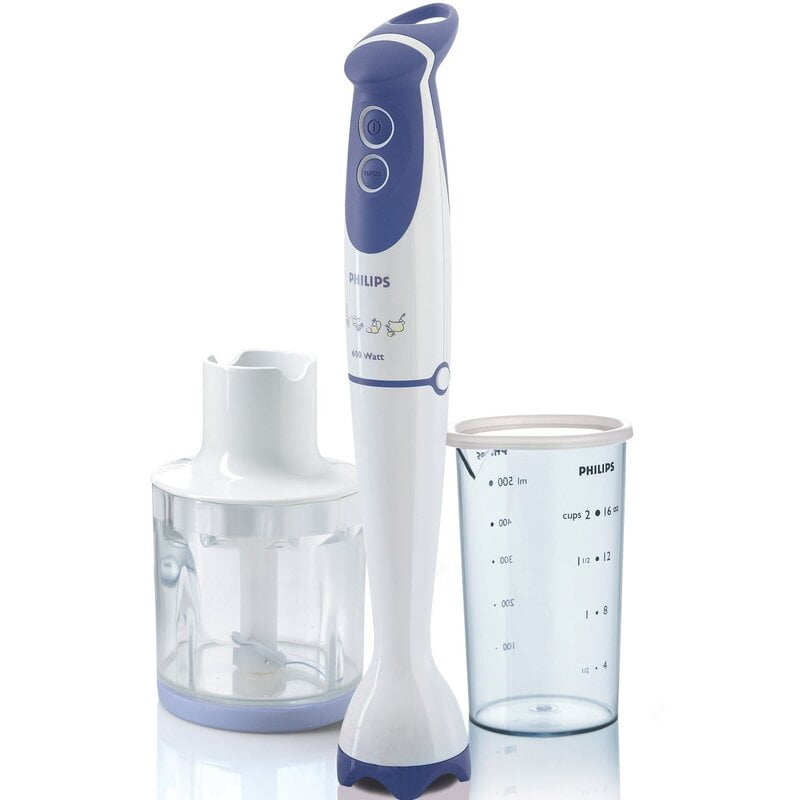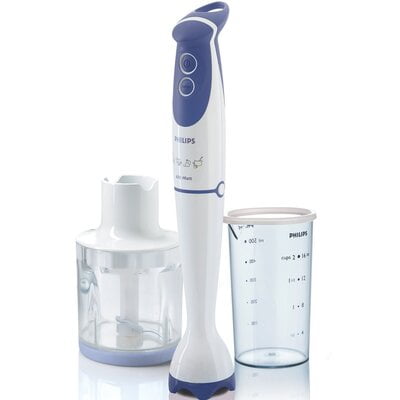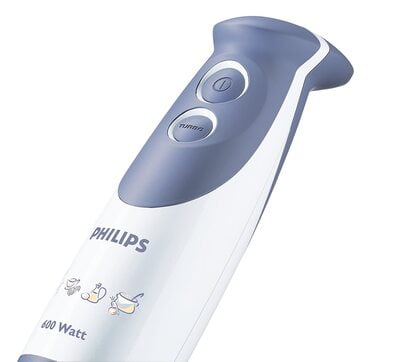 PHILIPS HR1363/04 Hand Blender with Chopper and Beaker, 600W (White)
Get 100% genuine and authentic products
7 Days replacement guarantee
| | |
| --- | --- |
| Colour | White |
| Material | Plastic |
| Brand | PHILIPS |
| Voltage | 240 Volts |
| Item Dimensions LxWxH | 11 x 220 x 42 Millimeters |
| Wattage | 600 Watts |
| Item Weight | 1684 Grams |
| Blade Material | Stainless Steel |
| Number of Speeds | 2 |
About this item
Power: 600 watts; Operating voltage: 220-240 volts
Warranty: 2 years on product
This product does not require installation. Please contact brand customer care for any product related queries.
Powerful 600 watts motor
0.5 Litre beaker with lid, Chopper 2 Speeds + LID
Double action blade
For the toughest ingredients
Chopper accessory
Soft touch grip and buttons
Anti-splash blade guard
Detachable plastic bar
Power: 600 watts; Operating voltage: 220-240 volts
Warranty: 2 years on product
This product does not require installation. Please contact brand customer care for any product related queries.
Powerful 600 watts motor
0.5 Litre beaker with lid, Chopper 2 Speeds + LID
Double action blade
For the toughest ingredients
Chopper accessory
Soft touch grip and buttons
Anti-splash blade guard
Detachable plastic bar
Product Description
Powerful Performance and Easy Handling
A hand blender is a must have accessory in every household as it eases many of our pre-cooking preparations that usually consume a lot of time. The Philips Daily Collection hand blender is a perfect combination of exemplifying performance and simple handling. It is powered by a powerful 600W motor that lets you carry out various tasks such as blending, mixing and chopping in a jiffy. This Philips HR1363 hand blender consists of soft touch buttons for operation that makes it extremely easy to handle. This is a hand blender with chopping attachment for easy veggie chopping.
Anti-Splash Blade Guard
The Philips hand blender is a feature rich device and simplifies many of your daily tasks with ease. It has a double action blade and a special turbo feature that aids is blending harder ingredients with utter ease. The attached chopper comes in handy to chop various daily use components like hard cheese, onions, herbs and other required ingredients. This Philips 600watt hand blender is equipped with an anti-splash blade guard that helps in keeping your kitchen cabinet or shelf clean by avoiding unwanted spillage of foods while blending.
Brand: Philips
Colour: White and lavender
Blade Material: Stainless steel
Functions: Blending and chopping
Additional Features: Anti-splash blade guard, special turbo feature
Power Consumption: 600W
Voltage: 220V-240V
| | | |
| --- | --- | --- |
| | | |
| Enjoy homemade food in seconds | | Powerful 600 Watt motor |
| The Philips handblender combines 600 Watt power with a double-action blade, giving a wonderfully smooth result in seconds. Preparing healthy and delicious homemade food has never been so easy!. | | To blend food in seconds. |
| | | |
| Double action blade | | For the toughest ingredients |
| Double action blade of the Philips hand blender cuts horizontally and vertically. | | The Philips hand blender has an extra powerful turbo button for the toughest ingredients. |
| | | |
| Chopper accessory | | Anti-splash blade guard |
| Chopper accessory to chop onion, cheese and more. | | No splashes or mess while you blend. |