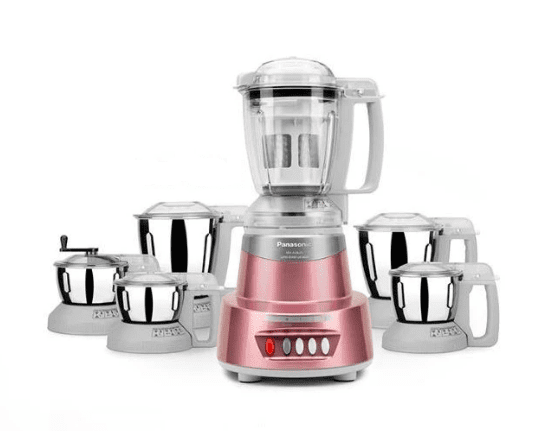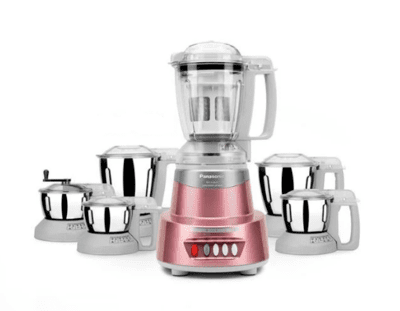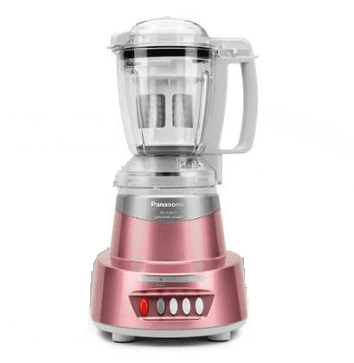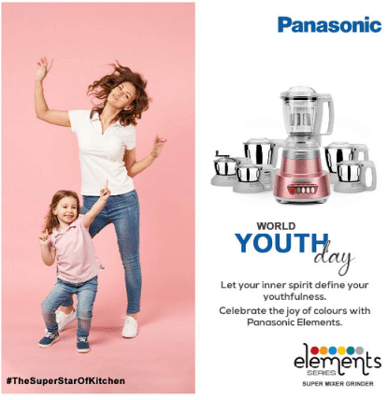 Panasonic MX-AV625 Elements Super Mixer Grinder, 6-Jar Super Mixer Grinder, 600 Watts - Rose Gold
PANASONIC MX-AV625 ELEMENTS SMG, 6-JAR SMG, 600 WATTS - ROSE GOLD
6 M

ulti Purpose J

ars

600 watts powerful heavy duty motor

Samurai edge blades for maximum grinding efficiency

Double safety locking system

Power: 600 watts; Operating voltage: 220-240 volts

Made In India
PANASONIC MX-AV625 ELEMENTS SMG, 6-JAR SMG, 600 WATTS - ROSE GOLD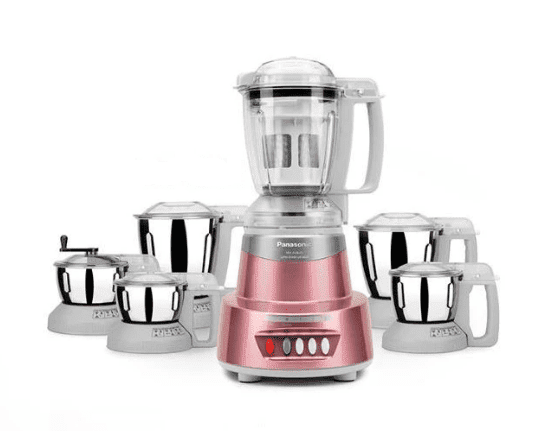 Designed to provide hassle free and smooth operation, the Panasonic Elements series mixer grinder is a must have for your kitchen. Equipped with a powerful 550W motor and high quality Samurai edge blades, the Panasonic super mixer grinder offers utmost grinding efficiency at all times. This mixer grinder comes with three stainless steel jars that can be used for various purposes. The stainless steel and polycarbonate construction of the jars ensures durability and ease of cleaning. Whether it is blending, mixing or grinding, the Panasonic lets you complete all your tasks with maximum ease.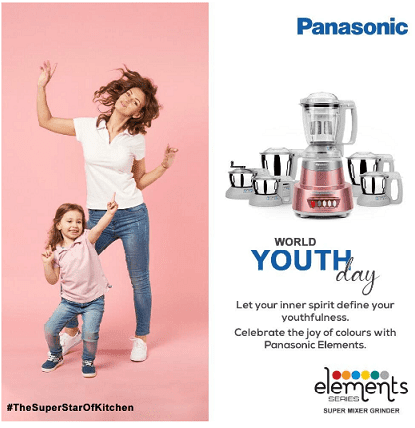 EASY AND SECURE TO OPERATE
This Panasonic mixer grinder features piano type button switches that are easy to operate. The transparent lids of the jars let you view their contents with ease, while the sturdy handles provide a firm grip. For added protection and safe operation, the Panasonic mixer grinder grey features a double locking system, a circuit breaker protection system and an auto shut-off function. Efficient and powerful, this mixer grinder makes a great addition to your kitchen area. Thanks to its stylish profile, this Panasonic mixer grinder will look great on your kitchen counter.
Brand: Panasonic
Includes: Mixer grinder and blender, mill and chutney jars
Power: 600W
Operating Voltage: 220V-240V
Superior motor and Samurai edge blades
Locking system with double safety
Warranty: 2 years on product and 5 years on motor