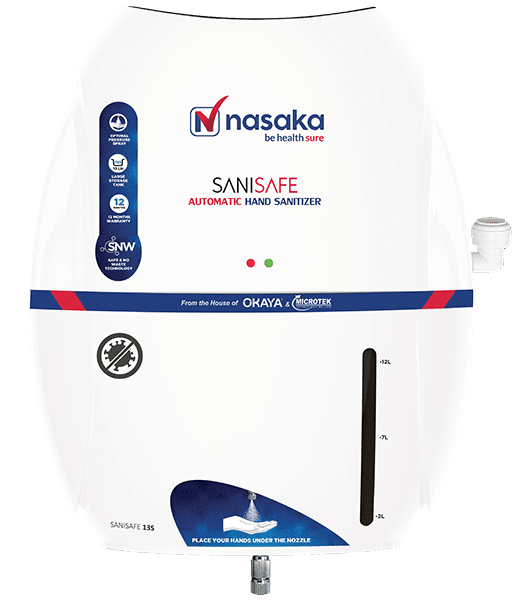 Nasaka Automatic Hand Sanitizer SaniSafe 13S
Nasaka Automatic Hand Sanitizer SaniSafe 13S
Get Genuine Branded Products Only
7 Days Replacement Guarantee
SNW

Optimal Pressure Spray

13 Litre Capacity

Sanitizer Liquid Level Indicator

Led Indicator

Electricity-operated

Wall-mounted installation

12 Months Warranty
Nasaka Automatic Hand Sanitizer SaniSafe 13S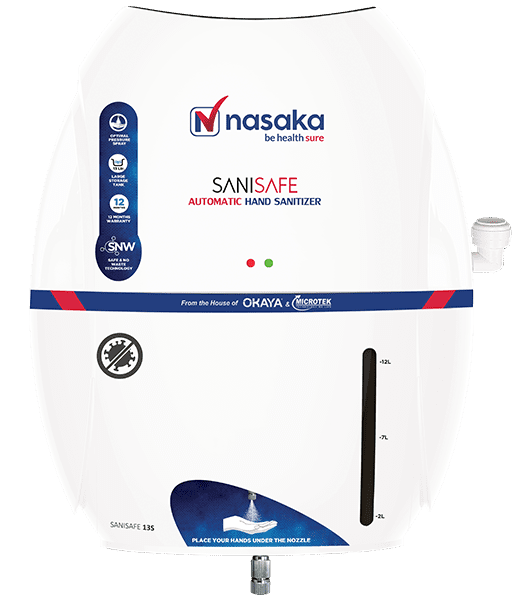 Automatic Hand Sanitizer Dispenser is a touch-free dispenser that operates through Advanced Infrared Sensors, eliminating the need to touch, ensuring the highest level of hygiene and preventing the spread of germs.
Simply place your hand under the dispenser and a measured dose will automatically be dispensed.

Can be installed at the entry point of buildings like office complexes, hospitals, housing societies, malls, hotels, restaurants, school and colleges etc.
Tough, Durable & Alcohol Compatible Housing: First of its kind specialty additive filled polypropylene cabinet
Automatic Dispenser: Built-in sensor to sense the hands underneath its tap
Touch-free Usage: To prevent cross contamination
High Capacity: 13 litre storage tank, suitable for heavy traffic usage like in offices,factories, hospitals, hotels, restaurants etc.
Liquid Sanitizer Level Indicator: For the visibility of sanitizer level
LED Indicators
Sleek, compact design to enhance the interiors
Controlled dispensing volume every time
Electricity-operated
Wall-mounted installation