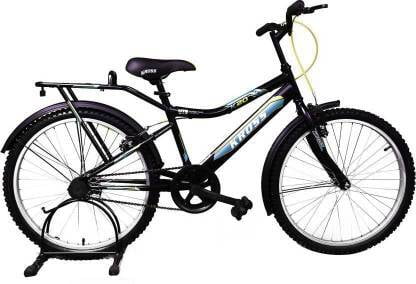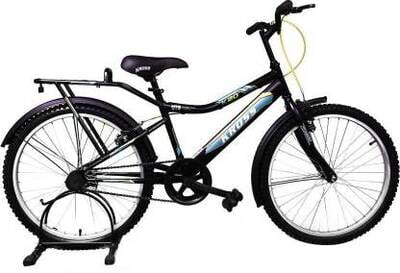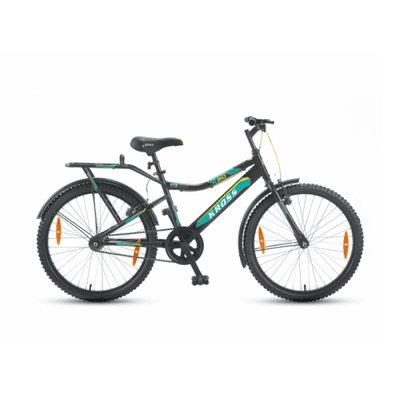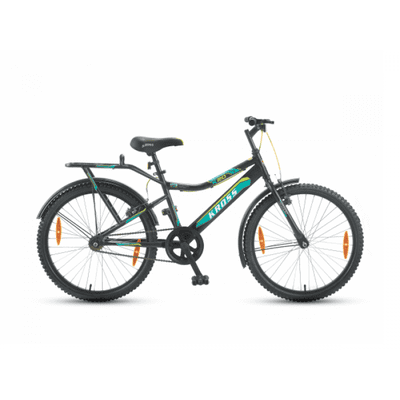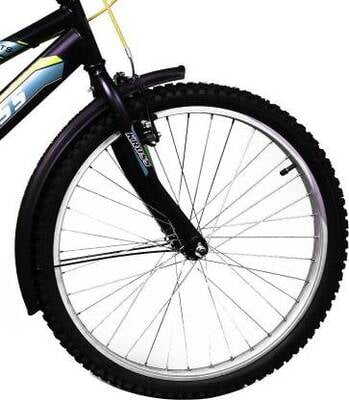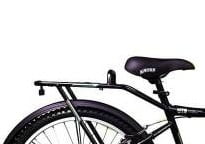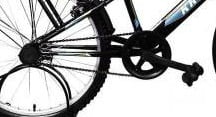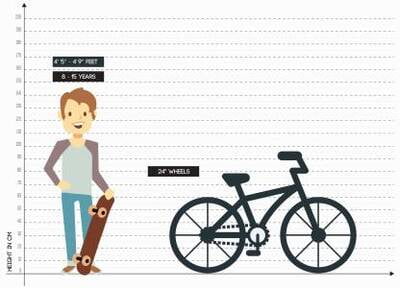 Kross K20 SS 24 Mat Black & Blue 24 T Mountain Cycle
Get 100% Branded Products Only
7 Days Replacement Guarantee
Gear: Single Speed| Gear Type: Non Geared

Front Brake: Wire Brake | Rear Brake: Wire Brake

Frame Material: Steel Cycle/Mild steel Cycle

Suspension: Rigid

Tire Size: 24 inches | Frame Size:16 inch

Kross K20 SS 24 Mat Black & Blue 24 T Mountain Cycle
Dillimall Present The Kross K20 SS 24 Mat Black & Blue 24 T Mountain Cycle. It comes with Single speed, wire brakes, Rigid Suspension, SS Frame and 24 Inches Tire Size or 16 Inch Frame Size.
Tough roads demand tougher transport. Explore Kross's professionally crafted range of pro mountain bikes that will make traversing the treacherous hilly terrain easier than ever.
45-minute rides a week even after discounting other influences, such as body mass index (BMI) and smoking keeps you at significantly lower risk of cardiovascular disease, type two diabetes, all types of cancer, high blood pressure and obesity and the body becomes much more efficient at defending itself and regenerating new cells, increasing your longevity.
Pedalling Let's It Beat Better
Cycling just 20 miles a week reduces your risk of heart disease to less than half that of those who don't.
Let Your Grey Matter Sparkle
Regular cycling helps build new brain cells in the hippocampus – the region responsible for memory, which deteriorates from the age of 30. It boosts blood flow and oxygen to the brain, which fires and regenerates receptors.
Riding's The way to keep The Doctor at Bay
Regular cycling makes immune cells more active, so they're ready to fight off infection. Therefore, people who cycle for 30 minutes, five days a week take about half as many sick days as couch potatoes.
Listen To Your Body Language
Cycling tones your waistline and builds muscles, especially– your calves, your thighs, and your rear end.
| | | |
| --- | --- | --- |
| Brand | | Kross Bikes |
| Model | | Kross K20 24T |
| Model No | | Kross K20 24T |
| Generic Name | | Bicycle |
| Manufacturer | | Kross Bikes |
| Frame Size | | 38 cm |
| Brake Lever | | Plastic |
| Tyre | | 52-507 (24x1.95) Nylon |
| Handle Grip | | PVC (Dual Tone) |
| Saddle Post | | Saddle Post Quick Release |
| Saddle | | PU Foam with Rexin Top |
| Chain Wheel | | 44T Steel With Plastic Chain Guard |
| Rear Hub | | Steel 36H |
| Front Hub | | Steel 36H |
| Free Wheel | | 18T |
| Handle Stem | | Steel With 60mm EXT. |
| Speed | | SS |
| Pedal | | Resin Body with Reflectors |
| Wheel Size | | 24T Alloy Rim |
| Brake Type | | Front & Rear V-Brakes Set |
| Handle Bar | | MTB Double Bend Type (STEEL) |
| Fork | | Rigid |
| Frame Size | | MTB Steel Frame With Integral Carrier |