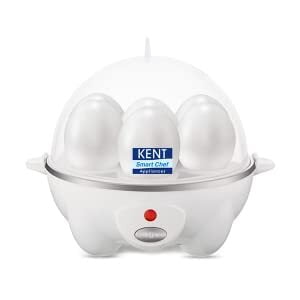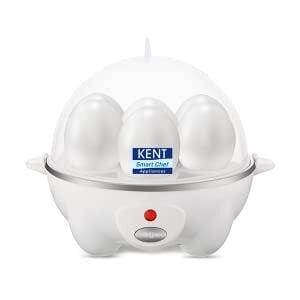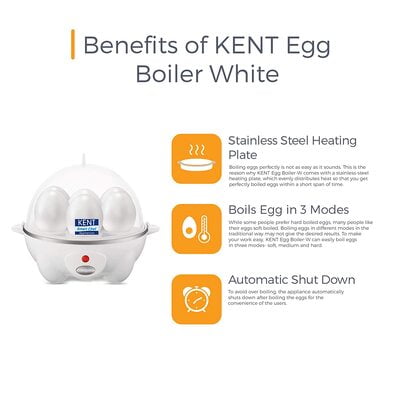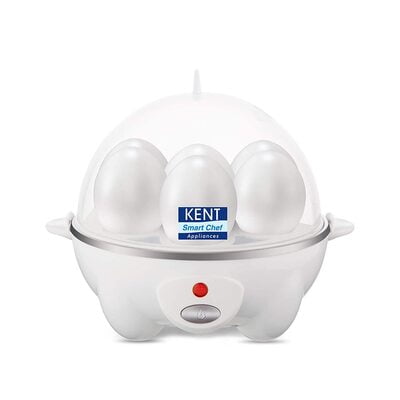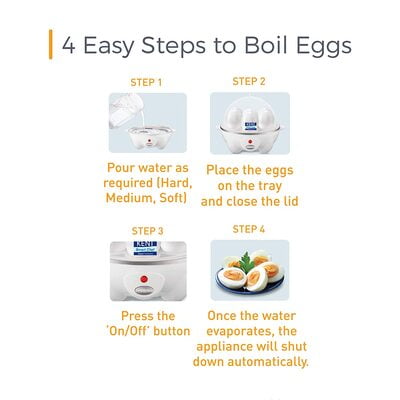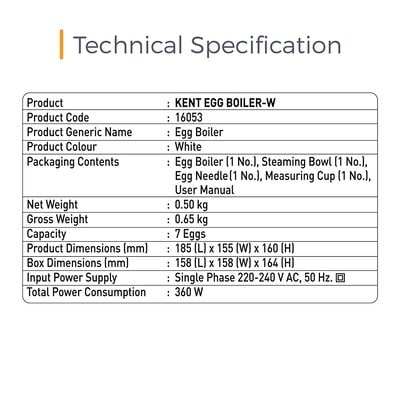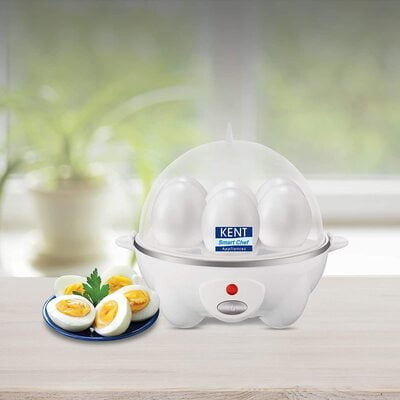 Kent Egg Boiler, 360 Watt (White)
Kent Egg Boiler, 360 Watt (White)
Can Boil as per Choice- Hard, Medium, Soft.
Stainless Steel Heating plate.
Can Boil upto 7 Eggs without any cracks.
Easy One Touch Operation.
Automatic power-off after egg boiling.
Warranty: 1 year warranty provided by the manufacturer from date of purchase
Power: 360 watts; Operating Voltage: 220 - 240 volts
Includes: Egg Boiler-01 No., Steaming Bowl- 01 No., Egg Needle- 01 No., Measuring Cup- 01 No., User Manual- 01 No.
7 Days Replacement Guarantee
Kent Egg Boiler, 360 Watt (White)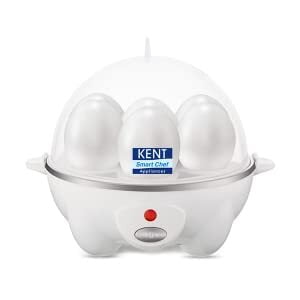 Now, you can get perfectly boiled eggs within minutes with the all-new KENT Egg Boiler-W. The easy one-touch operation and stainless-steel heating plate make it extremely convenient to use the appliance. The compact design makes it easy to carry and use it even in hostel rooms or when you are travelling.

KENT Egg Boiler-White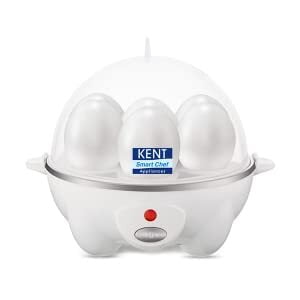 Boiling eggs without breaking them is difficult. If you too are not an expert in boiling eggs perfectly, KENT Egg Boiler-W is the right appliance for you. The smart kitchen appliance is ideal for boiling eggs in three different modes-soft, medium and hard with the touch of a button. Ideal for travelling, hostels as well as hotel rooms, KENT Egg Boiler-W can boil 7 eggs at a time.
| | | |
| --- | --- | --- |
| | | |
| Stainless Steel Heating Plate | . | Three Modes of Boiling |
| KENT Egg Boiler-W comes with a stainless -steel heating plate, which evenly distributes heat to help you get perfectly boiled eggs within minutes. | | Boiling eggs in different modes is not easy as it sounds. This is the reason why KENT Egg Boiler-W can easily boil eggs in three different modes- soft, hard and medium. |
| | | |
| --- | --- | --- |
| | | |
| Automatic Shut Down | . | Boils 7 Eggs at a Time |
| To ensure any accidents or over boiling, KENT Egg Boiler-W comes with a special feature which automatically shuts off after boiling eggs for the convenience of the users. | | To save time of the users, KENT Egg Boiler- W can boil 7 eggs at once, without breaking any them. |