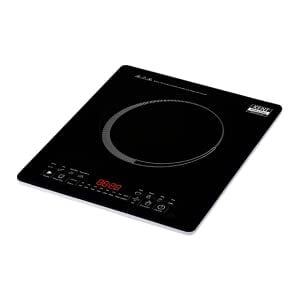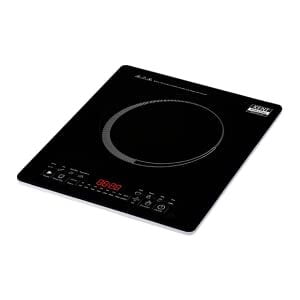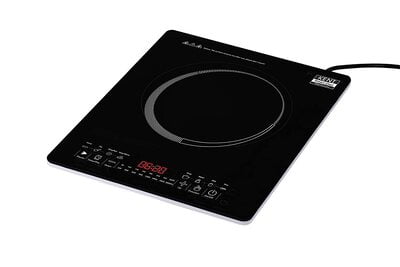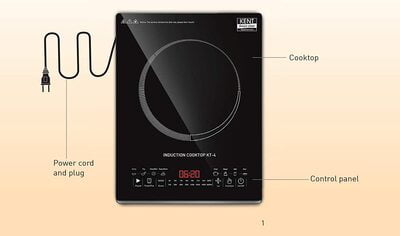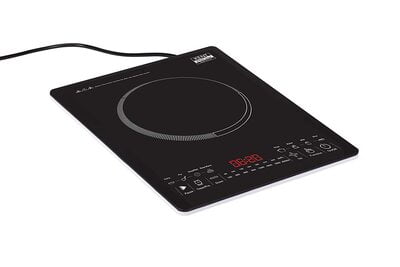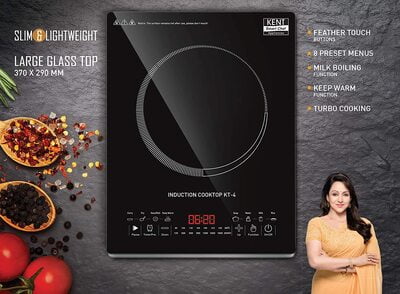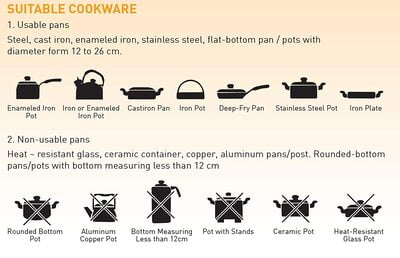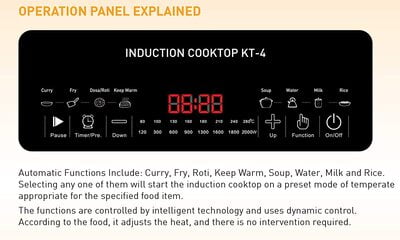 KENT - 16035 Induction Cooktop KT-04 2000-Watt (Black)
KENT - 16035 Induction Cooktop KT-04 2000-Watt (Black)
Safer than traditional gas and electric cookers
8 preset cooking options
Adjustable temperature
Overheat protection via auto off feature
Easy to clean
Warranty: 1 year warranty provided by the manufacturer from date of purchase
Power: 2000 watts; Operating Voltage: 110 - 250 volts
Includes: Induction Cooktop and User Manual
7 Days Replacement Guarantee
KENT - 16035 Induction Cooktop KT-04 2000-Watt (Black)
The Kent Induction Cooktop KT-4, kitchenware developed on advanced induction technology. This product is of international standards and safer than using traditional gas stores or electrical cooker, for any kind of cooking. This model is slim and lightweight with just 40mm height. This is a portable product for indoor use and works silently and efficiently.
KENT Induction Cooktop KT-04
A smart and slick kitchen appliance, KENT Induction Cooktop KT-04 helps you enjoy faster, efficient cooking. The light-weight appliance makes it easy to place the appliance anywhere you want depending on your convenience.
What Makes Kent Induction Cooktop KT-04 Unique?
| | | |
| --- | --- | --- |
| | | |
| | . | LED Display |
| KENT Induction Cooktop KT-04 comes with 8 preset function, which make it easy to set the timers for different types of Indian recipes. | | KENT Induction Cooktop KT 04 has LED display for the easy selection of menus and enjoy hassle-free cooking. |
| | | |
| --- | --- | --- |
| | | |
| | . | Feather Touch Buttons |
| KENT Induction Cooktop KT 04 comes with a glass top surface, which makes it easy to clean and also use the appliance. | | For the safety and durability of the product, KENT Induction Cooktop KT-04 comes with feather touch buttons, which ensure that water doesn't enter the inner parts of the appliance and hamper its operation. |
Some more Unique Features
| | | |
| --- | --- | --- |
| | | |
| | . | Auto-Off Feature |
| KENT Induction Cooktop KT-04 comes with an auto-cook function such as making rotis, dosas, boiling milk or deep-frying. The intelligent technology used by the appliance helps in adjusting the temperature according to the food items. | | For the safety of the users, the induction cooktop comes with an auto-off feature. The appliance automatically switches off when the cooking pan gets too hot. |
| | | |
| --- | --- | --- |
| | | |
| | . | Light-Weight and Portable Design |
| KENT Induction Cooktop KT-04 comes with a unique keep warm function. This advanced feature helps in keeping food warm for a longer period of time so that you don't need to reheat the food. | | The induction cooktop is not only light-weight but also has a very portable design. This makes it easy to carry the appliance and plug-in wherever you like. |