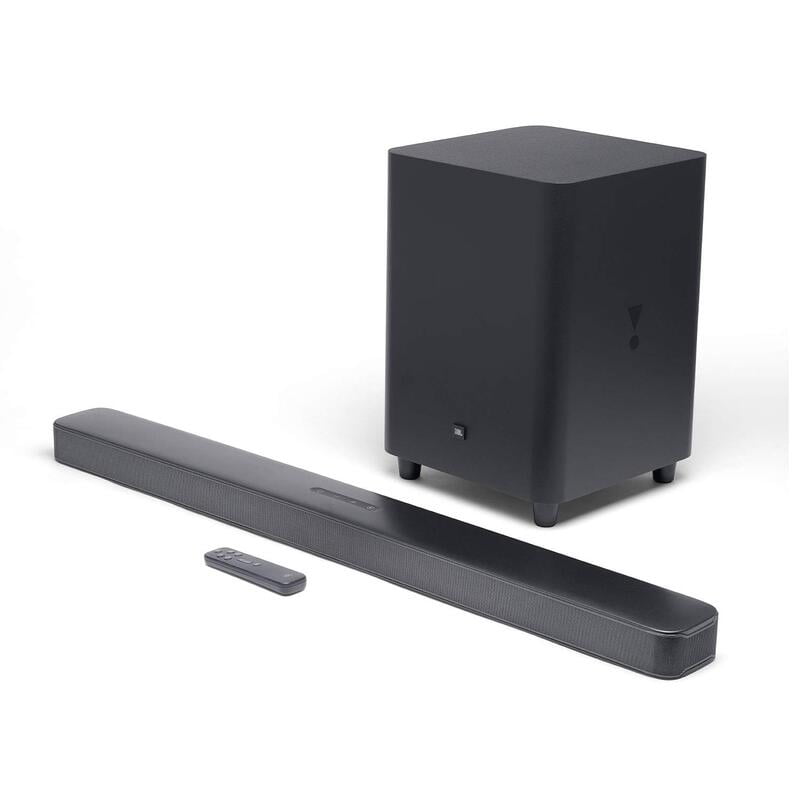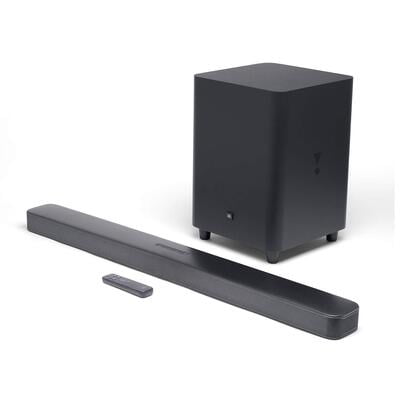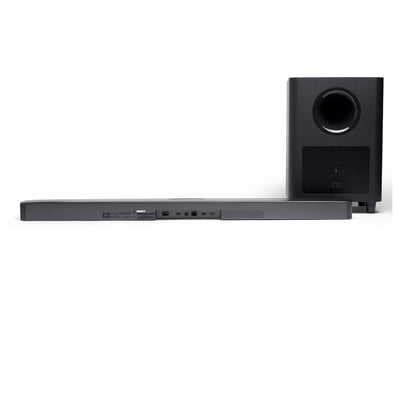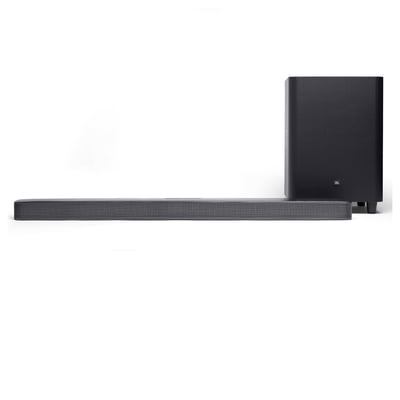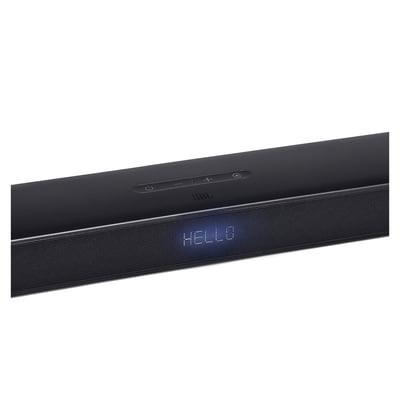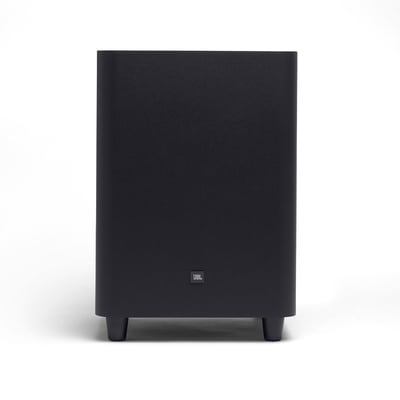 JBL Bar 5.1 Immersive 550 W Sound Bar
Get 100% Branded Products Only
7 Days Replacement Guarantee
Dolby Digital 5.1



Panoramic Surround Sound

550 Watts of system output power


10" Wireless Subwoofer

Built-In Chromecast And Airplay 2


4K Pass-Through with HDR 10 And Dolby Vision
JBL Bar 5.1 Immersive 550 W Sound Bar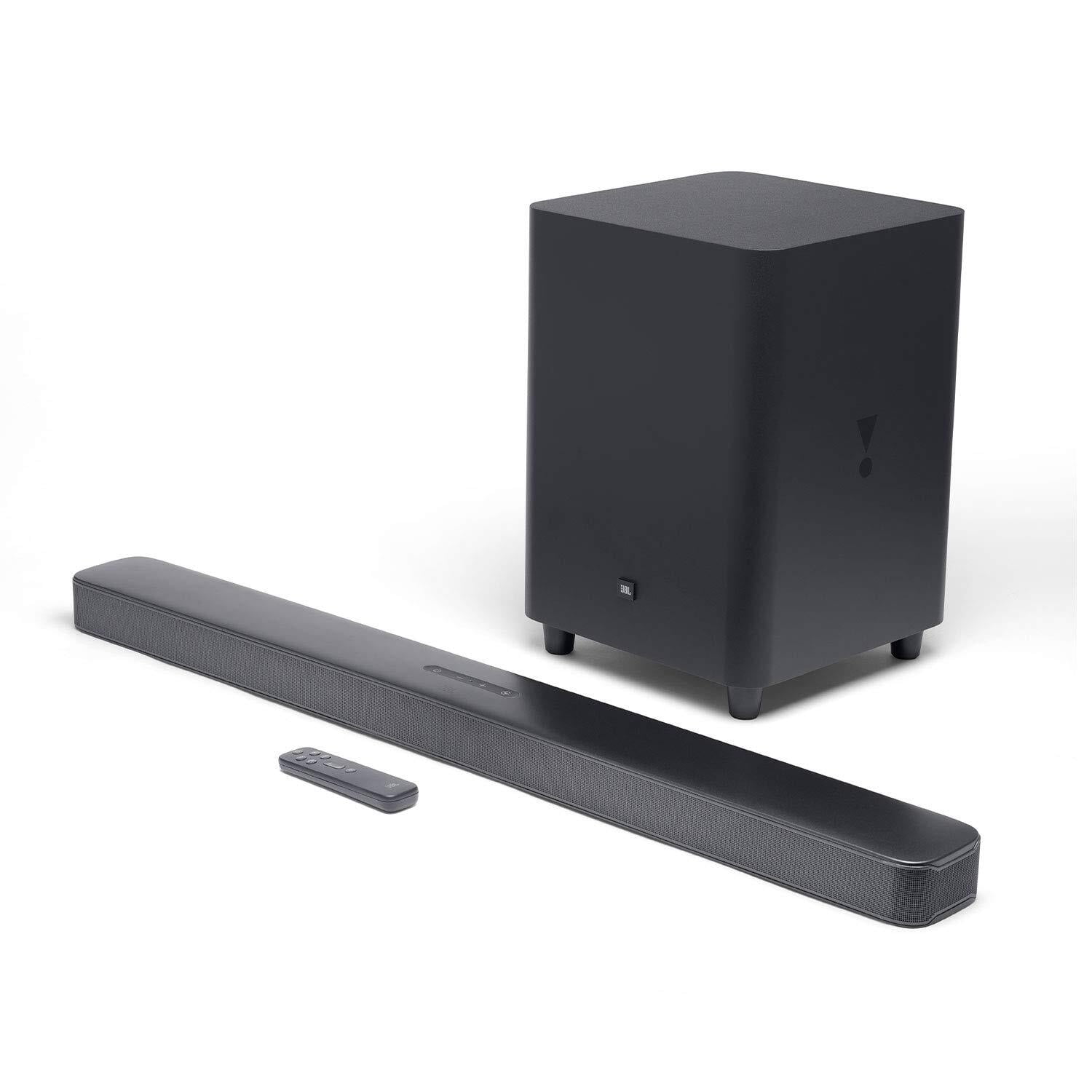 The Impressive JBL Bar 5.1 Surround Delivers the ultimate home cinematic experience. Bring everything you watch to life with 550 Watts of power and a 10" subwoofer: the driving bass of an action movie, the tension of a thriller or the beauty of a nature documentary. Built-In Chromecast and Airplay 2 lets you stream and manage online content, and Bluetooth means your streamed music sounds great, too. Amazing surround sound comes from JBL MultiBeam technology. JBL has powered the world's movie theatres for more than 75 years. Now you can bring that power home.
Sound systems are a must in every household if there resides a music fanatic in the family. As much as the home theatres give you impeccable sound quality. The JBL 5.1 Channel Sound Bar provides you with perfect bass sound with awesome clarity. It gives you a perfect wireless music listening experience. Hence it supports Wireless music streaming via Bluetooth. It also comes with USB and HDMI support. It has optical cable port.

JBL 5.1 Surround Sound with 550 W of Power




Built-in Chrome-cast and Airplay 2

The JBL Bar 5.1 is great for movies and ideal for music. Precise bass from the sub-woofer adds enough to make the sound come alive. The JBL Bar 5.1 is a one-stop solution for those who want minimal clutter with maximum audio effect!




With Chrome-cast built-in, just tap the Cast button from your favorite mobile music apps to instantly start playing on the speakers. It also has support for ‌Airplay 2, so routing audio to the soundbar from a Mac, iPad, an iPhone takes just a tap or two.




Multibeam




4K Pass Through

Multi Beam, an exclusive technology that delivers a truly incredible surround sound experience without extra speakers or wires. Hear deep bass without the need of an additional sub-woofer.Amplify the vibe as the sound resonates through the room, sync into the sound and sink into the comfort




Maintain 4K quality from source to screen. The 4K pass-through feature allows 4K data to be displayed on a 4K TV or projector, without compromising image quality.Adaptive for all forms of entertainment - make the most of your JBL Soundbar 5.1 as it transfers you to another land with its cinematic symphony.




Bluetooth Streaming




Wireless Sub-woofer

No more messy wires and extra cables. The JBL Soundbar 5.1 is also Bluetooth-enabled so you can play your favorite music wireless from any smartphone, tablet or laptop. Enjoying deep bass was never this easy and convenient.



Thrilling Bass from a 10" (250 mm) wireless

If you want the minimalism of a soundbar but the immersion of a surround sound system with the convenience of a Bluetooth speaker, the JBL Bar 5.1 is for you. It's capable of rich bass frequencies that make action movies more intense and sports more immersive. Plus, if you find yourself regularly jumping between TV and smartphone music, this is the ideal setup.

JBL Bar 5.1 Immersive soundbar Information
| | | |
| --- | --- | --- |
| Brand | | JBl |
| Model | | Bar 5.1 |
| Model Name | | Bar 5.1 Immersive |
| Manufacturer | | JBL |
| Generic Name | | Soundbar |
| Special Features | | Subwoofer |
| Audio Output Mode | | Suppound |
| Speaker Surround Sound Channel Configuration | | 5.1 |
| Speakers Maximum Output Power | | 550 W |
| Speaker Connectivity | | Wireless |
| Batteries Included | | No |
| Batteries required | | No |
| Usb Ports | | 2 |
| Connector Type | | Wireless, Bluetooth and Wi-Fi |
| Maximum Operating Distance | | 1 Feet |
| Mounting type | | Wall Mount |
| Bluetooth | | Yes |
| Warranty | | 1 Year |
| Country of Origin | | China |