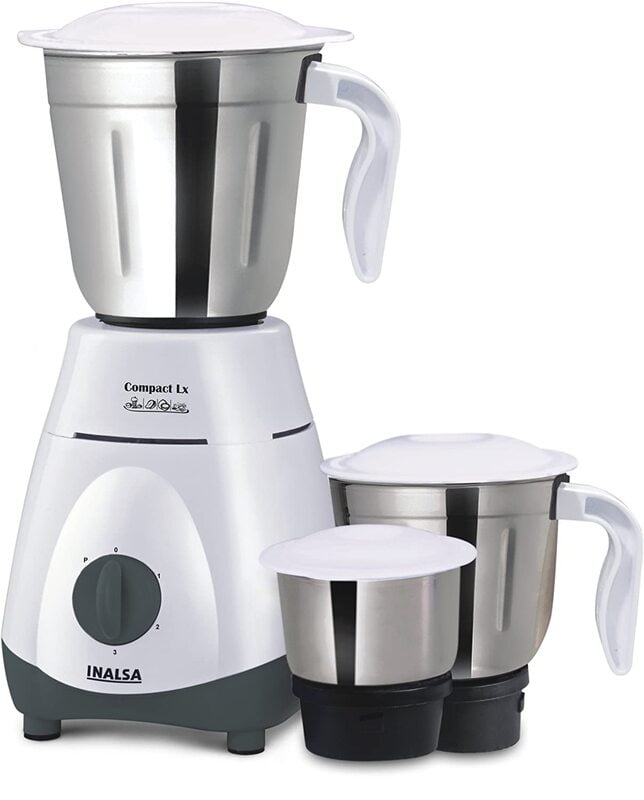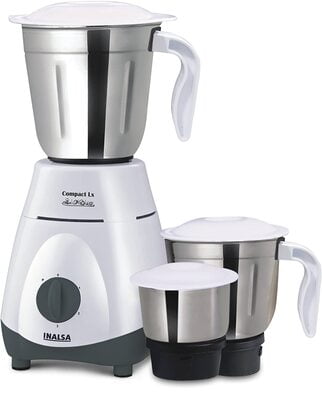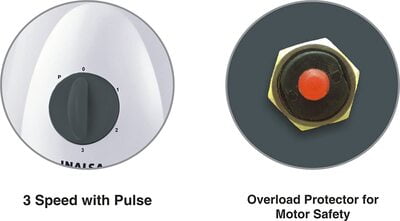 Inalsa Compact Lx 550 W Mixer Grinder with 3 Jars
Inalsa Compact Lx 550 W Mixer Grinder with 3 Jars
Get 100% branded products only
7 Days Replacement Guarantee
Power: 550 watts; Operating Voltage: 220-240 volts

Warranty: 2 years on product and 5 years on motor


3 Speed with Pulse Function

1.5 L SS Liquidizer Jar




1.0 L SS Dry Grinding Jar

400 ml SS Chutney Jar
Inalsa Compact Lx 550 W Mixer Grinder with 3 Jars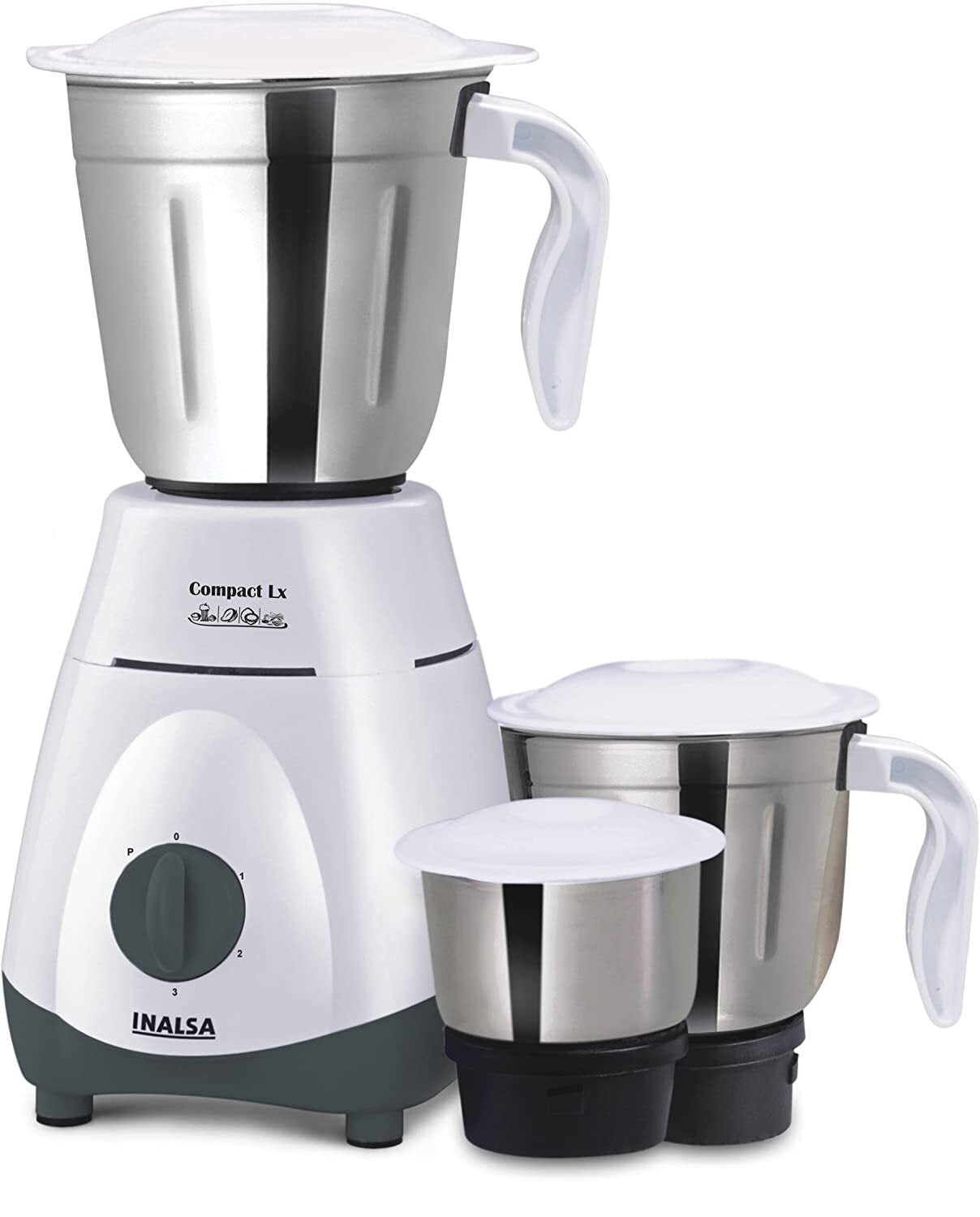 Are you just setting up your kitchen or updating all your old kitchen appliances with new ones? If you want style and efficiency, then the Inalsa Compact LX Mixer Grinder is just what you need. This combination mixer/grinder reduces your food preparation time. This sturdy mixer grinder has the added benefit of a 5 Yrs warranty on motors & 2-year warranty on product. The trusted reputation of Inalsa along with the 2-year warranty.
The Inalsa Compact LX Mixer Grinder comes with 3 jars, each with a different capacity. Included are 1.5 L SS Liquidizer jar, 1.0 L SS Dry Grinding Jar, 400 ml SS Chutney Jar.This set can be used for mixing, wet and dry grinding, making this the perfect 3-jar set mixer grinder for wet grinding, chutneys, purees and ground spices.
The Inalsa Compact Lx Mixer Grinder has a powerful 550 W motor. This grinder with a powerful motor has a voltage requirement of 230 V. There are three different speed settings with a rotator switch which has inbuilt pulse, which give you a lot of flexibility when you are cooking.
Build Quality and Material
The Inalsa Compact Lx Mixer Grinder is made of a combination of ABS plastic and stainless steel, both of which are hard-wearing, food-safe materials. The jars and the blades of this appliance are made with stainless steel which is durable and resistant to corrosion. Each jar has a corresponding lid made of plastic to keep the food contained while the appliance is in use.
This mixer/grinder from Inalsa comes with an automatic shut-off feature which prevents an overload and protects the appliance as well as your home from any electrical mishaps.
Shock Proof Compact Design Body
3 Speed With Pulse
1.5 L SS Liquidizer Jar
1 L SS Dry Grinding Jar
400 ml SS Chutney Jar
Overload Protector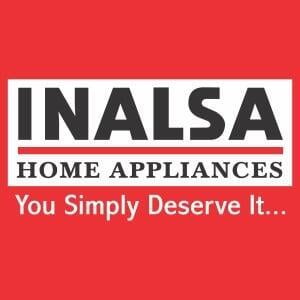 | | | |
| --- | --- | --- |
| Brand | | Inalsa |
| Generic Name | | Mixers, Grinders |
| Product Name | | Inalsa Compact Lx |
| Overlode Protector | | Yes |
| Sales Package | | Mainunit, Jars |
| Suitable for | | Wet Grinding, Dry Grinding, Blending |
| Power Required | | 240 |
| Locking System | | Yes |
| Dry Grinding | | Yes |
| Blending | | Yes |
| Liquidizing Jar Capacity | | 1.5 L |
| | | |
| --- | --- | --- |
| Depth | | 25.4 |
| Height | | 40.64 cm |
| Width | | 22.86 cm |
| Weight | | 5 kg |