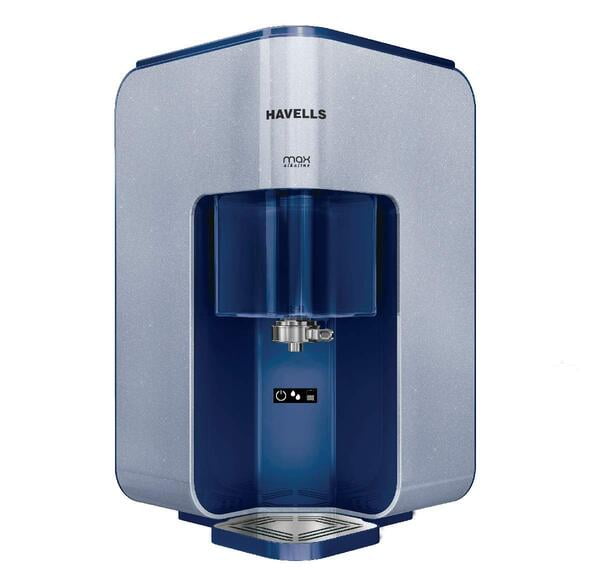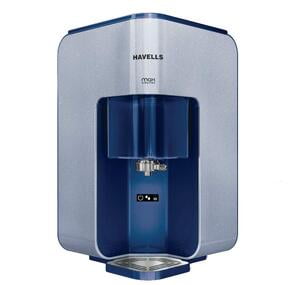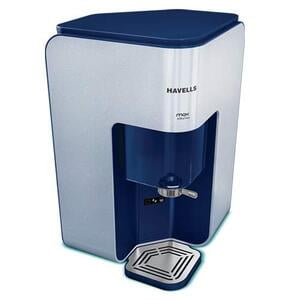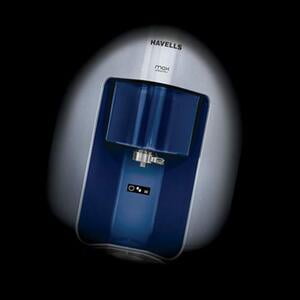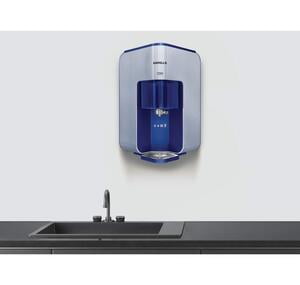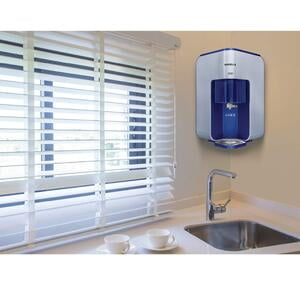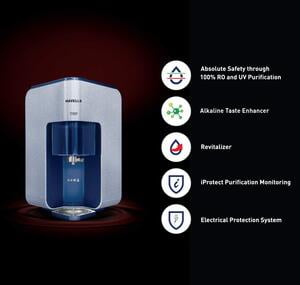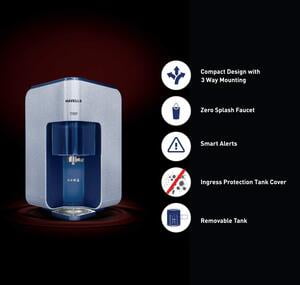 Havells Water Purifier Max Alkaline
Absolute safe water with 100 percent RO and UV purification, minerals fortification that provides alkaline and great tasting water,Capacity: 7 liters
7-stage 100 percent RO and UV purification; Voltage range : 230 V, 50 Hz
Mineralz technology corrects the pH level and adds natural minerals with trace elements to deliver alkaline water,Revitalizer (magnetized water) enhances water molecules for improved hydration and mineral absorption
Kindly note: For every litre of water purified, 650 ml of water is thrown out by the machine. It is encouraged to save the water in a container and use it for cleaning utensils, washing clothes.
Warranty: 1 year warranty provided by the manufacturer from date of purchase Includes: Water Purifier and Installation Kit
Absolute Safety through 100% RO and UV Purification with Double Purification
100% Water Passes through RO Membrane and then UV purification to ensure absolute safety and pure drinking water
Alkaline Taste Enhancer
It Improves pH level of water by adding essential alkaline minerals and also lowers the Oxidation Reduction Potential (ORP) resulting into antioxidant nature of water. Transforms regular water into alkaline water, which is healthier and tastier.
Revitalizer
Restructures water molecules- makes it biologically active to improve pH balance, hydration, alkalinity & mineral absorption.
iProtect Purification Monitoring
i-Protect purification monitoring – safe water or no water!
Electrical Protection System
Advanced Electronics ensure purifier performs well in the voltage range of 170 V – 330 V.Protects your purifier from voltage fluctuations
Mineralz Cartridge
It corrects the pH of purified water, adds back full spectrum of natural minerals and trace elements, and delivers healthier and tastier water always.
Compact Design with 3 Way Mounting
Only product that can be mounted in a corner, on a straight wall or table top.
Zero Splash Faucet
Unique soft touch faucet: Benefits hygienic water, zero splash and smooth flow.
Smart Alerts
Process alerts: Self-diagnostic, purification and tank full. Error alerts: UV, SV or pump failure.
Ingress Protection Tank Cover
Stops external invasion of insects and dust particles.
Removable Tank
Convenience to you, easily removable water tank to clean it periodically.
| | |
| --- | --- |
| Product dimensions (hxwxd) in (cm) | 49 cm x 27.3 cm x 38.2 cm |
| Net weight (kg) | 8 kg |
| Flow rate | Up to 15 liters per hour |
| Purification technology | Absolute Safety through 100% RO & UV Technology |
| Purification stages | 7 Stages |
| Material of construction | Food Grade |
| Installation type | Corner & Wall Mounting |
POWER SUPPLY
| | |
| --- | --- |
| Voltage range | 230 V, 50 Hz |
| Power rating | 45 W |