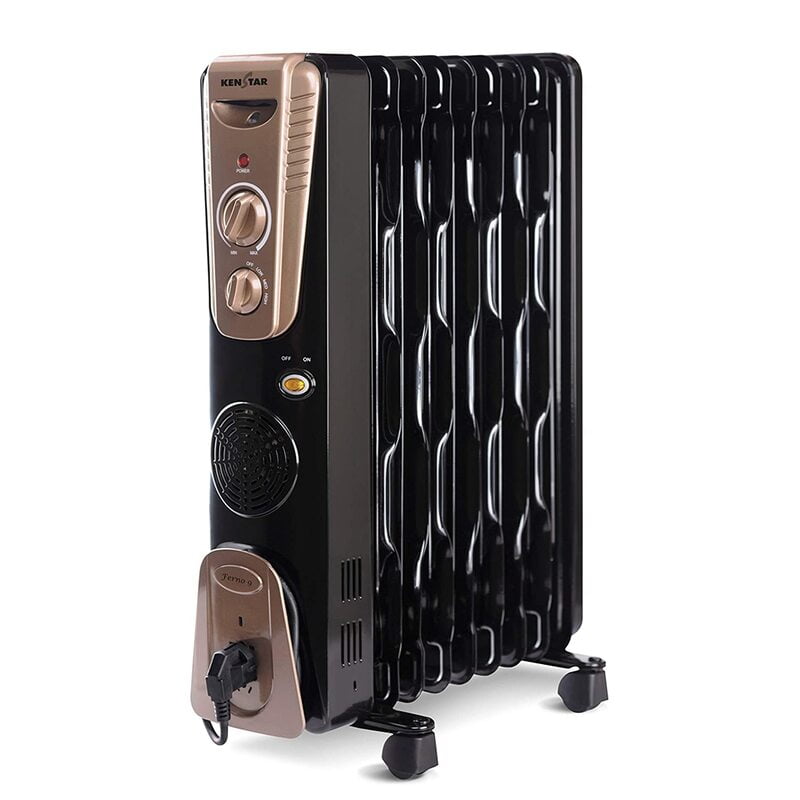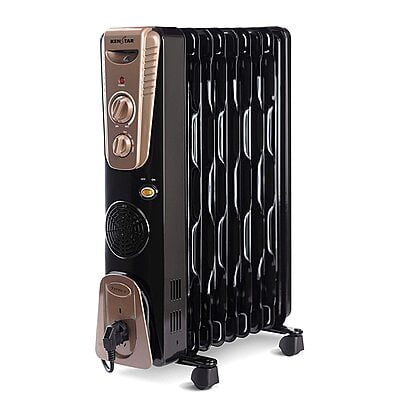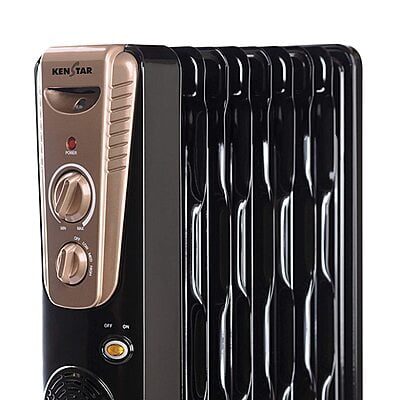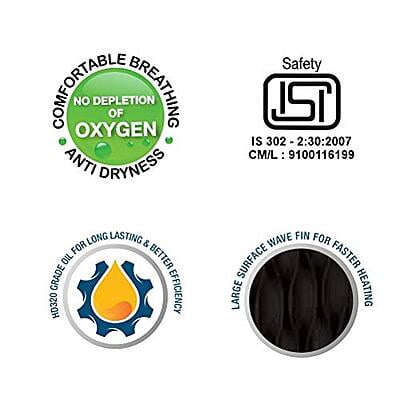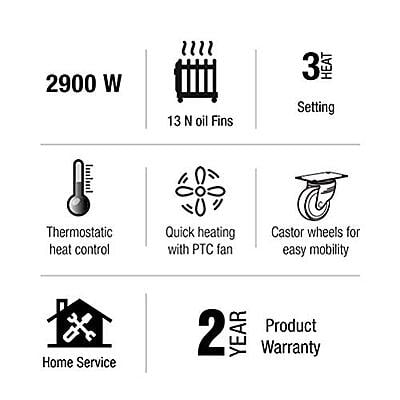 KENSTAR OFR FERNO 11
Non-returnable
Get 100% genuine and authentic products
7 Days Replacement guarantee
| | | |
| --- | --- | --- |
| Brand | | Kenstar |
| Special Feature | | Cord Winder, Silent Operation, Overheat Protection, Tip-Over Cut-Off Switch |
| Colour | | BLACK GOLD |
| Heating Method | | Convection |
| Product Dimensions | | 52D x 25W x 63H Centimeters |
| | | |
About this item
Quick heating with PTC fan and Over heat protection
3 Heat setting 1000/1500/2500 Watt with additional 400 Watt (Heater+Fan)
High grade oil for long lasting and better heating efficiency
Large surface wave fin for Faster Heating; Castor Wheels for easy mobility and Rear Safety cover
Size Name: 52x25x63(Lwh); Material Type: Plastic
Kenstar Oil Filled Radiator 11 Fins with PTC Fan Heater 2900 Watts (BLACK GOLD)
Product description
Kenstar, a brand synonymous with high-quality home appliances, presents the all-new oil-filled radiator with PTC fan heater to keep you cozy, no matter how chilly it is outside. The best part about this all-new OFR with PTC fan heater is that it doesn't kill the oxygen present in the room; so it means no more suffocation. These oil-filled radiators are best when it comes to silent operation. Unlike heat convectors, they don't blow high speed air which is uncomfortable at times. Kenstar Oil-Filled Radiators consume almost same power, and have almost negligible maintenance cost. With PTC fan heater, you can be relaxed about the safety as there is no fear of fire like normal heaters. Kenstar OFR with PTC Fan Heater is aesthetically designed to match the interiors of your home. It comes with casters for easy mobility. The heater can be dismantled, and easily stored once you're done for the season. It also has a cord winder wherein the cord can be easily coiled.
Product Features
Adjustable Thermostat
Thanks to its adjustable thermostat, this room heater allows you to regulate the temperature as per your requirements.
Castor Wheels
Fitted with castor wheels, this room heater lets you move it from one room to another.
Quiet Operation
Courtesy of its silent operation, this room heater gives you a peaceful environment to work or relax.
Cord Winder
Featuring a cord winder, this room heater makes it easy to store the cord when not in use.
Tip-over Safety Switch
Owing to its tip-over safety switch, this room heater shuts down automatically when placed on an uneven surface.
Overheat Protection
Featuring overheat protection, this room heater automatically stops its operations in the event of overheating, thereby ensuring optimal safety.
PTC Fan
Equipped with a PTC fan, this room heater ensures an enhanced heating experience.
TECHNICAL SPECIFICATIONS
| | | |
| --- | --- | --- |
| General | | |
| Brand | | Kenstar |
| Model Name | | Radiator With PTC Fan Heater 2900 Watts 11 Fins |
| Model Number | | FERNO 11 |
| Type | | Oil Filled |
| Number of Fins | | 11 |
| Body Material | | METAL |
| Climate Control | | Yes |
| | | |
| Auto-revolving Heater | | Yes |
| Digital Display | | No |
| | | |
| Power Indicator | | Yes |
| Timer | | Yes |
| Noiseless Operation | | Yes |
| Fan Switch Off | | Yes |
| | | |
| Tip-over Switch | | Yes |
| Overheat Protection | | Yes |
| Touch Sensor | | No |
| Other Safety Features | | Castor Wheels for easy mobility and Rear Safety cover |
| | | |
| Maximum Power Consumption | | 2900 W |
| | | |
| Width | | 25 cm |
| Height | | 63 cm |
| Weight | | 14.1 kg |
| | | |
| Warranty Summary | | 2 YEAR WARRANTY |
| Covered in Warranty | | Manufacturing defects or bad Workmanship |
| Not Covered in Warranty | | physical damage misuse of product, serviced by unauthorized person or service center |