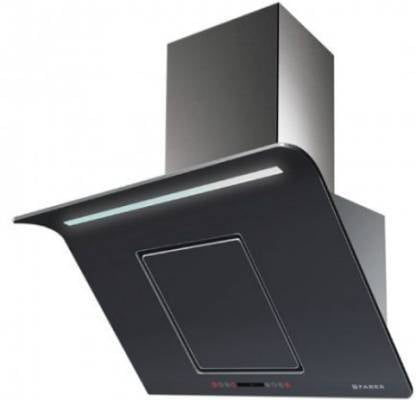 Faber Hood Curvy Plus BK TC LTW 60 (110.0393.697) Black 1000 CMH
Faber Hood Curvy Plus BK TC LTW 60 (110.0393.697) Black 1000 CMH
60 cm : Suitable for 3-4 Burners

1000 CMH

Baffle Filter : Uses panels to separate grease & spice, half-yearly cleaning

Needs regular manual cleaning of the filters

Very effective in removing odor

7 Days Replacement Guarantee
Faber Hood Curvy Plus BK TC LTW 60 (110.0393.697) Black 1000 CMH
Are you looking for a chimney that has an angular design? If so, bring home this Faber Hood Curvy Plus BK TC LTW 60 Wall Mounted Chimney that features a cassette filter and enjoy a kitchen that is rid of smoke and oil particles. The 1000 m3/h suction capacity quickly removes smoke and particles from the air in your kitchen. The touch controls of this Faber chimney make it easy to operate it.
Cassette Filter
The cassette filters of this Faber Hood Curvy Plus BK TC LTW 60 chimney are designed to draw out and trap all the smoke and oil particles in your kitchen so it stays clean.
Touch Control
The one-touch operation of this Faber chimney's control panel makes it easy to operate all its functions in a jiffy.
Powerful Suction
The powerful 1000 CMH suction capacity of this Faber Chimney quickly eliminates fumes and oil particles from any kitchen.
Elegant Design
This Faber chimney has an elegant appearance, thanks to its angular design. This will add to the beauty and aesthetics of the interior decor of your kitchen.
| | | |
| --- | --- | --- |
| In The Box | | User Manual, Chimney, Warranty Card |
| | | |
| --- | --- | --- |
| Brand | | Faber |
| Model Number | | Hood Curvy Plus BK TC LTW 60 (110.0393.697) |
| Brand Color | | Black |
| Finish | | Glass |
| Shape | | Curver Glass |
| Mount Type | | Wall Mounted |
| Material | | Stainless Steel |
| Air Suction Capacity | | 1000 CMH |
| Control Panel Type | | Touch |
| Ductless | | No |
| Filter Type | | Baffle Filter |
| Model Name | | Hood Curvy Plus BK TC LTW 60 |
| Speed Levels | | 3 |
| Filter Block Indicator | | No |
| Noise Level | | 52 dB |
| | | |
| --- | --- | --- |
| In-built Lights | | Yes |
| Number of Lights | | 2 |
| Light Type | | LED Strip |
| Dimming Feature | | No |
| | | |
| --- | --- | --- |
| Phase | | Single-phase |
| Power Requirement | | AC 220 V, 50 Hz |
| Motor Power | | 250 W |
| Engine Power | | 0.33 |
| | | |
| --- | --- | --- |
| Height | | 65 cm |
| Width | | 60 cm |
| Depth | | 40 cm |
| Weight | | 19 kg |