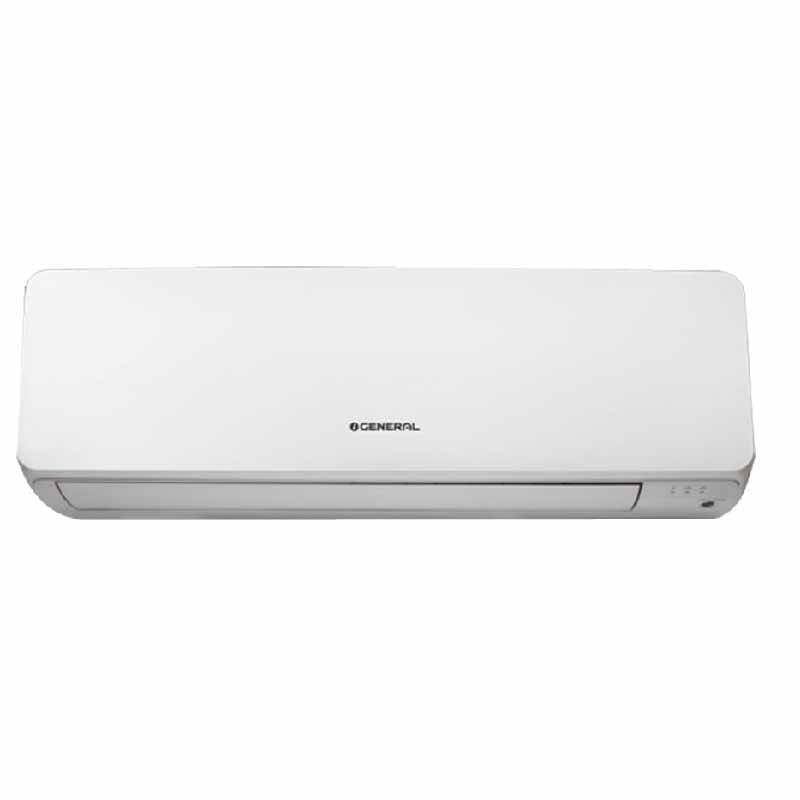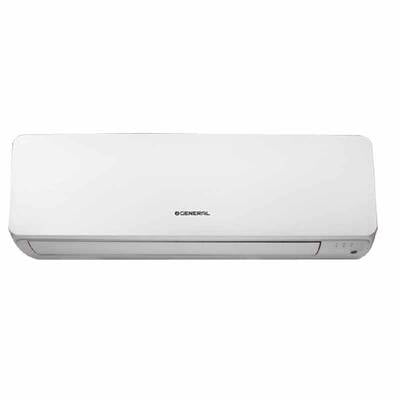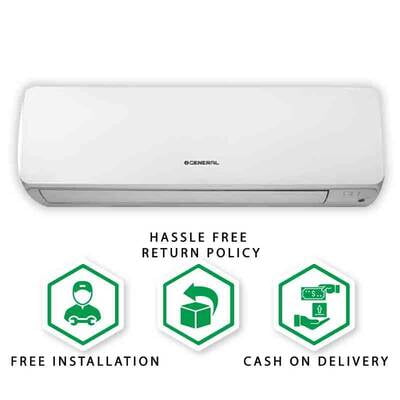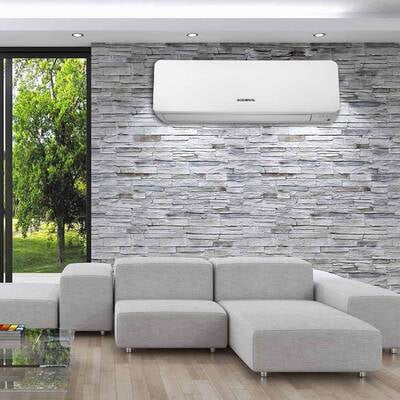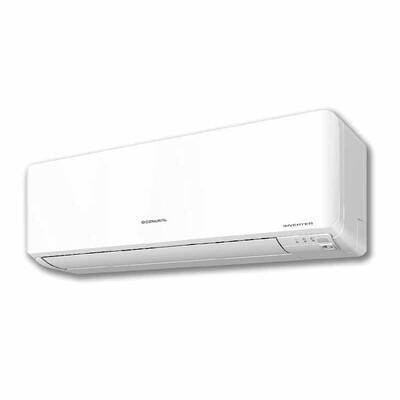 O GENERAL SAC 1.0 TON INVERTER 5STAR ASGG12CGTA
Get 100% genuine and authentic product
7 Days replacement guarantee
Standard Free Installation from O General for Delhi customers only
1 Ton, 5 Star, Split Ac
Approximate Coverage Area – 130 Sq. Ft (12.08 Sq. M)
IDU Dimension – 83 x 22 x 27 cms
Hyper Tropical DC Twin Rotary Compressor
Copper Condenser
12 Months, 10 Years Compressor Warranty
O GENERAL SAC 1.0 TON INVERTER 5STAR ASGG12CGTA
Quickly circulate the cool air in blazing summers by installing this new
O General ASGG12CGTA Split Inverter AC
. It has a 5 star rating and a capacity of 1 ton that cools down a large area even at high ambient temperature. It is an inverter AC, it is the best go-to product for places where ACs run for longer hours as it consumes less power and saves on energy. It has a two-stage filter that filters all pollutant particles and provides you with a healthier air.
Now enjoy cooling like never before with the all new O'General ASGG12CGTA Split Inverter AC that deliver top notch purified and chilled air in no time. You can adjust the temperature according to the needs of your room and it enables you to have a pleasant atmosphere ensuring a cool and calm environment. The 5 star energy rating ensures that your energy is consumed in a smart way to provide optimum cooling results. The air conditioner with a capacity of 1 ton cools a large area efficiently in no time and provides clean and fresh air to give you a fresh and comfortable environment in your living space.
Hyper Tropical Inverter
The OGeneral ASGG12CGTA Split Inverter AC comes with a stunning Hyper Tropical Twin Rotary Compressor which does the cooling with ease without any worries. It is capable of achieving higher energy efficiency compared to similar compressors by optimizing the structure that is incorporated within this air conditioner. During extreme heat this air conditioner can handle temperature as high as 52 degree Celsius.
Energy Efficient Cooling
The OGeneral ASGG12CGTA Split Inverter AC comes with cooling measures that was never experienced before and with its 5 start rating it ensures that you are provided with efficient cooling high electricity bills. They are consolidated with lambda heat exchanger which is something innovative and with the large cross flow fan it ensures that the air is distributed in proper proportion to each and every corner.
Ergonomic Design with Stunning Capabilities
The OGeneral ASGG12CGTA Split Inverter AC crafts itself with some exceptional design that will embezzle your view towards its look. It comes with a human sensor that catches movements of people in the room and operated with lower capacity when people exit the room. It automatically returns to its previous operating mode when it sense people entering the room. They are crafted with a remote controller that helps to control the air conditioner in order to achieve the appropriate temperature. The amazing cooling features with the backend support of various functionality makes this air conditioner the perfect go to option for you in this hot and humid summer season.
| | | |
| --- | --- | --- |
| Air Conditioner Category | | |
| Air Conditioner Type | | Split |
| Air Conditioner Capacity | | 1 Ton |
| Approximate Coverage Area(Sq.Ft) | | 130 Sq. Ft. |
| Approximate Coverage Area(Sq.M) | | 12.08 Sq.m |
| Installation Type | | Wall Mount |
| Manufacturer Details | | |
| Brand | | O'General |
| Model Series | | ASGG12CGTA |
| Model Number | | ASGG12CGTA |
| Air Conditioner Features | | |
| Air Conditioner Modes | | Powerful Mode | Economy Mode |
| Air Flow Volume | | IDU: 412 (In) CFM |
| Types of Sensors | | Human Sensor |
| Inverter Technology | | Yes |
| Stabilizer Free Operation | | Yes |
| Cooling Capacity | | Rated Capacity at 50% Load - 1700 Watts | Rated Capacity at 100% Load - 3400 (Min: 900/Max: 4100) Watts |
| Ambient Temperature (Cooling/Heating) In Degree Celsius | | Cooling - 52 |
| Running Current (Cooling/Heating)InAmps | | Cooling: 4.3 |
| Cooling Power Input | | Rated Input at 50% Load - 320 Watts | Rated Input at 100% Load - 805 Watts |
| Additional Air Conditioner Features | | v-pam Control | Self Diagnosis | Moisture Removal: 1.8 Ltr/Hr |
| Air Conditioner Functions | | |
| Compressor Type | | Hyper Tropical DC Twin Rotary Compressor |
| Refrigerant Type | | R-32 |
| Noise Level (Indoor Unit) | | 19 dB |
| Noise Level (Outdoor Unit) | | 50 dB |
| Additional Air Conditioner Functions | | Indoor Airflow Distance - 10 Metre | Electricity Consumption: 514 Units/Year |
| Air Conditioner Physical Attributes | | |
| Connecting Pipe Type | | Copper Pipe |
| Condenser Coil Type | | Copper Condenser |
| | | |
| Remote Control Details | | |
| Remote Control Type | | IR |
| | | |
| Energy Standards | | |
| Energy Efficiency(Star Rating) | | 5 Star |
| Energy Efficiency Ratio (EER) | | 4.22 |
| Indian Seasonal Energy Efficiency Ratio (ISEER) | | 5.12 |
| Energy Saving Functions | | Yes |
| Air Conditioner Plug Details | | |
| Power | | 321 W |
| Voltage Rating | | 230 V |
| Frequency | | 50 Hz |
| Phase | | Single |
| Product Aesthetics | | |
| Color | | White |
| Color Family | | White |
| In The Box | | |
| Generic Name | | Air Conditioner |
| Main Product | | 1 U Indoor Unit & Outdoor Unit |
| Accessories | | Wall-Mount Kit | Remote Control Battery | Remote Control | Remote |
| Documents | | Safety and Warranty Documents | Warranty Card | User Manual | User Manual |
| Product Dimensions (Open) | | |
| Dimensions in cm (WxDxH) | | 83 x 22 x 27 |
| Dimensions in Inches (WxDxH) | | 32.68 x 8.66 x 10.63 |
| Weight | | 10000 g |
| Depth | | 8.46 Inches |
| Width | | 32.84 Inches |
| Height | | 10.63 Inches |
| Weight | | 10 kg |
| Product Dimensions Outdoor Unit | | |
| Dimensions in cm (WxDxH) | | 80 x 29 x 54 |
| Dimensions in Inches (WxDxH) | | 31.5 x 11.42 x 21.26 |
| Weight | | 31.01 kg |
| After Sales & Services | | |
| Standard Warranty Period | | 12 Months |
| Additional Warranties | | 10 Years Compressor Warranty |
| Warranty Type | | Onsite |