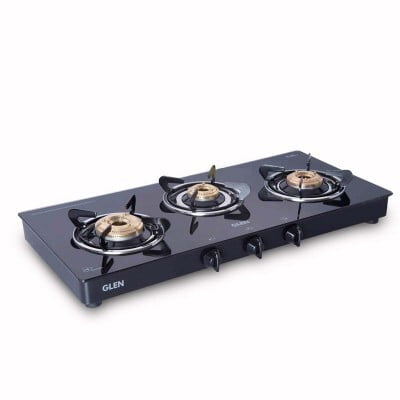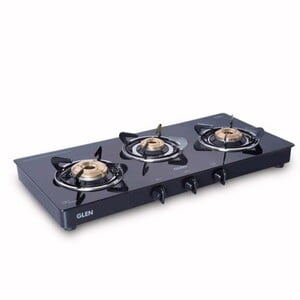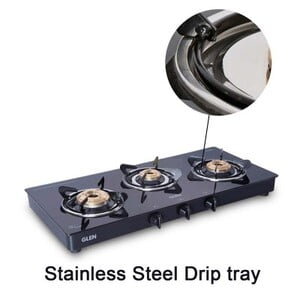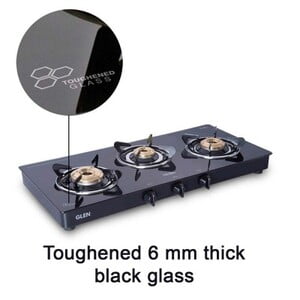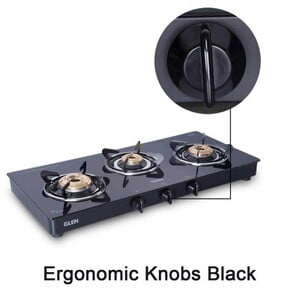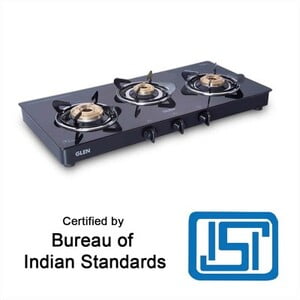 GLEN 1033 GT BB BLK LPG GAS STOVE
Toughened 6 mm thick black glass

Fuel efficient brass burners

Sturdy pan support

Stainless Steel Drip tray

ISI Certified
GLEN 1033 GT BB BLK LPG GAS STOVE


Glen 1033 Black Glass Cooktop 3 Brass Burner with SS Drip Tray
For two decades Glen has been instrumental in revolutionizing the Indian kitchen with innovative new products and thoughtful features. Backed by an extensive research and international, state-of-the-art manufacturing plants in India.
Glen brings to the discerning Indian woman products that are an ideal combination of aesthetics and performance.
Glen presenting new all Black Glass Cooktops to add complement to your kitchen. Counter top model of cooktop tastefully clad in black glass and black body. Strong with elegant looks and superb all-round performance.
Features like fuel efficient brass burners, toughened black glass, rich black body and perfect flame control makes Glen an ideal partner for the well-being of you and your family
Burner Type : Fuel efficient Brass Burner
Glass : Toughened 6 mm thick black glass
Drip Tray : Stainless Steel
Nozzle : 360 degree Swivel type revolving inlet nozzle
Knob : Ergonomic Knobs Black
Total Gas Rating (g/h - kcal/h) : 541 - 5896
Gas Rating - Small Burner (g/h - kcal/h) : 143 - 1554
Gas Rating - Big Burner (g/h - kcal/h) : 177 - 1930
Gas Rating - High Flame Burner (g/h - kcal/h) : 221 - 2412
Net Weight (Kg.) : 6.95
Support Type : LPG Gas (on request convertible to PNG on chargeable basis)
Pan supports : Sturdy Pan Supports
Number of Burner : 3
Auto Ignition Option : Not Available
High Flame Burner : 1
Small Burner : 1
Big Burner : 1
Gross Weight (Kg.) : 8.4
Certified : ISI Certified
Body : Black Powder Coated
Auto Ignition (Voltage) : No
Width : 726 mm*
Height : 118 mm *
Depth : 390 mm*