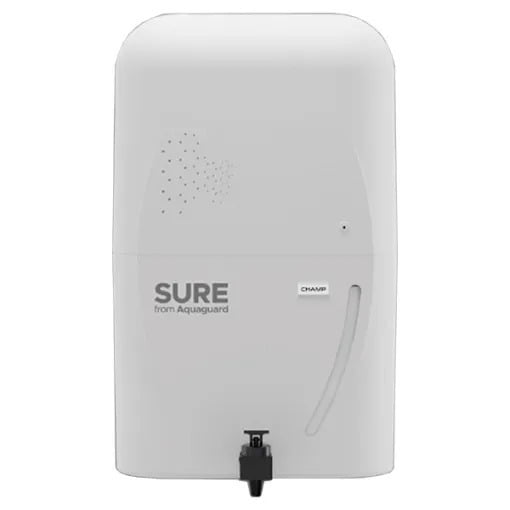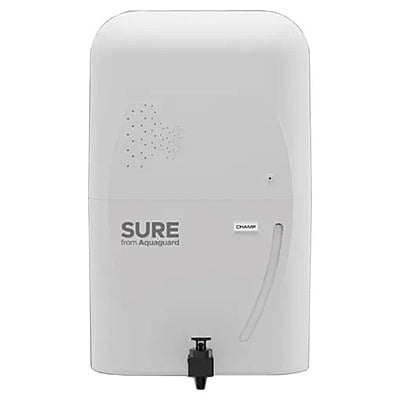 AQUAGUARD SURE CHAMP UV
Non-returnable
Get 100% genuine and authentic product
7 Days Replacement guarantee
Delivers pure & safe water free of Bacteria, virus & Protozoa & chemical impurities through its superior UV technology.




Comes with 3 stages of purification that treat your water in multiple ways, always providing pure and safe drinking water.

Delivers water that is as safe and pure as water boiled over 20 minutes.
Sure From Aquaguard Champ UV Wa
ter Purifier
Can be placed on the counter or mounted on the wall.
Comes with a 7-litre in-built storage tank, ensuring purified water on tap, all the time.
Allows you to easily check the water level in the tank at all times.
Lasts for up to 1 year or 6000 litres, whichever is earlier, based on standard test conditions mentioned in the user manual.
1 Year RO Membrane Warranty*
Free of charge cleaning of RO membrane for up to 1 year or 6000 liters. Replacement of membrane will be chargeable.
Requires little to no maintenance to keep the purifier up and running.
Ideal for Municipal Water
Suitable for water with TDS of up to 200 mg per liter.
Turns off the UV lamp when not in use for 10 minutes, enhancing UV lamp life and reducing power consumption.
TECHNICAL SPECIFICATIONS
| | | |
| --- | --- | --- |
| Weight | | 3 kg |
| Dimensions MM (WxDxH) | | 318 x 250 x 460 mm |
| Installation Type | | Wall mount/Table top |
| Storage Capacity | | 7 litres |
| Purification Modules | | I-Filter, Chemi-Block, UV e-boiling |
| Recommended for | | Municipal water |
| TDS | | 1 to 200 mg/L |
| Water Flow Rate | | 1000 ml/minute |
| Input Water Pressure | | 0.3 to 2 kg/cm2 |
| Input Water Temperature | | 10°C - 40°C |
| Input Water Chlorine (Max) | | 0.2 mg/liters (max.) |
| Input Water Turbidity (Max) | | 5 NTU (max.) |
| Input Water Iron | | 0.1 mg/litre (max.) |
| UV Lamp | | 11 watts |
| Life of UV Lamp | | 8000 Burning Hours |
| Power Consumption | | 20 watts |
| Voltage | | NA |
| Operating Input Voltage | | 150 VAC to 280 VAC, 50 Hz |
| Country of Origin | | India |