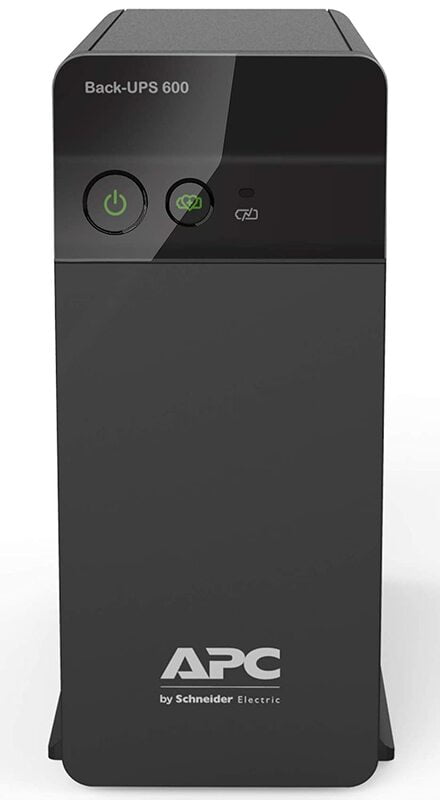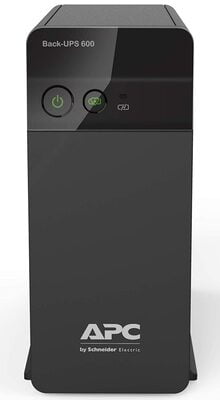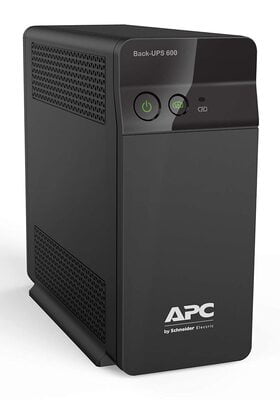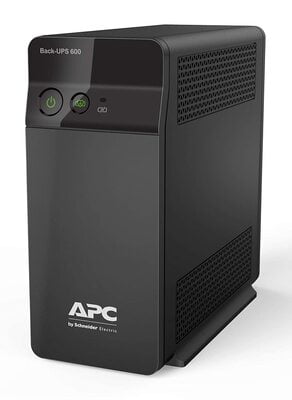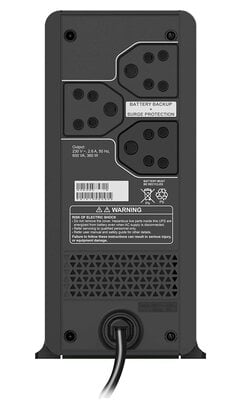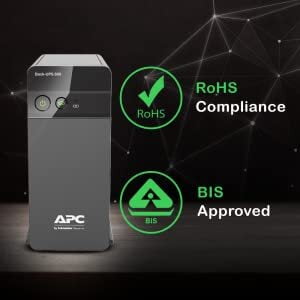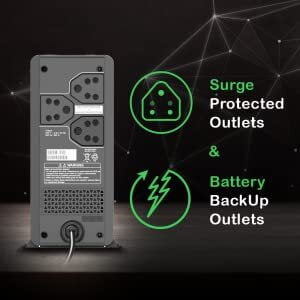 APC Back-UPS BX600C-IN 600VA / 360W, 230V, UPS System
Compact Design Line Interactive UPS with Load Capacity of 360Watts / 600VA
Three Battery Backed up and Surge Protected 6A, 2/3 Pin Output Indian Power Socket
Automatic Voltage Regulator (AVR) with Wide Input Voltage Range 145-290V
1x7.2Ah Battery provides 20 - 75 min. Back-Up time *as per the load
Generator Compatible
Compatible with low power loads e.g. Wi-Fi router, DSL modem
Cold start capability allows the load to power on just on battery
100% Genuine Authentic Product
7 Days Replacement Guarantee
Pattern name:
UPS
APC by Schneider Electric, The global leader in power protection for Home & Business presents : APC Back-UPS BX Series- An Uninterrupted Power Supply System to keep you connected by providing guaranteed power and surge protection for wireless networks, computers, home entertainment, and other electronics devices. APC Back-UPS is the perfect choice to protect your data, it supplies battery backup during power cuts and unsafe voltage fluctuations and protect your electronics from damaging surges and spikes.
APC Back-UPS: Ideal Power Backup & Power Protection
Work, Study, Play? Stay Protected, Stay Connected!

.

Protect Your Digital Life

Battery and Surge-protected outlets

APC Back-UPS

is an ideal power backup and protection for home offices, desktop PCs, home entertainment systems, wifi-routers, and electronic devices. It defends your digital experience from any power disruption and ensures quality and un-interrupted power supply to your electronic devices.

APC Back-UPS provides 3 Indian 2/3 Pin Power Socket which are Battery Back-up and Surge Protected Outlets. It protects your hardware and data during power outages, surges, and spikes. APC Back-UPS has AVR Technology which provides protection from Wide Voltage Fluctuation and also compatible with Generator which is ideal for Indian Power Condition.
Power Backup during Power Cuts

Adequate Backup Time as per the Load.






Upto 30 min. Power Backup for 1 PC + 1 Electronic Device.

<30W +/- 15W = 120 min max

60W +/- 15W = 27 min

100W +/- 15W = 13 min

140W +/- 15W = 7 min

*Disclaimer: Back up time is subject to load, room temperature, battery life, and results may vary. Please visit our APC website to know more details about the backup time as per the load.
Smart Battery Management & Safety Features
Smart Battery Management

Battery failure notification

.

Manageability

Audible alarms

Provides early-warning fault analysis on batteries enabling timely preventive maintenance.

Intelligent battery management

Maximizes battery performance, life, and reliability through intelligent, precision charging.

Automatic self-test

Periodic battery self-test ensures early detection of a battery that needs to be replaced.

Provides notification of changing utility power and UPS power conditions

LED status display

Quickly understand unit and power status with visual indicators
Safety Standards

RoHS Compliance and BIS Approved for reliable safety






Ensures the product has been tested and approved to work safely with the connected service provider equipment and within the specified environment.





Product information
| | | |
| --- | --- | --- |
| Brand | | APC |
| Manufacturer | | APC |
| Model | | BX600C-IN |
| Product Dimensions | | 23.7 x 10.7 x 21.8 cm; 4.69 Kilograms |
| Batteries | | 1 Lithium Polymer batteries required. (included) |
| Item model number | | BX600C-IN |
| Special Features | | Surge only outlets | Battery and surge protected outlets, Audible alarms | Automatic self-test | Automatic Voltage Regulation (AVR), Cold-start capable | Fast battery charging capability | Generator compatibility | LED Indicators, Safety-agency approved | Battery-protected and surge-only outlets | Automatic self-test, Battery charging indicator | Battery Saver | Boost Automatic Voltage Regulation (AVR) |
| Mounting Hardware | | UPS, User Manual and Warranty card |
| Number Of Items | | 1 |
| Audio Wattage | | 360 Watts |
| Wattage | | 360 Watts |
| Battery Average Life | | 3 Years |
| Battery Average Life Standby | | 20 Minutes |
| Charging Time | | 4 Hours |
| Batteries Included | | Yes |
| Batteries Required | | Yes |
| Material | | User Manual , Warranty card |
| Has Auto Focus | | No |
| Programmable Buttons | | No |
| Manufacturer | | APC |
| Item Weight | | 4 kg 690 g |