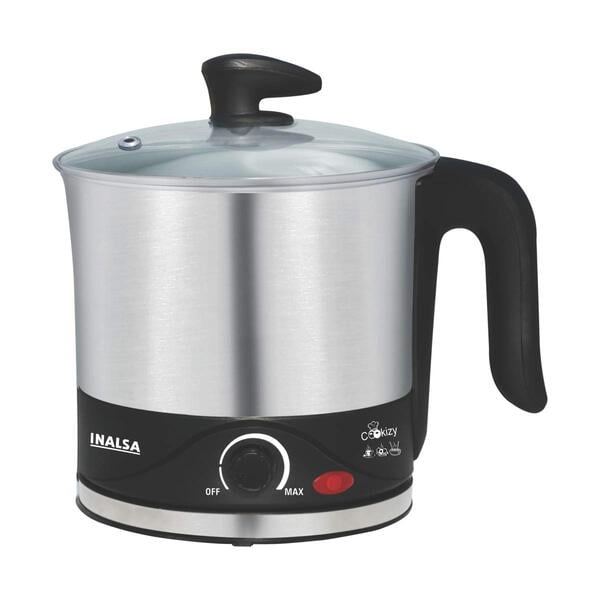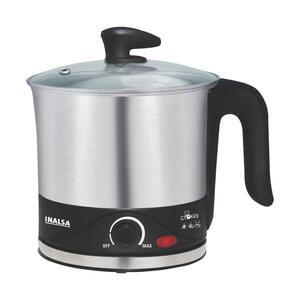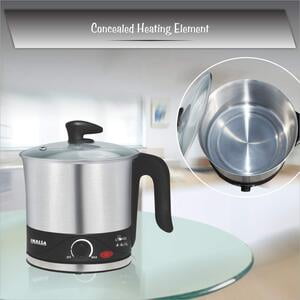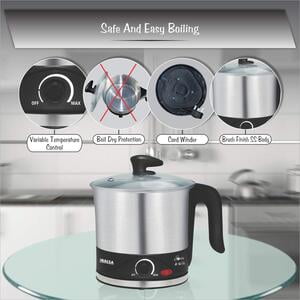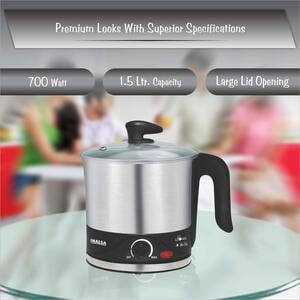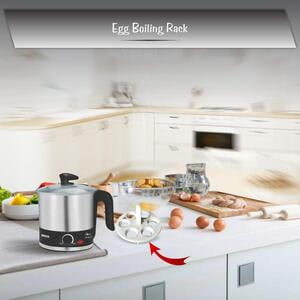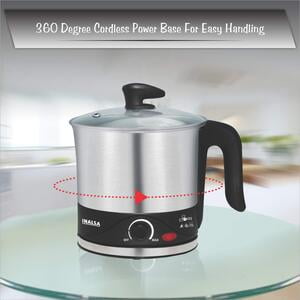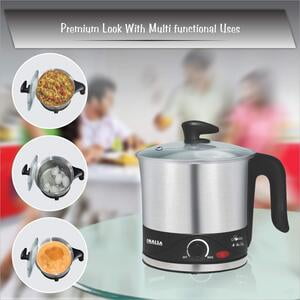 INALSA MULTI KETTLE-COOKIZY
Boil Dry Protection
Large Lid Opening
Brush Finish SS Body
360 degree Cordless Base
Concealed Heating Element
Capacity: 1.5 liters , Cord Plug / Length :3Pins, 0.75mt
Warranty: 1 year on product

Inalsa Cookizy 1.5-Litre Multi Purpose Kettle with Egg Boiler stand (Black/Grey)
Start Your Day Warm with Inalsa Cookizy!
Be it instant Boiling of water or reheating milk, coffee/tea, rice, egg boiling, fruit and vegetable steaming, and brew soup, make it conveniently with min/max temperature settings in a matter of minutes.
Compact size,enables you to carry while travelling It comes with smart features like temperature control, automatic cut-off for dry heating, ergonomic handle, stylish glass lid, concealed element at the bottom for ease of cleaning and maintenance with an extra attachment of egg boiler stand.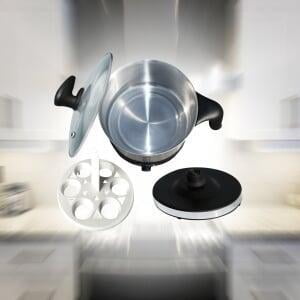 Stainless Steel Body with Extra Accessories
Now you can brew your coffee or cook your meals and store it too, as the body is made of high-grade stainless steel, which is known to be good for storing food. There is a power switch on the body with max/min temperature settings for desired level of cooking.
It comes with extra egg boiler stand. The egg boiler comes with removable handles with space for boiling 6 eggs at a time. The steamer bowl is useful for steaming small quantities of food.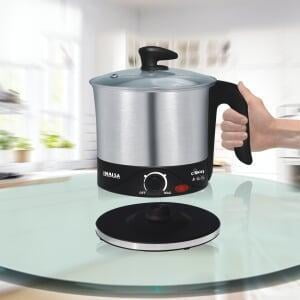 Swivel Detachable Power Base
Swivel power base allows you to plug it in any direction with easy jug handle positioning. Contact point is design to provide power only when kettle is placed on it. The kettle is detachable from its 360 swivel power base for a convenience of usage and portability.

Power Indicator with cool Touch Handles
This kettle has illuminated power indicator which glows when power is on and darkens when power is off. Elegant heat resistant handles make it easy to carry the cooker and is extremely durable. The automatic cut off feature cuts off the power supply, when the temperature inside exceeds the desired levels, protects the appliance from damage, making it safe and improves its lifespan as well. This features prevents consumption of excess power supply and electricity.