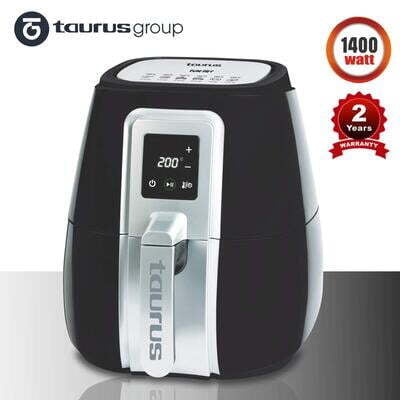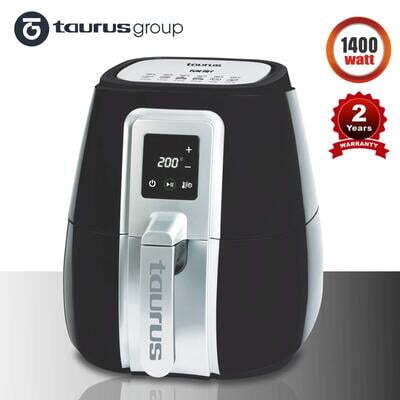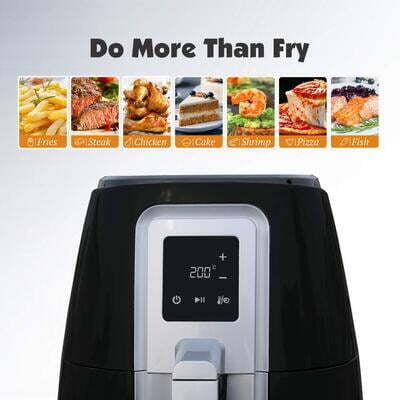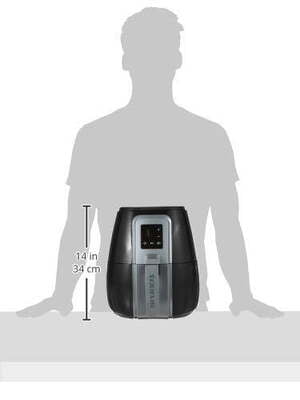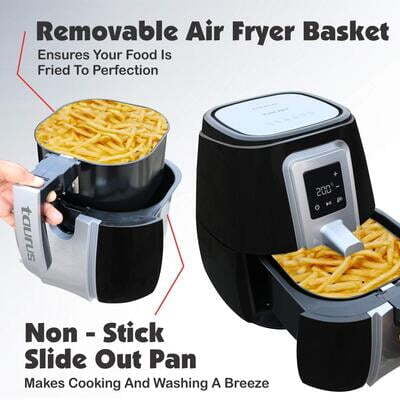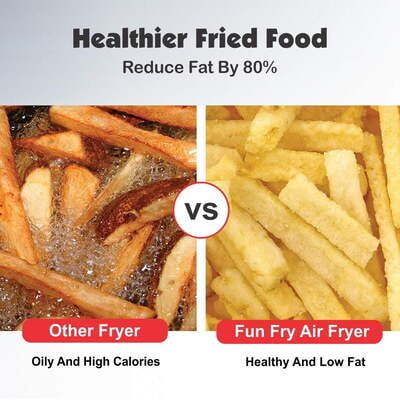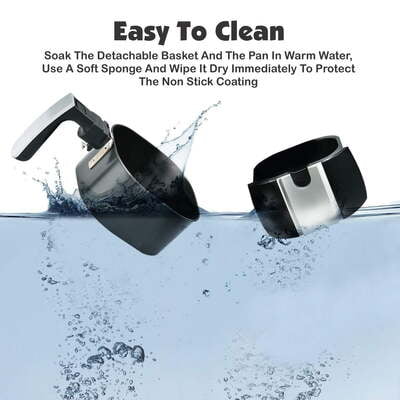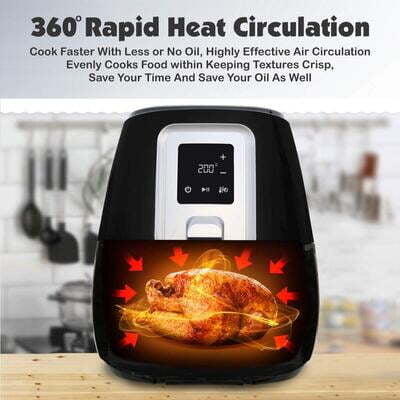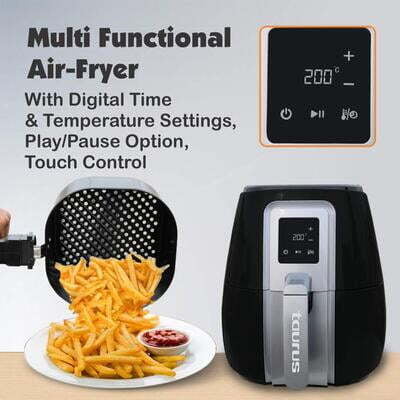 Taurus Digital Air Fryer Fun Fry-1400W
Healthy frying:This appliance uses rapid air technology to cook healthy-low fat versions of your favorite foods,using little to no oil. Deliver a much healthier version of the same food with great crispy fried taste and texture
Effortless cooking:Prepare amazing meals from your cookbook such as French fries,chicken,steak,pudding and donuts.Make yourself feel like a professional chef in your kitchen with this air fryer that will replace any one of your kitchen appliances
Fast & Efficient heating: With 1400w of power, this air fryer heats up in 2-3 minutes and cooks food faster than a conventional oven so you can save money at the same time as cutting down the calories
Digital temperature and time control:With digital LCD panel and touch button controls,simply insert food into the hot air fryer,set the time and temperature and cook your ingredients efficiently.Cook-up casseroles, beef, chicken breasts and even desserts
Family size basket: With 2.9 L Food Basket and 4.2 L Cooking Pan capacity, this air-fryer serves the whole family. It makes your cooking effortless and is suitable for every occasion
Sleek and modern look: Fun-Fry enhances the look of your kitchen. With powder coated finish, this appliance is resistant against scratches, chipping, wear and ensures durability
Safety mechanism: For your safety, this appliance automatically switches off itself on basket removal. Over-heat protection has also been provided to protect against sudden overloads
100% Genuine Authentic Product
7 Days Replacement Guarantee
Taurus Digital Air Fryer Fun Fry-1400W
2 years warranty Great tasting fries, now go healthy, oil-less. Upto 80% less fat - compared to conventional fryers Fry, grill, roast & even bake conveniently using little or no oil Rapid heating - Big Stainless Steel coil Vapor Steam for crispier frying Easy to clean, Quick Frying Large cooking capacity 2.8L, Adjustable time & temperature control for perfect result (30 min. timer, temp setting 80-200C) Removable disc, slotted plate & grill plate.
From the manufacturer
INALSA FUN-FRY AIR-FRYER- 1400W----ALL IN ONE APPLIANCE
Prepare Healthy, Home-Made Meals With Fun Fry-Air Fryer ---Fry, Roast, Bake, Grill & Much More !!!
A HEALTHY WAY TO "FRY"-->
Indulge your cravings without the guilt! This air fryer allows you to fry your favorite foods without the extra calories by "frying" with air instead of dunking foods into oil !
For an extra crunch, lightly spritz ingredients with healthier oils, such as olive oil, peanut oil, or sunflower oil !
GRILL, FRY, ROAST & TOAST ALL IN ONE-->
Expand the cooking possibilities of your air fryer by doing more than just frying. Grill juicy steaks, roast a pork loin, or even toast a slice of bread all in one versatile appliance.
This air fryer has a 2.9 L Food Basket and 4.2 L Cooking Pan capacity making it ideal for family get-togethers !!
CRISPY & FRESH-->
Get crispy, fresh & tasty meals ready with this air fryer. The air fryer gives you the ability to prepare anything you want with 7-built in presets.
The rapid air technology revitalizes crispiness and freshness in food.
FULFILL INSTANT CRAVINGS-->
Satisfy your cravings & prepare mouth-watering dishes. Cook to your heart's desire faster and easier.....Prepare low-fat & oil-free food....
From french fries, friend chicken to meatballs, pies, doughnuts & even cakes.
PREPARE ANYTHING YOU WANT WITH FUN FRY-
| | | |
| --- | --- | --- |
| | | |
| Cook your favorite snacks or meals all in one appliance! Taurus Fun Fry ensures proper air circulation to maintain the right temperature. The smart appliance heats food from all sides so that you enjoy tasty, crunchy & healthy snacks or meals in 30 minutes or less. | | This air fryer features a large touchscreen display with a variety of settings, required Temperature Range from 180°C-200°C, Timer settings & Start/Stop button to make it easier to change settings mid-cycle. The ideal settings for each dish allows more accurate and precise cooking, you can't go wrong with this digital air-fryer. |
| | | |
| | | |
| Go beyond preparing french fries in air fryers. Now prepare Pork Chops, Rotisserie Chicken, Sweet Potato Fries, Fried Chicken, Doughnuts, Meatballs. This multi-functional air-fryer gives you perfect results every time. | | |
UPGRADE YOUR COOKING EXPERIENCE WITH FUN FRY
| | | |
| --- | --- | --- |
| | | |
| This air fryer comes with 2.9 L Food Basket and 4.2 L Cooking Pan capacity. Enjoy family gatherings, weekend celebrations with this large capacity appliance. Enough for everyone !! | | The food basket & cooking pan is detachable & has a non-stick coating that allows easy serving, cleaning & maintenance of the appliance. Fun Fry is repellent to water & oil, is durable, safe & long-lasting appliance, thanks to Non-Stick coating. |
| | | |
| | | |
| For your safety,this air-fry comes with auto-shut off feature. This features automatically switches off the appliance, once you remove the basket. Now cook even when kids are around. Enjoy safe & healthy cooking. | | This air fryer comes with an exhaust system that actually takes a small amount of the hot air that's circulating inside the cooking chamber. The system forces steam and smoke to only come out through there which is filtered before it's released. This prevents your kitchen to fill with smoke and smell of fried food.that helps in cleaning this appliance with ease. |