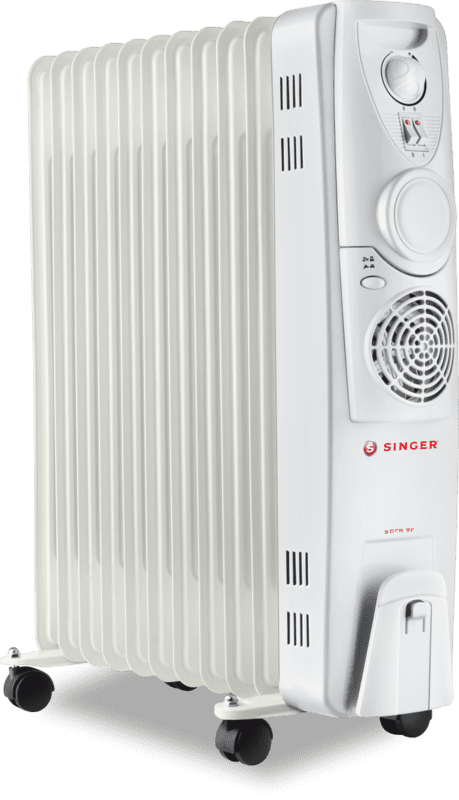 Singer 9 FIN 2400 Watts Oil Filled Radiator Room Heater (SOFR 9F 2400WT)
Get 100% Branded Products Only
7 Days Replacement Guarantee
9 Fins Oil Filled Radiator
3 Power Settings, 2400 Watts
PTC Fan for Faster Heating
Thermostat Control, Overheat Protection
Castors for Easy Mobility, Cord Storage
Warm Sunlight Feel
No Suffocation / Dryness
100% safe no exposed elements
Singer OFR 9 FIN 2400 Watts Oil Filled Radiator Room Heater
Singer OIL FILLED RADIATOR WITH FAN 9 Fins with Three Heating Positions, Powder Coated Fins For Rust Prevention, Oil Grade ED/HD 300 World Class for better performance, Long Lasting Nylon Castor Wheels for Easy Maneuvering, Metallic Back Fin Cover For Protection, In Built Tip over switch and Over Heating Protection for safety,Adjustable Thermostat, Cord winder, Two Metres Long Copper Power Cord, ISI Mark, 2 year Warranty.
Singer OFR 9F room heater comes with safety measurements through protective metal coating, instant heating, as well as safety certification.
3-way heating.

ISI marked.

2 year warranty.

1400, 2000 and 2400 watt power motor.

Works on a 220-240 Power voltage.

Over-heat protection.

Rollers for easy movement.

It has a 3-way heating effect which creates a quick heat in the entire space. With its 1400, 2000 and 24
00 watt power capacity, it not just functions fast but also stays in active mode every time the temperature drops. It has powder-coated 9 fins oil-filled radiators that work as excellent rust protectors leaving behind a durable room heater. Horizontally less space taking while vertically good enough to start working in every corner of the room, Singer room heater also has Nylon Castor wheels and metallic back cover for safety assurance. Also, it has got a smart overheating protection. This room heater has an inbuilt tip-over switch and rollers to move it all over as needed.
With a warranty of 2 year, Singer room heater has got the important ISI certification mark along making it a safe buy for home. With better performance than most of the room heaters because of its world-class ED/HD320 oil grade system, this room heater is supreme in its quality.