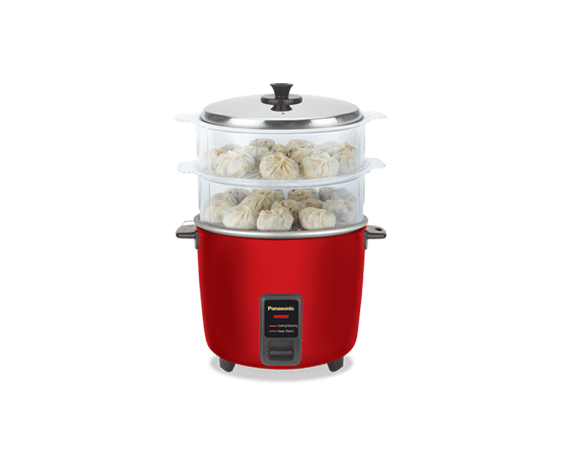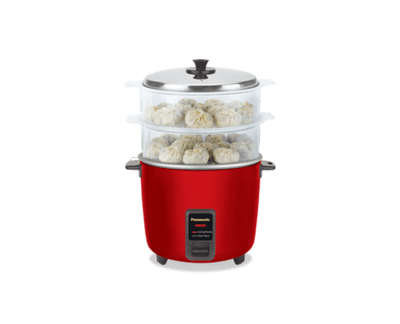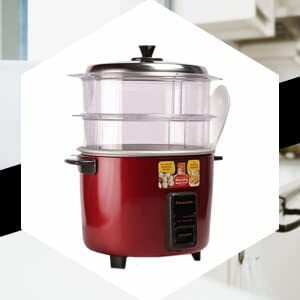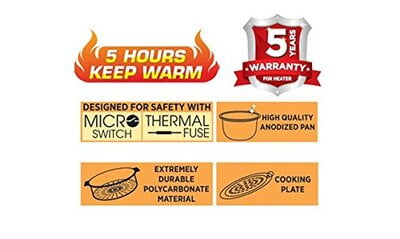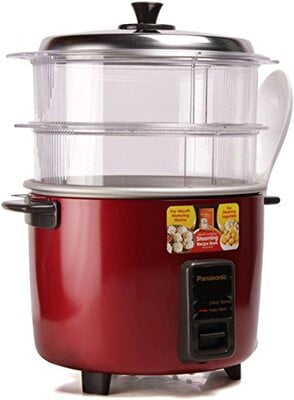 Panasonic SR-WA18H (SS) Rice Cooker with 2 steaming basket
Automatic Cooking.
Keeps food warm upto 5 hours.
Extremely durable polycarbonate steaming basket.
Anodized Aluminium Pan.
Comes with cooking plate.
Panasonic SR-WA18H (SS) Rice Cooker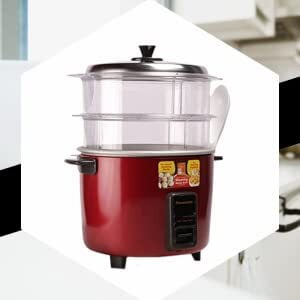 Item Description Rice Cooker that Saves Your Time Get the Panasonic SR WA18HSS rice cooker and appreciate handing out an assortment of rice rarities for your loved ones. This programmed rice cooker has a 4.4L subsequent to cooking limit, reasonable while cooking for a little local gathering. Having two modes, one for cooking and steaming another for warming, this cooker likewise includes multi-cooking alternatives, so you can make an assortment of arrangements like steam fish, momos, biryani, etc. Also, this Panasonic rice cooker has a reduced plan, so you can helpfully put it on your kitchen stage. Vitality proficient and Convenient The Panasonic 4.4 liter rice cooker is incorporated with indoor regulator, empowering you to control the temperature settings as indicated by your cooking inclinations. You can likewise utilize less oil while cooking, making this rice cooker a solid cooking choice. The upper holders are straightforward, guaranteeing perceivability while the food is being cooked. This rice cooker additionally keeps food warm long after it has been readied, so you can appreciate hot n funneling rice during your feast time. Also, you can clean and keep up it effortlessly. The Panasonic SR WA18H electric cooker accompanies a maker's guarantee of 2 years. Brand: Panasonic Color: White Material: Plastic Capacity: 4.4L Thermostat for accuracy control Easy to clean and keep up Manufacturer's guarantee: 5 years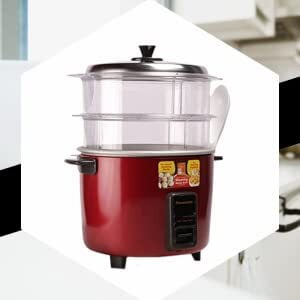 Panasonic SR-WA18H (SS) Rice Cooker- Food Steamer
Panasonic keeps warm series saves you from the trouble of reheating your food. Once the food is cooked it keeps the food warm up to 5 hours making it convenient for you to eat fresh and warm food whenever you want.
Automatic Cooking.
Keeps food warm up to 5 hours.
Extremely durable polycarbonate steaming basket.
Anodized Aluminium Pan.
Comes with the cooking plate.
| | | |
| --- | --- | --- |
| | | |
| AUTOMATIC COOKING | | ANODIZED ALUMINIUM PAN |
| This clever rice cooker saves power as once the food is cooked, it switches off automatically. The rice cooker is hence Ideal to improve your cooking experience. | | This wondrous rice cooker is made of anodized aluminium, which makes it sturdy and durable. The anodized aluminium is harder than steel and is non-reacting with food. |
| | | |
| | | |
| COOKING PLATE | | KEEPS FOOD WARM UP TO 5 HOURS |
| This stylish and compact rice cooker carries a cooking plate and a useful streaming basket in the combo to simplify your cooking requirements. | | It has an innovative technology that provides food longer life and freshness. |
| | | | | |
| --- | --- | --- | --- | --- |
| | | | | |
| STEAMED SALAD | | COCONUT CURRY WITH RICE | | TOMATO BASIL PASTA |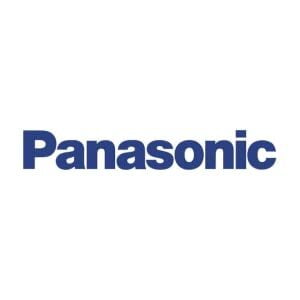 About Panasonic
In pursuit of "A Better Life, A Better World," Panasonic is forging ahead in a variety of fields. Panasonic will aggressively and strategically invest in market research and product innovation and will recruit/bring the best of global talent using its in-house open application system and work in areas like energy, water, remote access, and food. Our commitment at Panasonic is to provide a 'Better life' for our consumers and contribute to creating a 'Better World' around them. The requirement of our audience differs across geographies and therefore technological solutions have to be customized to the local environment. With this philosophy, we intend to provide solutions that are made in India for the Indians, across business and consumer sectors.