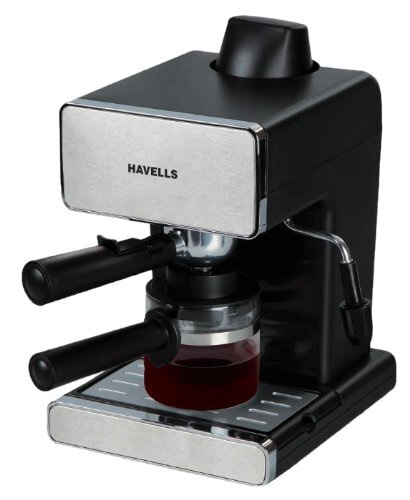 Havells Donato Espresso 900-Watt Stainless Steel Coffee Maker
5 bar pressure

4 cups espresso and cappuccino

Overheat and over pressure protection device

Detachable steam nozzle and drip tray for easy cleaning

Frothing function to make cappuccino or other hot beverage

Aluminium alloy filter holder attached with stainless steel filter

Power: 900 watts

Warranty: 2 years on product
A good cup of coffee is more than just the finishing touch on a great meal; it's the thing that makes getting up in the morning worthwhile. It's a multi-sensory experience that encompasses rich, evocative aromas, deep luxuriant color and full-bodied flavors. The brewing of a pot of coffee has cultural and ritual overtones that harken back thousands of years and are as much a part of the experience of coffee as the beverage itself.


Havells Donato Espresso 900-Watt Stainless Steel Coffee Maker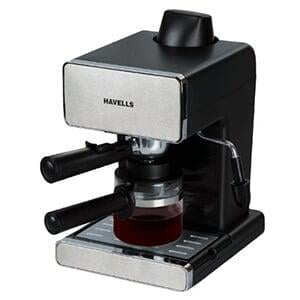 Sip your coffee without a hitch!

Sipping a cup of your delicious coffee is easier than ever with the introduction of the innovative Havells Donato Espresso 900 Watt Stainless Steel Coffee Maker.This magical machine allows you to make four cups of your favourite beverage. Its detachable steam nozzle and drip tray allow easy maintenance and proper hygiene. It has a state-of-the-art aluminium alloy filter holder and a stainless- steel filter. Enjoy brewing your cup today.



Protection device countering overheat and over pressure
You will not have to worry about any overheating or overpressure issue with this coffee maker presented by Havells. It comes with a protection device that prevents it from damages caused by overheat and overpressure.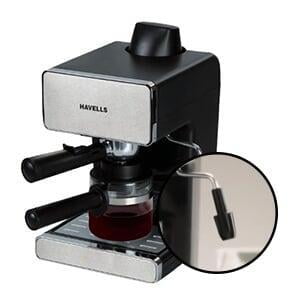 Built with a detachable steam nozzle
This coffee maker has been designed keeping your convenience in mind. It comes with a steam nozzle, which can be detached when not in use, hence you can store it with ease.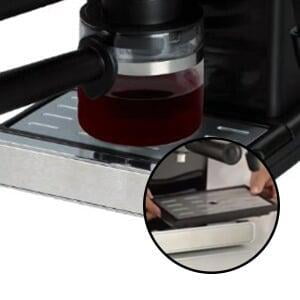 Comes with a drip tray
You can make coffee in a mess-free way when you use this amazing home appliance. It features a drip tray that can be helpful in making sure that the floor is not tainted if there is a fumble.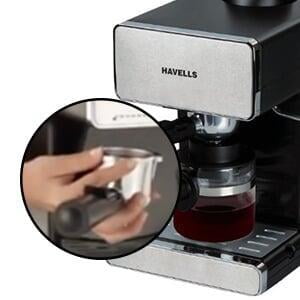 Comes with a stainless steel filter
This coffee maker comes with a filter, which helps you to filter the coffee with ease. The filter is made of stainless steel that makes it strong and corrosion resistant.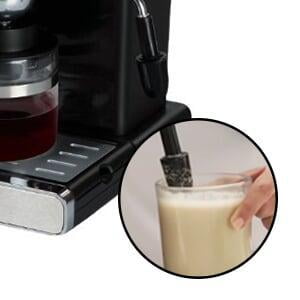 Built with a frothing device
If you like to have extra cream with your coffee, a frothing device can be a helpful tool. This excellent home appliance comes with an in-built frothing device, which adds to its utility.