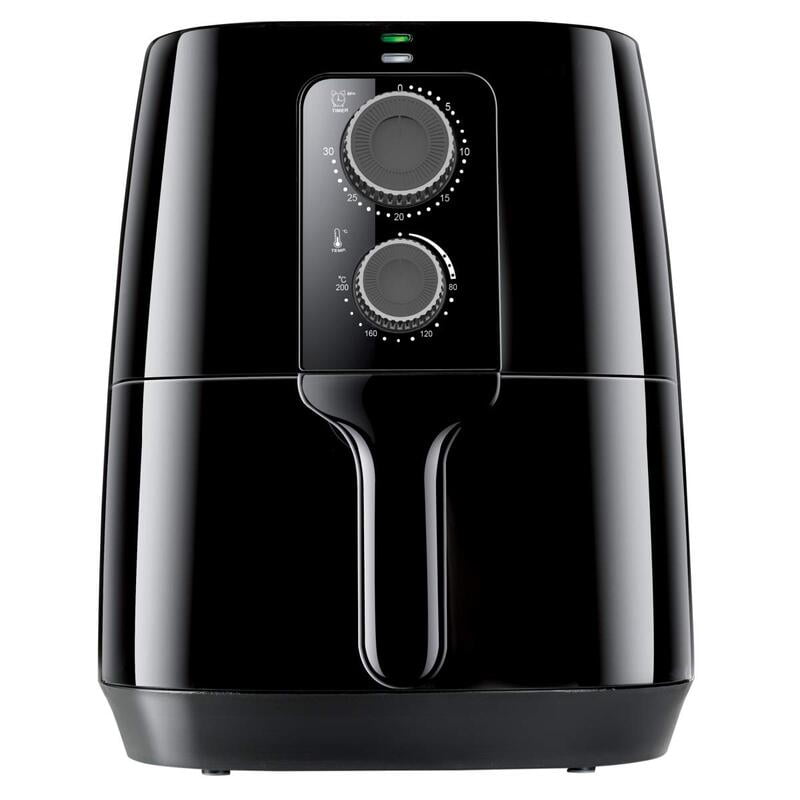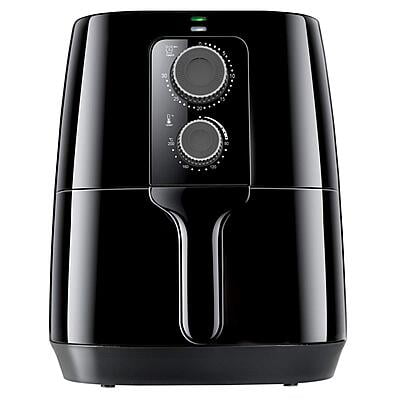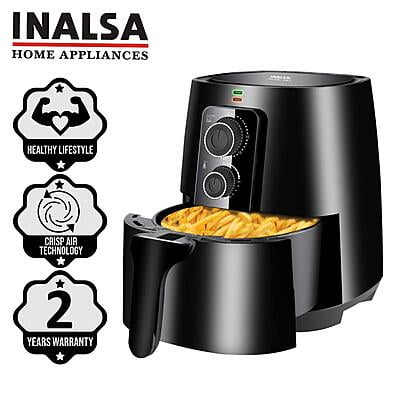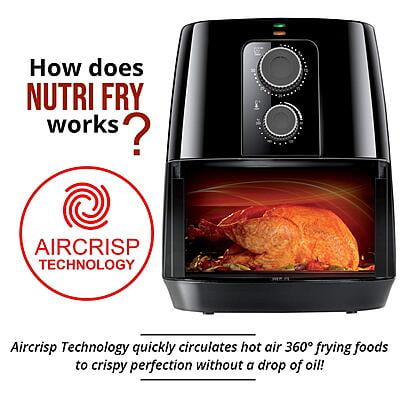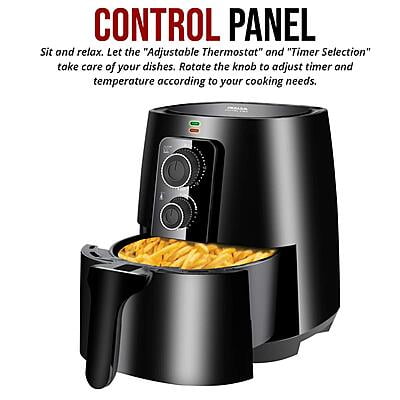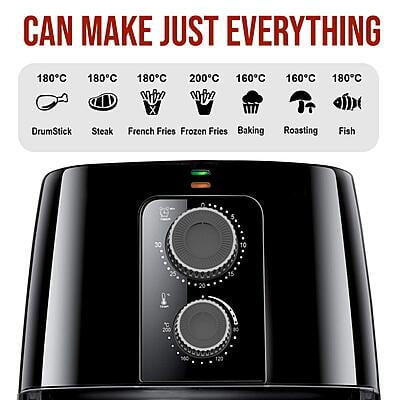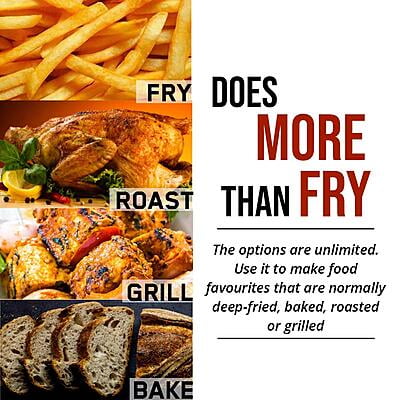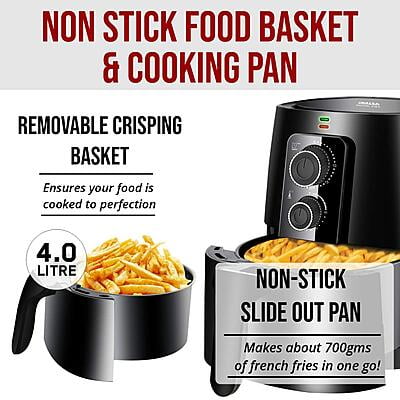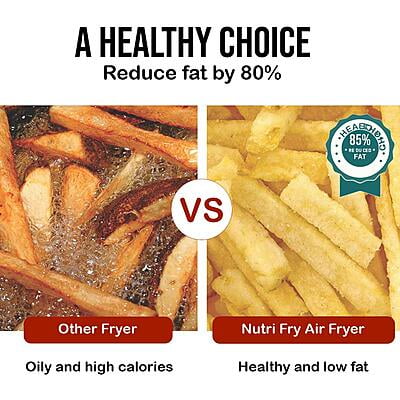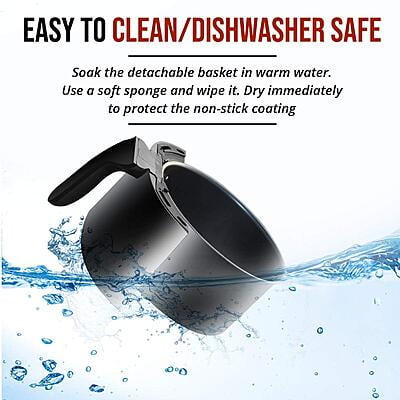 Inalsa Air Fryer 4L Nutri Fry - 1400W with Smart Rapid Air Technology, Timer Selection And Fully Adjustable Temperature Control
Non-returnable
Get 100% genuine and authentic products
7 Days replacement guarantee
| | | |
| --- | --- | --- |
| Special Feature | | Temperature Control |
| Product Dimensions | | 27.8D x 36W x 33H Centimeters |
| Colour | | Black |
| Capacity | | 4 litres |
| Material | | Plastic |
| | | |
Oil free fryer: Fryer with Air Framework Innovation that with hot air at high velocity and consistent temperature fries with little or no oil and accomplishes a lot better searing, with less than 99% fat and a fresh and delicious outcome.
8 preset programmes: The 8 preset projects of Air Fry Advanced will permit you to cook: frozen potatoes, regular potatoes, a wide range of vegetables, chicken, wieners, meat, fish, cakes and substantially more!
Completely advanced: Fryer with computerized touch screen and exceptionally simple to utilize. Set time somewhere in the range of 1 and an hour and the temperature somewhere in the range of 80ºC and 200ºC. It has a signal toward the finish of cooking, cold touch handle and non-slip feet
High limit: 4 liters of capacity that permit to make as much as 9 grams of potatoes, comparable to 5/6 servings. It has 1400W of force that guarantees quick and homogeneous cooking.
Inalsa Air Fryer 4L Nutri Fry - 1400W with Smart Rapid Air Technology, Timer Selection And Fully Adjustable Temperature Control
Inalsa Nutri Fry - 1400W Digital Air Fryer
Getting healthy, lean and fit takes more than just the right nutrition intake. Food preparation plays a big part as well. Inalsa Nutri Fry Digital air fryer is your perfect partner in keeping your family healthy. The oilless electric air fryer machine cooks food with little to no oil at all. Now prepare healthy meals more efficiently to achieve tasty and low-fat food with benefits. This air fry cooker features 8 preset menu, just a single touch will cook your choice of food with proper time and temperature.



HEALTHY EATING by cooking with 85% less oil for fat-free delicious meals. Same flavor and crispy finish without the added calories! Simply add food to the drawer pan, add a tbsp of oil if desired, set temp/time, and start cooking!
FAST PREPARATION 360° air circulation technology and with 1400W of power this air fryer ensures that every inch of the meal is well heated thus crisped by rapid supper-heated air. Just put ingredients into the fryer basket, push a couple of buttons and wait for the meals to get prepared.
PERFECTLY CRISPED results every time. This electric multi cooker system cooks food brown and crispy on the outside and keeps moisture inside without the excessive use of oil that has too much fat. Prepares great tasting crispy skins and perfect for making potato fries
CHEF IT UP with 8 Preset Menu. Go beyond preparing french fries in air fryers. Now prepare Pork Chops, Rotisserie Chicken, Sweet Potato Fries, Fried Chicken, Doughnuts, Meatballs. This multi-functional air-fryer gives you perfect results every time. With this product, you can cook with confidence and impress your guests.
SMART APPLIANCE This air fryer features a large touchscreen display with a variety of settings, required Temperature Range from 40°C-200°C, Timer settings & Start/Stop button to make it easier to change settings mid-cycle. The ideal settings for each dish allows more accurate and precise cooking, you can't go wrong with this digital air-fryer.
ENOUGH FOR EVERYONE, the perfect appliance for picky eaters, large families, entertaining, or those with busy schedules With 4L make an abundance of appetizers, desserts, chicken wings, french fries, or even baked goods, and all within minutes of setting the timer - it couldn't be easier !!
GUILT-FREE FRYING lets you enjoy crispy veggie chips, fish fillets, chicken tenders and more without fatty oils. Includes delicious and healthy recipes to get you started.
COOL-TOUCH HANDLE lets you safely remove fried foods from the air fryer without burning your hands. The exterior of the Nutri Fry air fryer retains its pristine condition with just a damp cloth.

| | | |
| --- | --- | --- |
| Special Feature | | ‎Temperature Control |
| Product Dimensions | | ‎27.8D x 36W x 33H Centimeters |
| Colour | | ‎Black |
| Capacity | | ‎4 litres |
| Material | | ‎Plastic |
| Recommended Uses For Product | | ‎Bake, Reheat |
| Item Weight | | ‎4800 Grams |
| Brand | | ‎Inalsa |
| Wattage | | ‎1400 |
| Model Name | | ‎Nutri Fry Digital |