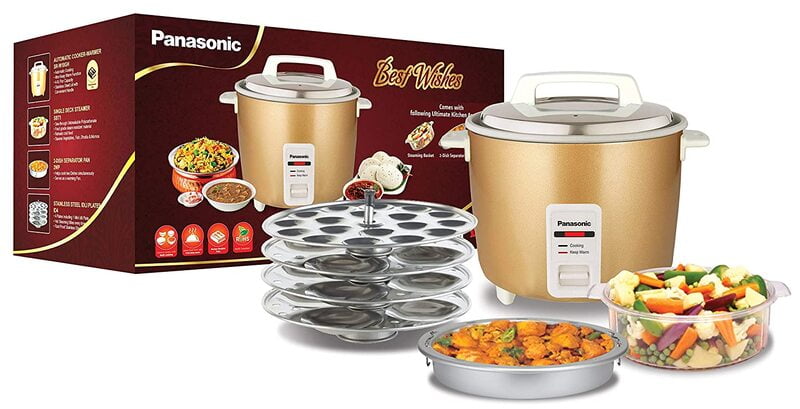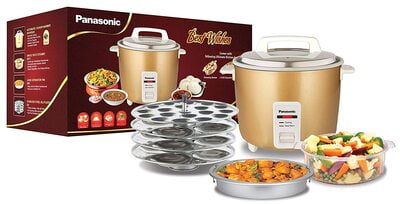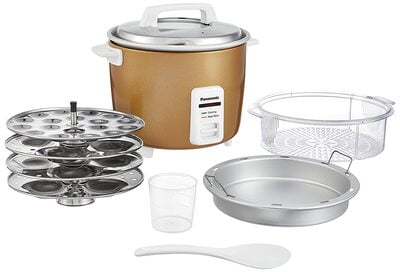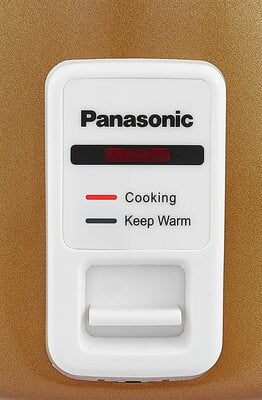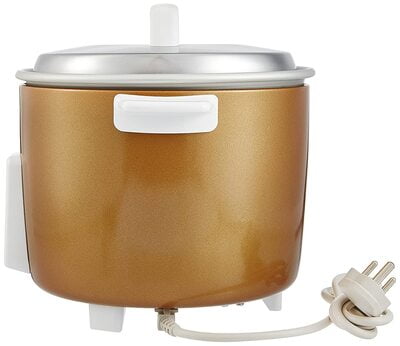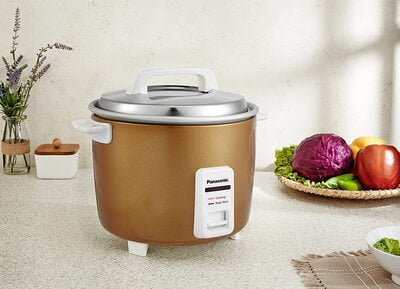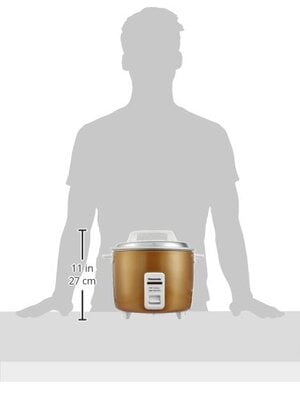 Panasonic Sr-W18GHCMB Automatic cooker Warmer 660w Combo Gift Pack
Panasonic Sr-W-18Gh Automatic cooker Warmer Combo Gift Pack
Get 100% Branded Products Only
7 Days Replacement Guarantee
Total Volume-4.4 Litre ; Raw Capacity-0.9 Litre

Warranty: 2 years on product and 5 years on heater

Power: 660 watts

The combo pack includes Cooker, 2 dish separator, 1 steaming basket and 1 idli stand
Panasonic Sr-W-18Gh Automatic cooker Warmer Combo Gift Pack
The Panasonic 4.4-Litre automatic rice cooker is a state of the art and easy to use automatic rice cooker that produces freshly boiled rice in a small duration of time. This compact and efficient rice cooker is easy to place on the kitchen countertops, and will not consume too much storage space. It is available in white colour and has floral designs all around the bottom which makes it look classy.
The Panasonic automatic rice cooker helps in preparing healthy, nutritious, and tasty meals in a limited amount of time. This saves time in having to boil rice manually over a gas stove, which can be a tedious and time consuming process.
Unlike most other rice cookers, the Panasonic rice cooker consumes only a mere 660 watts of power and saves up on the electricity.This automatic rice cooker from Panasonic is a boon to have in any modern kitchen, and saves precious time and effort in food preparation.
Comes with a two year warranty.
Consumes only 660 watts of power.
Has a maximum capacity of 4.4 litres.
Versatile and Convenient-to-Use
This Panasonic Combo rice cooker can be used to cook other foods like steamed fish, vegetables and momos. It is equipped with a thermostat, letting you easily control the temperature of the rice cooker according to your cooking preference. You can use less oil while cooking in this Panasonic 660w rice cooker, making it a healthy cooking option for your family. The upper containers of the cooker are transparent, ensuring good visibility while the food is being cooked. The Panasonic 4.4 litre rice cooker also keeps your food warm for hours after it has been prepared. Moreover, you can easily clean and maintain this electric rice cooker.
Specification
General
| | | |
| --- | --- | --- |
| Brand | | Panasonic |
| Model | | SR-W18GH |
| Material | | Plastic |
| Power | | 660 Watts |
| Colour | | Gold |
| Capacity | | 4.4 L |
| Safe and Durable | | Yes |
| Keeps food warm | | Yes |
| Easy to clean and maintain | | Yes |
| Control | | Thermostat for Precision Control |
| Manufacturer | | Panasonic |
| Warranty | | 2 Years warranty |