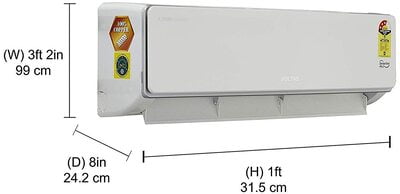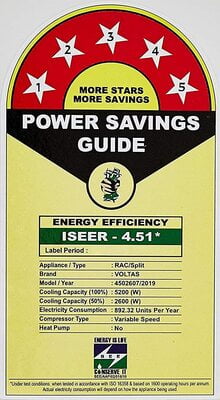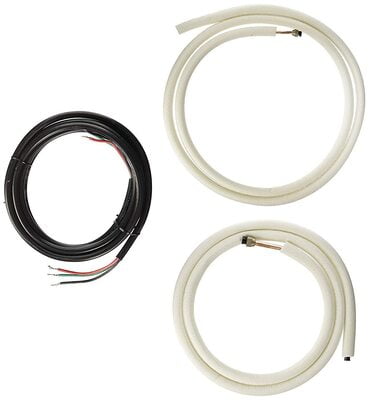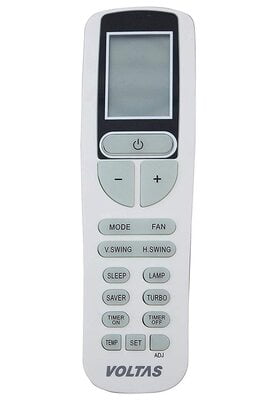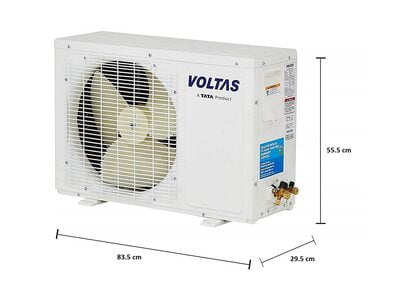 Voltas 185V ADS 1.5 Ton 5 Star Inverter Split AC
Get 100% genuine and authentic product
7 Days replacement guarantee
HIGHLIGHTS
| | |
| --- | --- |
| Power Source | Corded Electric |
| Brand | Voltas |
| Model Name | Voltas 185V ADS Split AC 1.5 Ton |
| Special Feature | Inverter, Antibacterial_coating, Dust_filter, Air_purifier |
| Warranty Type | Limited |
About this item
Split AC with inverter compressor: Variable speed compressor which adjusts power depending on heat load. It is most energy efficient and has lowest-noise operation
Capacity: 1.5 Ton. Suitable for medium sized rooms (111 to 150 sq ft)
Energy Rating: 5 Star. Best in class efficiency. Annual Energy Consumption: 892.32 units. ISEER Value: 4.51 (Please refer energy label on product page or contact brand for more details)
Manufacturer Warranty : 1 year on product, 1 year on condenser, 5 years on compressor
Copper Condenser Coil: Better cooling and requires low maintenance
Special Features: Antibacterial_Filter;Dust_Filter;Air_Purifier, Superdry
Refrigerant gas: R32. Environment friendly - no ozone depletion potential & low global warming potential
Included in the box: Indoor Unit, Outdoor Unit, Remote Control, User manual, Warranty Card
Country of Origin: India
Voltas 185V ADS 1.5 Ton 5 Star Inverter Split AC
Dillimall Provides you a wide range of air conditioner online at lowest price range. Buy Voltas 185V ADS 1.5 Ton 5 Star Inverter Split Air Conditioner with Self Diagnosis and High Ambient Cooling.
Voltas 185V ADS Split AC with inverter compressor variable speed compressor which adjusts power depending on heat load. It is most energy efficient and has lowest noise operation. The latest features and technology make this Voltas 1.5 ton 5 star 185v ads split ac a lovely addition to your living space. The air conditioner is an ideal option for your home cooling needs. Beat the temperatures outside and enjoy a relaxed atmosphere in your room as the air conditioner with its efficient cooling system and even more efficient power consumption level ensures that you enjoy the best results.
Presenting the Voltas Adjustable Inverter AC with a unique Adjustable Mode, which runs on different tonnage, as per requirement. It can run in both 1.5 Ton and 1 Ton, considering the ambient temperature or number of people in the room. Hence, it not only keeps you comfortable at different situations, but also saves on your electricity bills.
Saves Power and keeps you Comfortable in Different Conditions by running on 2 different cooling capacities.

| | | |
| --- | --- | --- |
| | | |
| High Ambient Cooling | | Turbo Cooling |
| The Voltas Adjustable Inverter AC cools even at 52°C. With its superior cooling capacity, it cools easily at high temperatures. | | VOLTAS Adjustable Inverter AC delivers higher air flow with its unique louvre design to help cool the room faster with no hot spot in a short period. |
| . | | |
| | | |
| 4 Speed Fan Function | | Super dry |
| You have 4 types of fan speed options to choose from. This ensures superior comfort and convenience in all types of heat. | | The Super dry mode dehumidifies the room quickly. The AC runs on predefined higher cooling capacity while limiting the indoor fan blower at a lower speed. This new mode will capture the extra water vapor in air at much higher rate and within less time. |
| . | | |
| | | |
| CO2 Reduction | | Super Silent Operation |
| This helps in reducing the levels of CO2 in a closed room to increase the level of fresh air ventilation. The filter removes volatile organic compounds and other toxic gases. | | Noiseless operation. |
| . | | |
| | | |
| Stabilizer Free Operation | | Multi Stage Filtration Advantage |
| Voltas Adjustable Inverter AC can work under wide operating range of 100-290V which ensures the AC stays protected even if there are voltage fluctuations. Moreover, the start-up voltage required to start the AC is 100V which is very low. Hence, there is no need to use an additional stabilizer with the AC. | | Removes allergens, odours and other harmful particles to give you cool and fresh air. |
| . | | |
| | | |
| R32 Refrigerant | | |
| R32 refrigerant to protect the environment. | | |
| | | |
| --- | --- | --- |
| Brand | | ‎Voltas |
| Model | | ‎SAC_185V_ADS |
| Energy Efficiency | | ‎5 Star |
| Capacity | | ‎1.5 Tons |
| Noise Level | | ‎44 dB |
| Installation Type | | ‎Split System |
| Part Number | | ‎SAC_185V_ADS |
| Special Features | | ‎Inverter, Antibacterial_coating, Dust_filter, Air_purifier |
| Colour | | ‎White |
| Control Console | | ‎Remote Control |
| Voltage | | ‎230 Volts |
| Material | | ‎Plastic |
| Included Components | | ‎1 indoor Unit, 1 Outdoor Unit, Remote, Manual, Warranty Card, 1 Connecting Pipe, 1 Connecting Cable |
| Batteries Required | | ‎No |
| Battery Cell Type | | ‎Alkaline |
| Manufacturer | | ‎Universal Comfort Products Ltd |
| Country of Origin | | ‎India |