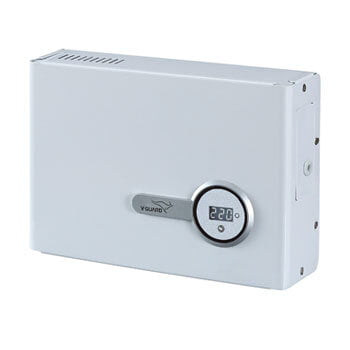 V-Guard VI 4170 Prime Voltage Stabilizer
Key Features

:-
An advanced energy monitoring system
A highly efficient digital display system
A microcontroller-based design for faster voltage corrections
An over current protective mechanism
An advanced Intelligent Time Delay System (ITDS)
V-Guard VI 4170 Prime Voltage Stabilizer
Dillimall Provides you a wide range of Voltage Stabilizer at best price range in India. Buy V-Guard VI 4170 Prime Voltage Stabilizer with
V-Guard VI 4170 Prime 1.5 Ton
Inverter
AC Stabilizer Packs in a winning combination of efficiency, convenience, and longevity. Its energy monitoring system allows you to keep an eye on your AC at all points throughout its life cycle.
During conditions such as internal short, the damage of certain components in the connected load may lead to an 'over current' situation - the current sensor provided in this stabilizer senses this and disconnects the air-conditioner to prevent burnout. Protect your AC against over current risks with a strong and highly efficient system.
V-Guard's VI 4170 Prime is further distinguished by its excellent digital system providing
complete visibility into input voltage and any protective mode that may be enabled.
Another outstanding feature of the VI 4170 Prime stabilizer is its Intelligent Time Delay System (ITDS), Which allows proper balancing time for the compressor before 'restart'. This smart technology ensures that there are no delays in restarting when the stabilizer is in off-mode for three or more minutes. At the same time, it guarantees that, in case power supply fails and comes back within three minutes, a time delay is automatically activated.
It is important to note that even a slight fluctuation in voltage could harm sensitive electronic components of your AC. V-Guard's VI 4170 Prime stabilizer addresses this issue with its
microcontroller
-based design, ensuring that faster voltage correction is made possible. Keep your air-conditioner safe; Choose this excellent Stabilizer and enjoy the benefits from its spectrum of essential functions.

Brand

V-Guard

Model

VI 4170 Prime

Model No

VI 4170 Prime

Generic Name

Stabilizer

Manufacturer

V-Guard

Capacity

12 Ampere

Working Range (Input)

170 VAC - 270 VAC

Cabinet

Material

Metal

Time Delay

3 Minutes ± 20 Seconds ITDS

Warranty

3 years

Country Of Origin

India