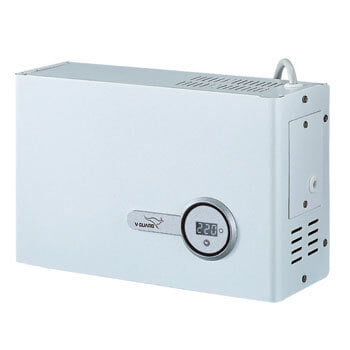 V-Guard VI 4150 Prime 400 Voltage stabiliser for 1.5 Ton inverter AC
Key Features

:-
An energy monitoring system for continual regulation of levels
An over current protection system ensuring that the connected load is disconnected if anticipating possibility of burnout
An advanced Intelligent Time Delay System (ITDS) bringing you improved functionality
A 'smart output voltage correction' system for the safe working of your AC
An excellent digital display system for your convenience
V-Guard VI 4150 Prime 400 Voltage stabiliser for 1.5 Ton inverter AC
The powerful

VI 4150 PRIME 1.5 ton inverter AC stabilizer

brings you a stellar combination of advanced functionality, high efficiency, and longevity. Its energy monitoring system ensures that recommended levels are adhered to at all times, enabling you to maintain continual regulation with accurate readings.
By utilizing the technology of smart voltage correction, the stabilizer's system allows a great deal of flexibility. It can completely adjust the regulation range to work in accordance with supply voltage variation in order to gain the most satisfactory power regulation; this, in turn, facilitates the safe working of your air-conditioner.
An excellent digital display system is in place; with V-Guard's VI 4150 PRIME, you are provided complete visibility into input voltage, output voltage, or any protection mode that may be enabled such as 'low voltage', 'high voltage', 'overload cutoff', etc. The benefit of this additional feature in the long term use of the stabilizer cannot be overlooked. The stabilizer's over current protection system ensures that the connected load is disconnected anytime that there is a danger of burnout.
The inclusion of an advanced Intelligent Time Delay System (ITDS) further strengthens the core of this product, allowing the compressor sufficient balancing time before restart. This smart technology ensures that there are no delays in restarting when the stabilizer is in off-mode for three or more minutes. At the same time, it guarantees that, in case power supply fails and comes back within three minutes, a time delay is automatically activated.
The VI 4150 PRIME inverter stabilizer is an ideal choice of security and safety for your air-conditioner - it makes optimal use of a wide range of functions without an iota of compromise on overall stability and efficiency.