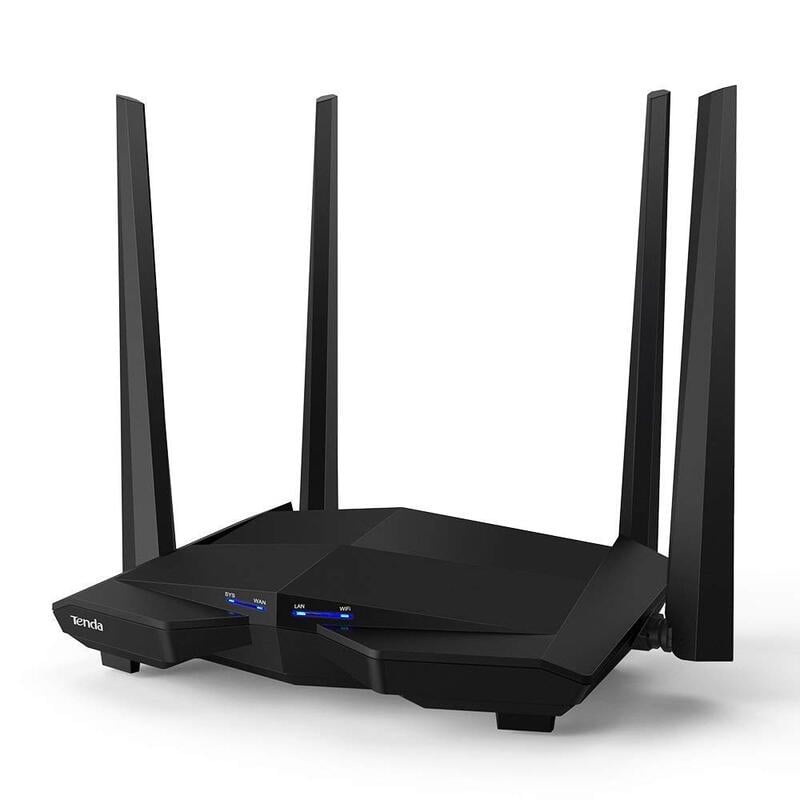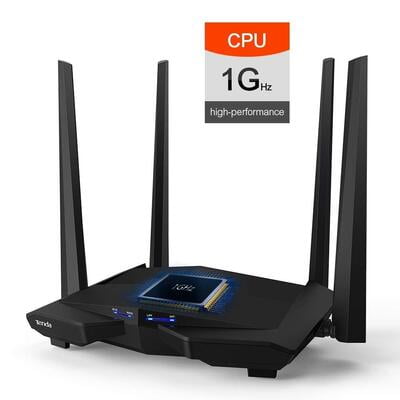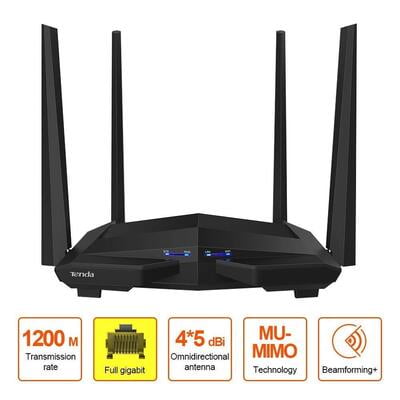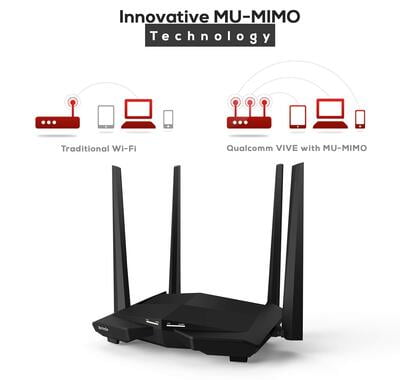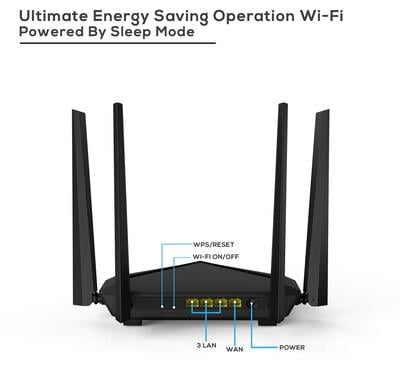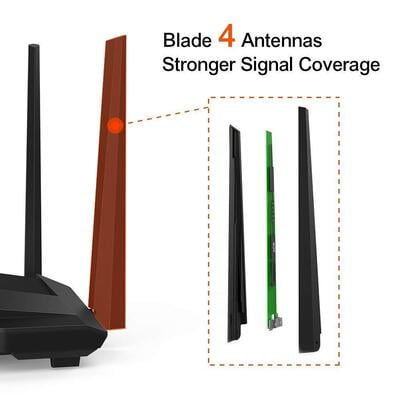 Tenda AC10 1200Mbps Wireless Smart Dual-Band Gigabit WiFi Router (Black)
AC10 AC1200 smart dual-band wireless router; If you cannot access the internet after configuration, ensure that the Ethernet cable connected to the WAN port of the router has connected to the internet
AC10 is a high-performance Wi-Fi router designed with full Gigabit WAN and LAN ports
Strong dual band Wi-Fi signal for multi-wall penetration
Innovative MU-MIMO technology
Four clean-cut antennas for stronger Wi-Fi signal and wider Wi-Fi coverage
4 x 5Dbi Omni directional antennas
1 x Wan + 3 x Lan full gigabit ports
100% Genuine Authentic Product
7 Days Replacement Guarantee
Tenda AC10 1200Mbps Wireless Smart Dual-Band Gigabit WiFi Router (Black)
AC10 leads the way in next generation routers, offering dual-band Gigabit wireless with all-new 802.11ac Wave 2.0 Wi-Fi. Its powerful 1GHz CPU and 128MB DDR3 provide the best performance in both 2.4GHz and 5GHz.
The 5GHz band works at up to 867Mbps, while the 2.4GHz frequency tops 300Mbps, serving an incredible combined bandwidth of 1167Mbps.
Better Wi-Fi, More Entertainment
AC1200 routers pack the speed and range most families need at an affordable price.
The AC10 provides the best value for your money, delivering the perfect mix of performance and features for your need.


AC1200_Smart_Dual_Band Gigabit WiFi

Fast wireless speed

300Mbps on 2.4GHz and 867Mbps on 5GHz.

Ultimate Range

Four external 5dBi antennas for ultimate Wi-Fi range and multi-device performance.

802.11ac Wave 2.0 Wi-Fi

Latest MU-MIMO technology for improved multi-task capabilities.



| | | | | |
| --- | --- | --- | --- | --- |
| | | | | |
| Great Performance For Streaming & Gaming | . | Innovative MU-MIMO + Beamforming Technology | . | Stable WiFi Performance-Connect up to 30+ devices |
| With 1 GHz CPU made with 28 nm process, AC10 manifests excellent capacity on data processing and energy conservation.It allows you to enjoy smooth HD videos and games. | | With innovative MU-MIMO, the breakthrough of the new generation 802.11 ac standard,AC10 can communicate with multiple devices at a time, shortening latency and improving quantities of connected devices. | | The Tenda AC10 easily handles the demands of every device in your home with its powerful CPU for high-speed processing, solid hardware backed with advanced technology and bandwidth prioritization. |
Strong Dual Band WiFi signal



.

Four Antennas with

Beam_forming

for Stronger Coverage

.

Configuration-for quick setup




With the generation 802.11ac wave 2.0 standard, AC10 offers a concurrent dual band data rate of as high as 1167 Mbps. Wireless signal boosting technology both on 2.4 GHz and 5 GHz bands broadens your WiFi coverage, and Beamforming+ technology makes WiFi signal of AC10 outstanding behind multiple walls.

AC10 boasts four 5 dBi omni-directional antennas. With accordion wire design, multiple oscillators and scientific bevel, AC10 balances the signal field and gain, providing you with stronger WiFi signals.

What if you forget your PPPoE user name or password, or you cannot login to the web UI of the router for setup? AC10 can eliminate your concern by migrating your PPPoE user name and password from your original router.