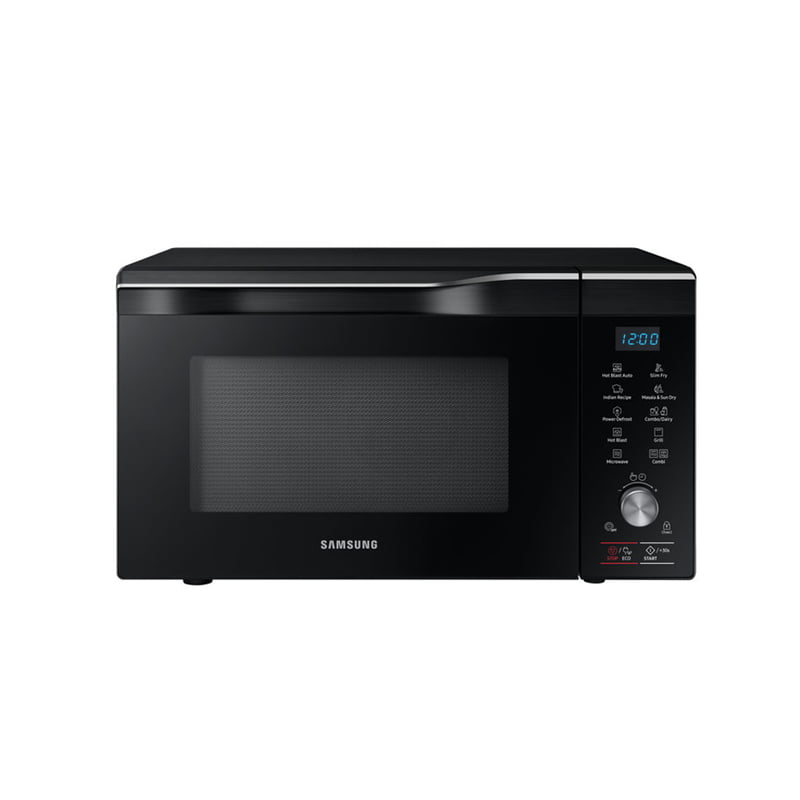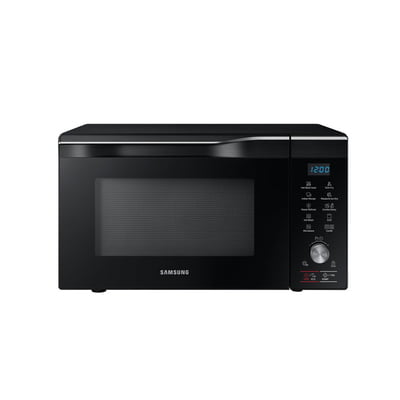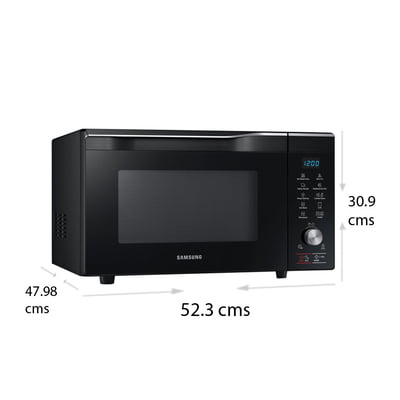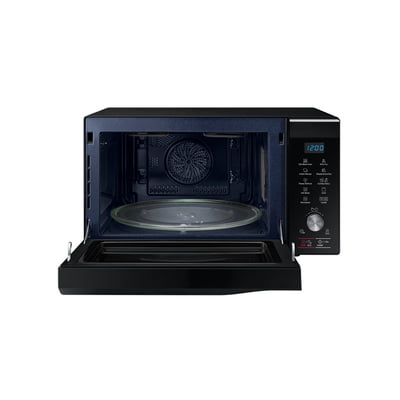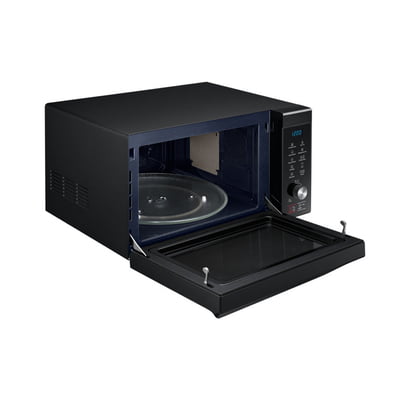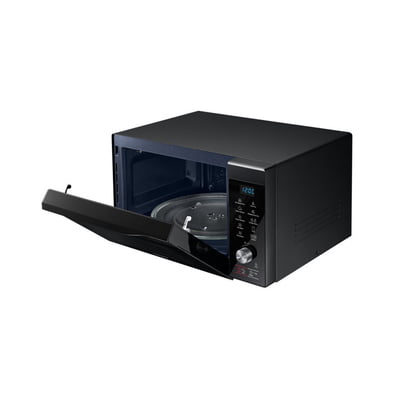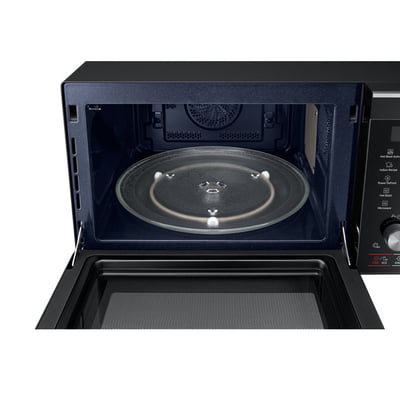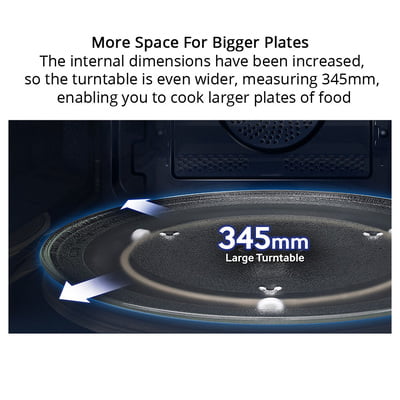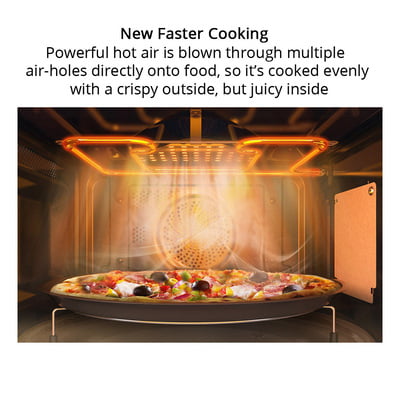 Samsung MC32K7056CK/TL 32 litre Convection Microwave Oven with Masala Sundry Feature
Key Features
:
Convection:- Can be used for Masala Tadka Sundry option, baking along with grilling, reheating, defrosting and cooking
Capacity-32L : Perfect Capacity for Big INDIAN Family
Warranty: 1 Year complete , Magnetron = 1+4 Year , Ceramic Enamel Cavity - 10 Year
Features: Power Defrost , Preheat, Eco Mode, Auto Cook, SLIM FRY™ , Roti/Naan , Curd Making, Turn Table ON/Off, Child Safety Lock, Sound On/Off
Accessories: - Quick Guide Label, Wire Rack, Crusty Plate
Special Feature: - MASALA TADKA ,SUNDRY, HOTLAST, CRUSTY PLATE
Samsung MC32K7056CK/TL 32 litre Convection Microwave Oven
Samsung 32 Litre Convection Microwave With Masala, tadka and sun-dry, hot blast, slim fry, touch and dial control, wide grill, big turn table, 306 auto cook menu/243 indian recipes, roti/naan/curd, crusty plate, semi drop down door, black, ceramic enamel with 10yr warranty.
Increase your efficiency in the kitchen with this feature-packed Samsung MC32K7056CK Microwave Oven which has different heating levels along with auto-defrost function. Heat up your food without any hassle with the timer option which lets you focus on other work while your food gets heated up. The microwave with a 32 litre capacity boasts of a Convection Technology where hot air is blown through multiple air-holes directly onto the food which aids in even and faster cooking. A power consumption of 1400 W ensures a more consistent heat distribution and optimum level performance while the spacious capacity and easy to clean features make the microwave an amazing addition to your collection of appliances at home.
Efficient Cooking Options
You are sure to have an awesome time cooking in the kitchen as the Samsung MC32K7056CK Microwave Oven comes with cutting-edge technology to ease your entire cooking experience and also give you amazing cooking results. You can enjoy healthier fried food thanks to the Slim Fry combines a grill with warm air circulation to give you oil free fried food. The Sun Dry Mode allows hot air to be blown through multiple air-holes directly onto the food which aids in even and faster cooking while the Crusty Plate you can enjoy crispy and crunchy foods as it evenly bakes and browns the top and bottom of frozen or leftover food. To take things further, the Function allows you to enjoy homemade dough or yogurt any time of the day for an amazing experience.
Stylish and Easy to Use
The microwave boasts of a very user-friendly design which makes the appliance a perfect addition to your home. The durable inside is scratch free and very easy to clean making maintenance a very easy job. The child lock option ensures the microwave is operated uselessly by your little one while the fine design significantly reduces energy consumption with the industry's lowest standby power. To add to this, the microwave also comes with a view glass that lets you check on your cooking without opening the door making it the perfect option for you.
| | | |
| --- | --- | --- |
| Brand | | Samsung |
| Model | | MC32K7056CK/TL |
| Model No | | MC32K7056CK/TL |
| Generic Name | | Microwave Oven |
| Manufacturer | | Samsung |
| Capacity | | 32 Litres |
| Output Power (Microwave) | | 900 Watts |
| Output Power (Grill) | | 1500 Watts |
| Output Power (Convection) | | 2100 Watts |
| Power Supply | | 230 Volts, 50 Hz |
| Power Consumption | | 1400 Watts |
| Power Levels | | 6 |
| Reheat | | Yes |
| Control Type | | Touch + Dial |
| Alarms | | Cooking Complete Alarm |
| Timer | | Yes |
| Child Lock | | Yes |
| Control Location | | Right Side |
| Inner Material | | Ceramic Enamel |
| Outer Material | | Glass and Stainless Steel |
| Turntable Diameter | | 345 mm |
| Warranty | | 1 year Complete + 4 years on Magnetron |
| Country of Origin | | Malaysia |