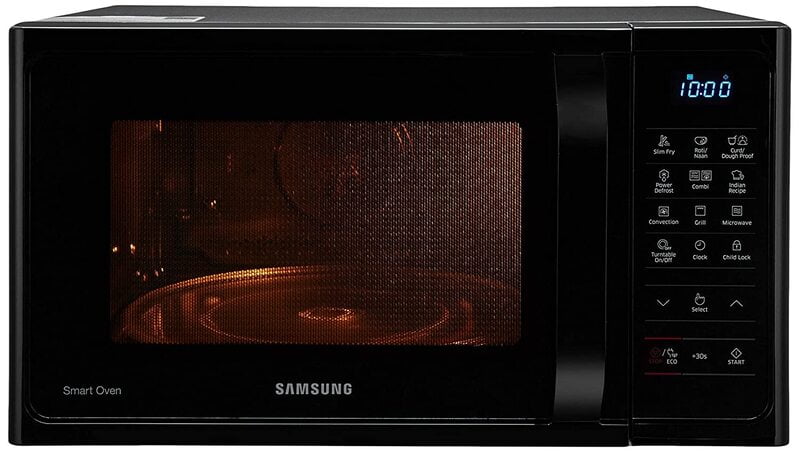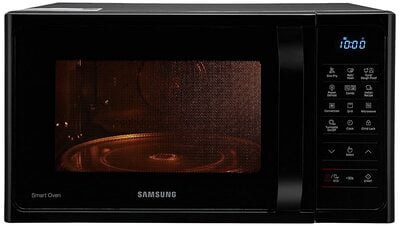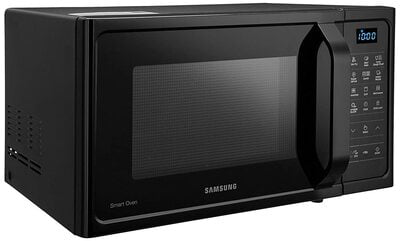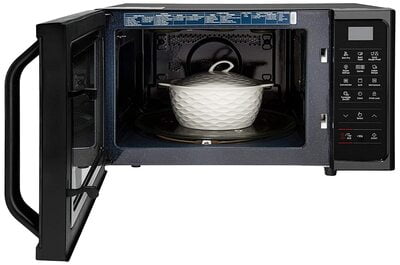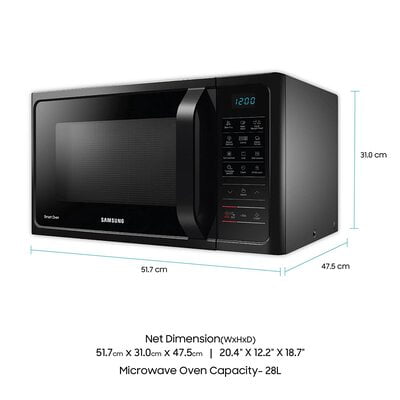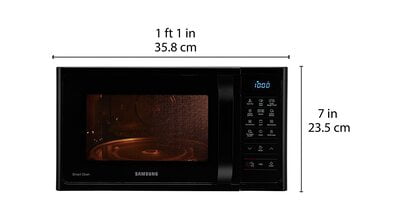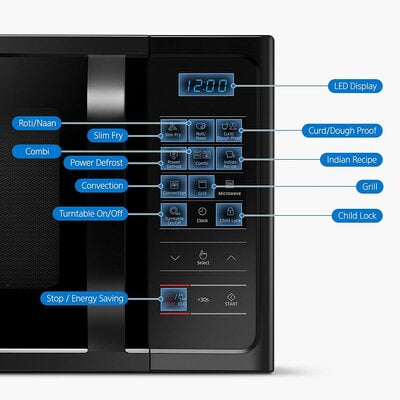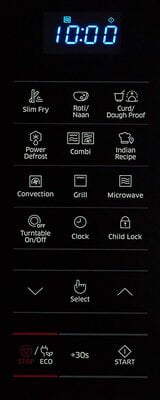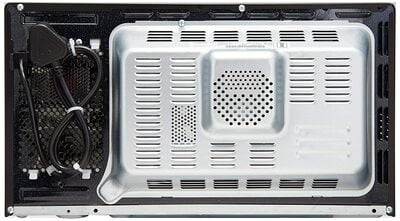 Samsung MC28H5033CK 28 litre Convection Microwave Oven
Key Features

:-
28L Capacity: Suitable for large families
Convection: Can be used for baking along with grilling, reheating, defrosting and cooking
Warranty : 1 Year Complete + 4 Years additional warranty on Magnetron
Brand does NOT provide starter kit with this product
Banish food odors
It comes with a slim fry
Banish food odors
Samsung MC28H5033CK 28 litre Convection Microwave Oven
Dillimall Present The Samsung MC28H5033CK 28 litre Heat Convection or Microwave Oven. It suitable for large families. it can be used for baking along with grilling, reheating, defrosting and cooking.
Enjoy healthier fried food without a deep fryer. SLIM FRY™ technology combines a grill with warm air circulation, so food is cooked crispy inside and out using only a touch of oil. And no greasy pans or splatters !
Tandoor Technology replicates tandoor-like conditions with a temperature of up to 200 degrees Celsius in the oven that make it possible to make perfect & Crispy Roti or Naan with just a single touch. Now, enjoy the sumptuous taste of tandoori rotis in the comfort of your home !
Enjoy homemade dough or curd anytime of the day with the Fermentation Function, which utilises advanced fermentation technology to set just the right temperature, providing your family with even more options for deliciously fresh meals.
Choose from a wide variety of pre-programmed local recipes on the Samsung CE77JD-S/TL and enjoy familiar flavors with the simple touch of a button.
| | | |
| --- | --- | --- |
| Brand | | Samsung |
| Model | | MC28H5033CK/TL |
| Model No | | MC28H5033CK/TL |
| Generic Name | | Microwave Oven |
| Manufacturer | | Samsung |
| Capacity | | 28 litre |
| Output Power (Microwave) | | 900 Watts |
| Output Power (Grill) | | 1500 Watts |
| Output Power (Convection) | | 2100 Watts |
| Power Supply | | 230 Volts, 50 Hz |
| Power Consumption | | 1400 Watts |
| Power Levels | | 6 |
| Reheat | | Yes |
| Control Type | | Touch |
| Alarms | | Cooking Complete Alarm |
| Timer | | Yes |
| Child Lock | | Yes |
| Control Location | | Right Side |
| Inner Material | | Ceramic Enamel |
| Outer material | | Glass and Stainless Steel |
| Turntable Diameter | | 318 mm |
| Warranty | | 1 year Complete + 4 years additional warranty on Magnetron |
| Country Of Origin | | Malaysia |