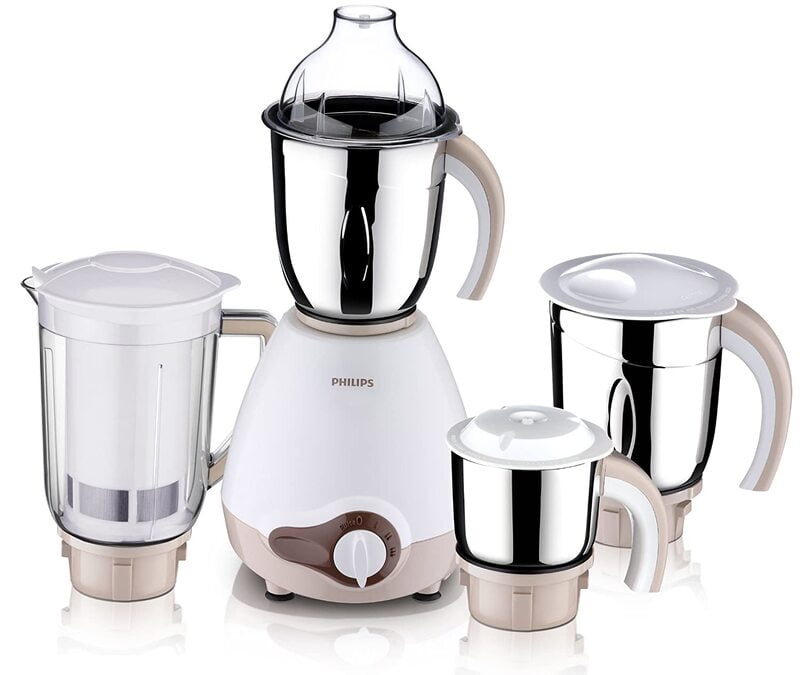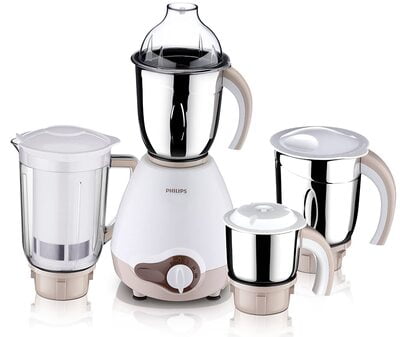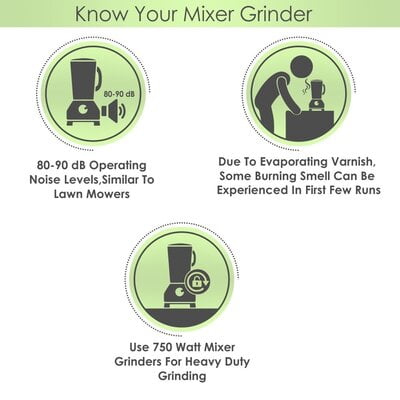 Philips HL1646/01 600-Watt Mixer Grinder with 4 Jars
100% genuine and authentic product
7 days replacement guarantee
| | |
| --- | --- |
| Material | Polypropylene, Acrylonitrile Butadiene Styrene |
| Brand | PHILIPS |
| Voltage | 230 Volts |
| Item Dimensions LxWxH | 49 x 25 x 33 Centimeters |
| Wattage | 600 Watts |
| Item Weight | 12.35 Pounds |
| Blade Material | Stainless Steel |
About this item
Power: 600 watts; Operating voltage: 230 volts
Warranty: 2 years on product
Accessories: 1 blender jar with fruit filter,1 chutney jar with lid, 1 medium dry grinding jar with lid, one large wet grinding jar with lid, spatula, blender and whipper blade
4 jars for all grinding, pureeing and mixing
Capacity: Blender Jar : 1.5L, Chutney Jar .4L, Wet Grinding 1.5L, Multi Purpose Jar 1.0L
Turbo vent for effective motor cooling
Effective grinding for tough foods
Stainless steel jars with flow breakers
Ergonomically designed handles
Auto cut off to protect from overload
Fruit filter assembly in the blender jar
Power: 600 watts; Operating voltage: 230 volts
Warranty: 2 years on product
Accessories: 1 blender jar with fruit filter,1 chutney jar with lid, 1 medium dry grinding jar with lid, one large wet grinding jar with lid, spatula, blender and whipper blade
4 jars for all grinding, pureeing and mixing
Capacity: Blender Jar : 1.5L, Chutney Jar .4L, Wet Grinding 1.5L, Multi Purpose Jar 1.0L
Turbo vent for effective motor cooling
Effective grinding for tough foods
Stainless steel jars with flow breakers
Ergonomically designed handles
Auto cut off to protect from overload
Fruit filter assembly in the blender jar
Philips HL1646/01 600-Watt Mixer Grinder with 4 Jars
Philips HL1646/01 600-Watt Mixer Grinder with 4 Jars
Superior Performance and Enviable Style - Cooking Made Easy and Elegant
Presenting Philips mixer grinder with 600Watt power which gives wonderfully smooth results in seconds and also enhances the beauty of your kitchen with its chocolate color. Preparing healthy and delicious homemade food has never been so easy.
Highlights:
1.Auto shut-off : Auto shut-off for overload protection.
2.Blender jar with filter: Blender jar with filter for soft fruits.
3.Ergonomically designed handles: Ergonomically designed
handles for better gripping.
4.Powerful 600 W motor
5.SS Jars with flow breakers: SS Jars with flow breakers for better grinding.
6.Turbovent for effective motor: Turbulent for effective motor cooling.
Accessories:
- Blender jar
- Spatula
- Chutney jar
- Wet grinding jar
- Multi-purpose jar
Design Specifications:
- Material blade: Stainless steel
- Material housing: PP/ABS
Standard Package Includes:
Warranty card

Warranty information
Accessories: 1 blender jar with fruit filter,1 chutney jar with lid, 1 medium dry grinding jar with lid, one large wet grinding jar with lid, spatula, blender and whipper blade

Automatic shut-off

Non-slip feet

Speed setting: 3 and pulse

Voltage: 230 V

Product warranty: 2 yrs full product warranty

Power: 600 W

Blender jar capacity: 1.5 L

Voltage: 230 V

Capacity chutney jar: .4 L

Capacity wet grinding jar: 1.5 L

Capacity Multi-Purpose Jar: 1.0 L