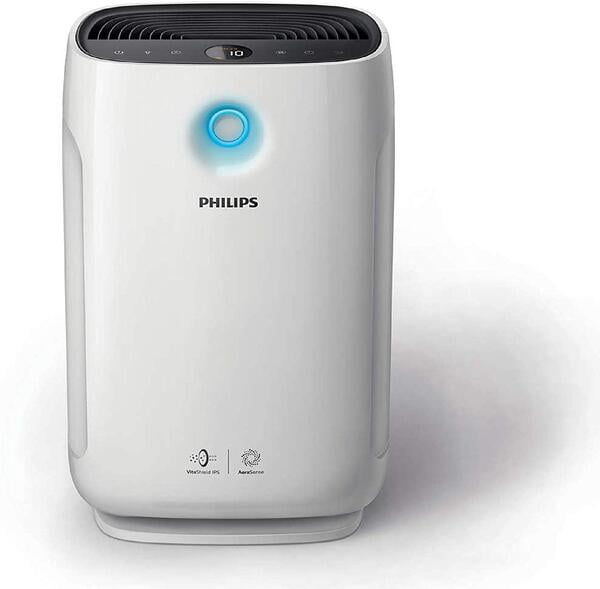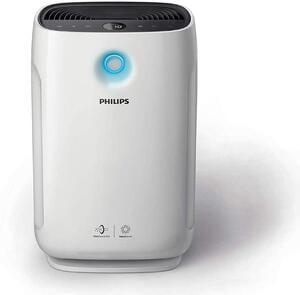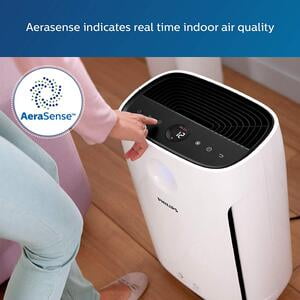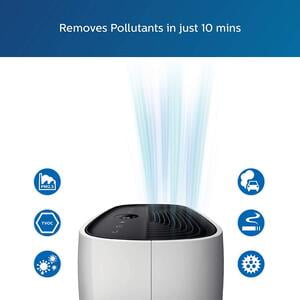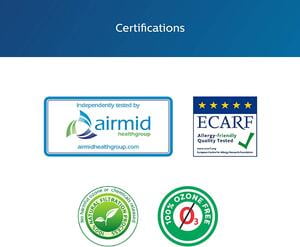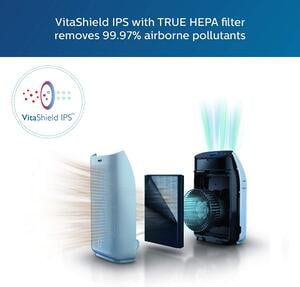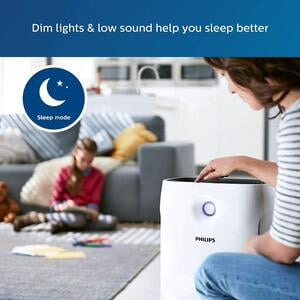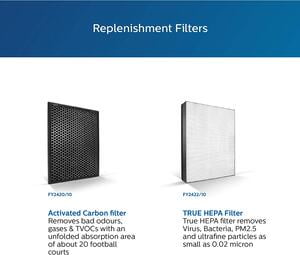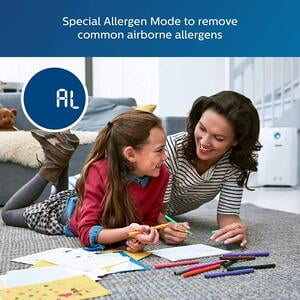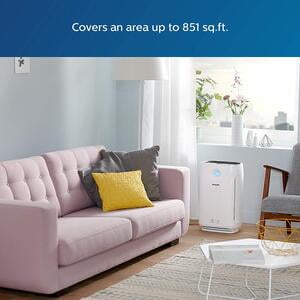 Philips AC2887/20 Air Purifier
Air Purifier Type - Room; Purification method - High-Efficiency Particulate Arrestant (HEPA) filter type
Coverage area: 441 sq. ft, suitable for bedroom / living room (large), Air quality sensor(s): Aerasense PM2.5 sensor
Clean Air Delivery Rate (CADR): 333 m3/hr; CADR indicates the volume of purified air (in cubic mtrs) which an air purifier produces every hour. The clean air delivery rate (CADR) is 200 m³/h
Sound level : 20.5-51 dB(A); Frequency : 50/60 Hz; Power : 11~60 W; Voltage : 220 V
AeraSense Technology: Real-time PM 2.5 measurement and display with professional grade sensing technology
Dedicated pollution, allergen and bacteria/virus auto modes, 100 percent ozone free, Wattage: 60 watts
Warranty: 2 years on product
PHILIPS AIR PURIFIER AC2887/20
The Philips Air Purifier has 3 automatic purification settings:
A General mode, an extra-sensitive Allergen mode, and an extra-powerful bacteria and virus mode. You can choose your preferred mode to personalize and optimize your purification.Vitashield IPS with its aerodynamic design and NanoProtect Filter has a boosted clean air delivery rate up to 344 m3/hr* (according to China GB/T 18801-2015).
It can effectively remove ultra-fine particles as small as 20nm, effectively reduce harmful gases such as formaldehyde, TVOC and odor. Removes up to 99.9% bacteria and virus.AeraSense is a sensor that accurately identifies fine particles that are even smaller than PM2.5 (including most common indoor airborne allergens). It then processes this information to ensure that the purifier's settings are at the ideal level for current air conditions, and for continuous re-assurance. Then gives you feedback of real time indoor air quality by showing PM2.5 level.
Note : Rattling sound and other noise may come if cover is not removed from the filters at time of installation, It is always recommended to remove cover from filters while using product.
From the manufacturer
Healthier Air, Always
____________________


AeraSense, Making the Invisible Visible

The 2000 Series is engineered with 3 smart pre-settings that you can choose from: General, Allergen, and Bacteria & Virus modes. Activate the relevant automode, and ensure you and your family breathe cleaner air at home, always
| | | |
| --- | --- | --- |
| | | |
| Healthy Air Protect | . | Low Noise |
| The filter lifetime is accurately calculated based on indoor pollution level, air flow and operation time. The healthy air protect alert lets you know promptly when it is time to replace the filter. If the filter is not replaced promptly, the appliance stops functioning -to avoid ineffective purification. So you are assured of healthier air always. | | When in silent mode, the purifier turns down its fan speed and noise level to allow a comfortable night's sleep. |
| | | |
| --- | --- | --- |
| | | |
| Smart Light Control | . | VitaShield IPS technology |
| Both AQI and the light on the UI can be dimmed and/or turned off avoid light disturbance for consumers. | | Vitashield IPS with its aerodynamic design and NanoProtect Filter has a boosted clean air delivery rate up to 344 m3/hr* (according to China GB/T 18801-2015). It can effectively remove ultra-fine particles as small as 20nm, effectively reduce harmful gases such as formaldehyde, TVOC and odor. Removes up to 99.9% bacteria. |
| | | |
| --- | --- | --- |
| | | |
| Aerodynamic Design | . | Bacteria & Virus Mode |
| Aerodynamic architecture boosts efficient airflow. | | Bacteria & Virus particles are the ones seldom detected by air sensors. Hence the most effective way to reduce these particles is to significantly boost the airflow and increase the air exchange per hour. This mode boosts the Air flow, then the high quality HEPA filter in the Purifier effectively captures the bacteria and virus by 99.9%, ensuring cleaner air output. |
| | | |
| --- | --- | --- |
| | | |
| AeraSense Technology | . | Allergen Mode |
| AeraSense is a sensor that accurately identifies fine particles that are even smaller than PM2.5 (including most common indoor airborne allergens). It then processes this information to ensure that the purifier's settings are at the ideal level for current air conditions, and for continuous re-assurance. | | The Allergen Mode includes a special event-detection algorithm from AeraSense - a professional grade sensor that can detect daily events such as shaking pillow or a vacuum cleaner passing by. After accurately detecting these events, the purifier will automatically gives an extra boost to airflow to instantly reduce the risk level of allergens to a minimum. |