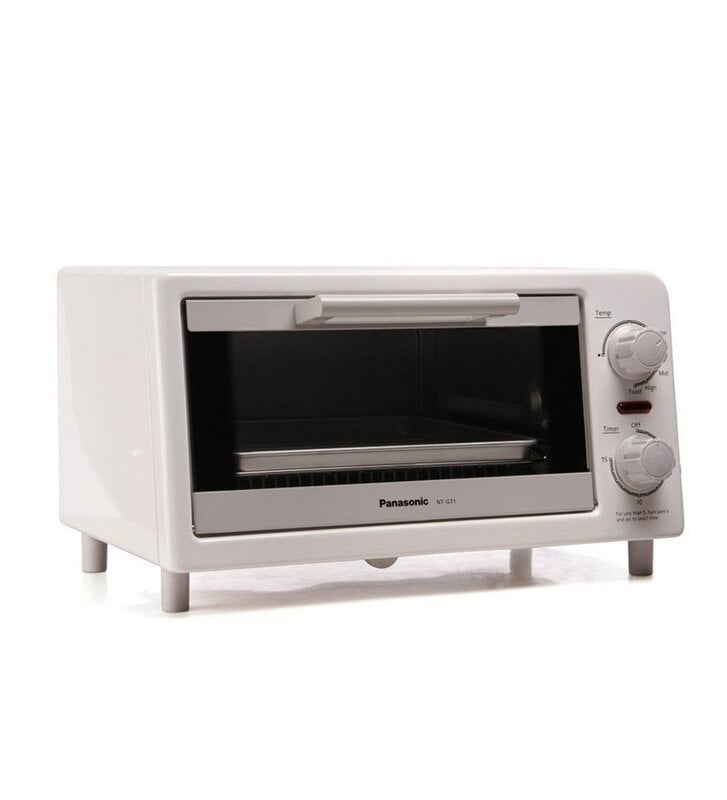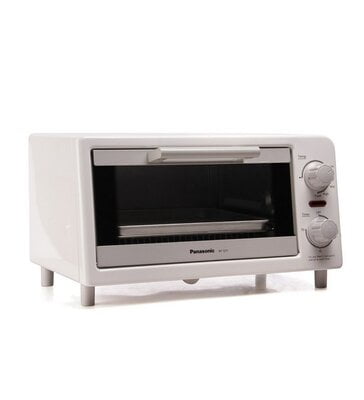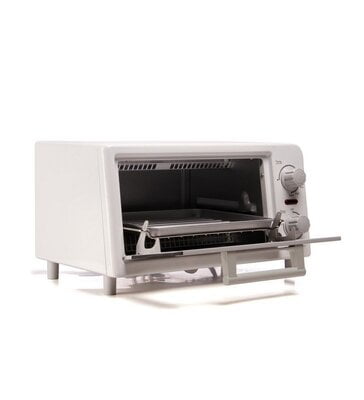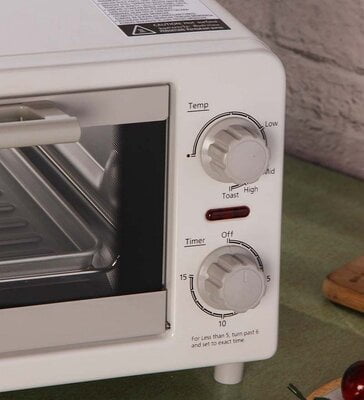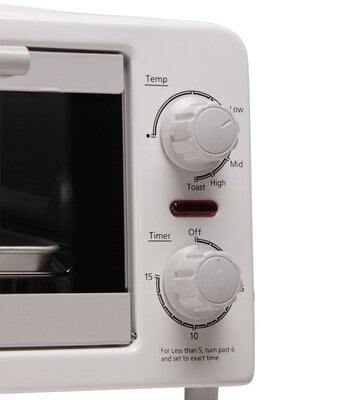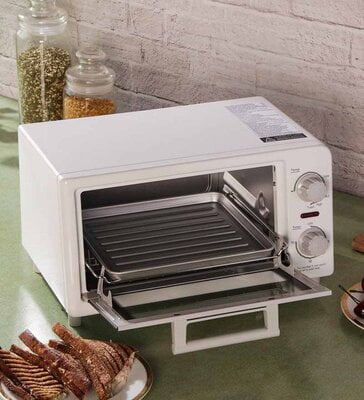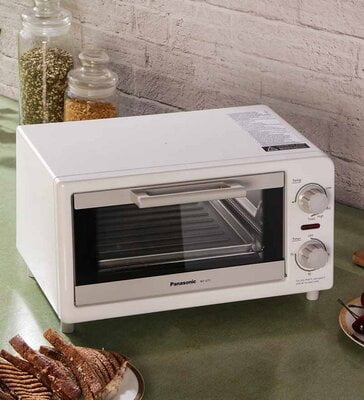 Panasonic NT-GT1 9-Litre 1200-Watt Oven Toaster
Get 100% Branded Products Only
7 Days Replacement Guarantee
2 slice bread capacity
15 minutes timer
Non-stick baking tray
Power control (low-mid-high)
Removable crumb tray for easy cleaning
Adjustable thermostat for optimal food result
Warranty: 1 year on product
Power: 1200 watts; Operating voltage: 220-240 volts
7 Days Replacement Guarantee
Panasonic NT-GT1 9-Litre 1200-Watt Oven Toaster
Non-stick Tray for Uniform Toasting
The Panasonic nt-gt1 oven toaster has a two slice bread capacity and a 15 minutes timer. It also includes a non-stick baking tray that helps to bake with ease and efficiency. The non-stick feature helps prevent the food from sticking to the tray. Plus the removable crumb tray makes it easy to keep it clean and maintain it. The Panasonic oven toaster has a power control that helps you adjust the temperature to low, medium and high. The adjustable thermostat is essential for optimal food results. All these features add up to make this a user-friendly toaster oven.
Lightweight and Compact Design
The Panasonic toaster oven includes a 15 minutes timer with a bell that makes it very convenient to use. It requires a power supply of 220 to 240V and 50/60Hz. The length of the cord is 1.0m so the entire setup is clean and tangle-free. The toaster oven weighs about 3.1kg, which makes it lightweight too. This oven toaster grill is sized such that it is easy to place on your kitchen counter top without occupying much space. If you are an avid baker, this may be a worthwhile option for you.
Brand: Panasonic
Colour: Black
Non-stick baking tray
Has a 15 minutes timer with a bell
Convenient to use
Power control to adjust temperature
Cord Length: 1m
Power Consumption: 220 to 240 V
Outer Dimensions: 37.7 x 27.1 x 21.4 cm
Inner Dimensions: 26.9 x 20.2 x 6.0 cm
The Panasonic NT-GT1 Oven Toaster is a little wonder from Panasonic that will have you waking up every morning to hot and oven-fresh food.
This Panasonic Oven Toaster can take two slices of bread at a time, and comes with a non-stick tray in which you can bake items. It has three levels of power control, which are low, medium, and high. It has a removable tray that allows you to clean out crumbs easily with no hassles. The appliance's maximum capacity is 9 litres. It even comes with an adjustable temperature control that allows you to cook your food just the way you like it, and has a fifteen minute timer.
It comes in a compact and convenient design, and is available in a bright white color. It is a must-have for anybody who loves cooking.
Product Features
Uses 1200 watts of power and operates on 220-240 volts.
Comes with a one year warranty.
Has a triple adjustable power control.
Weighs only 3.1 kg.
Panasonic Oven Toaster
If you are looking for ways to enhance your cooking that is high on utility, then opt for the Panasonic NT-GT1 Oven Toaster. This comes equipped with a variety of impressive features that are highly beneficial and will also ensure appetizing meals daily.
Power Source : 220 to 240 V
Outer Dimensions : 37.7 x 27.1 x 21.4 cm
Inner Dimensions : 26.9 x 20.2 x 6.0 cm
| | | |
| --- | --- | --- |
| | | |
| High Capacity | . | 1200 W Power Levels |
| The Panasonic NT-GT1 OTG Microwave Oven has a capacity of 9 litres, which is adequate for all your toasting, grilling and baking requirements. | | The 1200 W heating element delivers adequate performance for all your toasting, grilling and baking needs, ensuring lifelong satisfaction. |
Comes with Crumb Tray
After cooking the crumb tray available with the product makes cleaning easy.