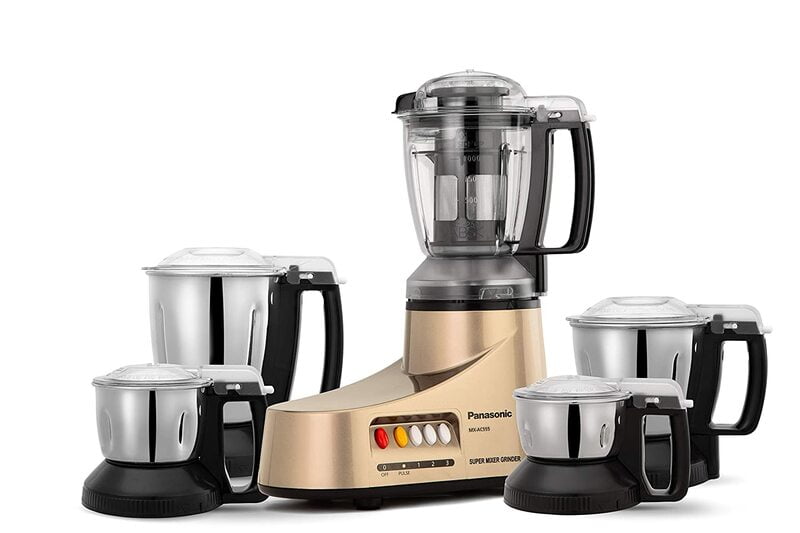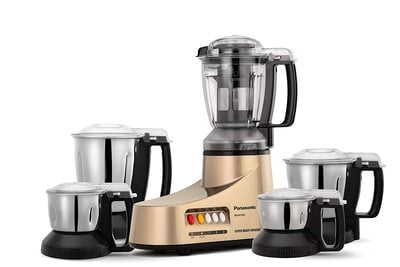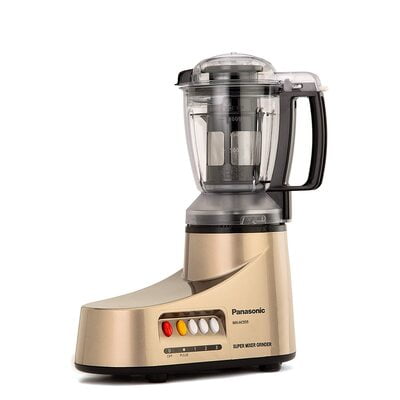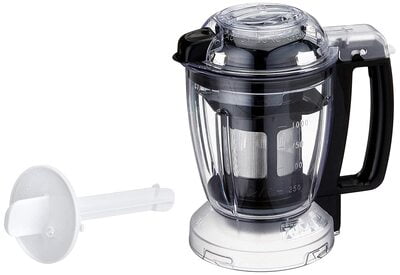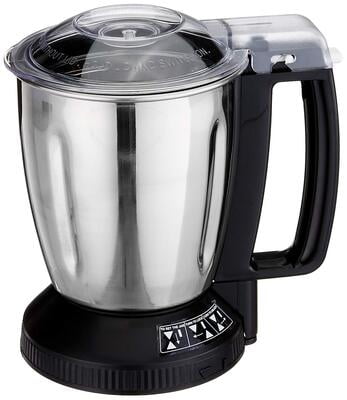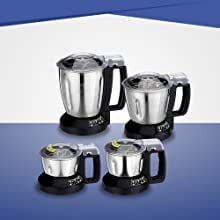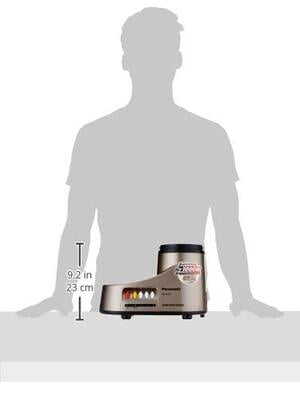 Panasonic MX-AC555 New 550-Watt MG with 5 Jars (Bronze)
Panasonic MX-AC555 New 550-Watt MG with 5 Jars (Bronze)
100% Copper Wound Motor

550-Watt

Warranty: 2 Year warranty on products and 5 years on Motor

Comes With Double Safety Locking System

Unique Oil Seal Protection

Hardened Monolith Blade For Fine Grinding

Long Lasting Transparent Juicer Jar

SS304 Rust Free Thick Steel Jars

Comes With 5 Jars
Panasonic MX-AC555 New 550-Watt MG with 5 Jars (Bronze)
Panasonic MX-AC555 (Gold) Double safety locking mixer ginder with Four Stainless Steel Jar (Chutney Jar, Big Chutney Jar , Grining Jar ,Blender Jar Polycarbonate (PC) Juice Extractor Jar). Safe Device

The mixer grinder is also safe to use as it has an original oil seal protection system. The circuit breaker system protects the mixer grinder from voltage fluctuations making it a useful and safe device to be used in your kitchen.

Panasonic AC MX-AC555 550-Watt Super Mixer Grinder with 5 Jars(Bronze)
Panasonic Super Mixer Grinders are known for safety and convenient features. Multiple jar options are available for efficient and faster grinding. Dry or wet, the Mixer Grinder performs any kind of grinding with total ease. Panasonic Mixer Grinders have many amazing features like pure Copper wounded motor, Monolith Blade for fine grinding, SS304, Max. 21000 RPM, Rust-free thick steel jars and an efficient motor. Made of durable material, the jars are easy to hold, remove and clean.
Ratings Voltage: 220-240 volts
Watts: 550 watts
Double Safety Locking System
Juicing, Chutney Grinding
| | | |
| --- | --- | --- |
| | | |
| POWERFUL COPPER WOUND MOTOR | . | SHARP BLADES |
| This mixer grinder has heavy duty 550 Watts motor. It is designed to deliver a high torque for efficient performance. It enables you to grind even the toughest ingredients with ease. | | This uniquely designed mixer grinder has sharp and sturdy 304 grade stainless steel blade with thick edges. The blades are rust free and of lasting quality. |
| | | |
| --- | --- | --- |
| | | |
| 5 STAINLESS STEEL JARS | . | 3 SPEED SETTING |
| The amazing mixer grinder comes with 5 different jars. These are designed to perfection with superior quality stainless steel and a sparkling mirror finish. The jar grinds faster and finer. | | The grinder comes with Stylish and ergonomic 3-speed setting front button switches. It also has a pulse and off button, which makes it highly convenient to use. |