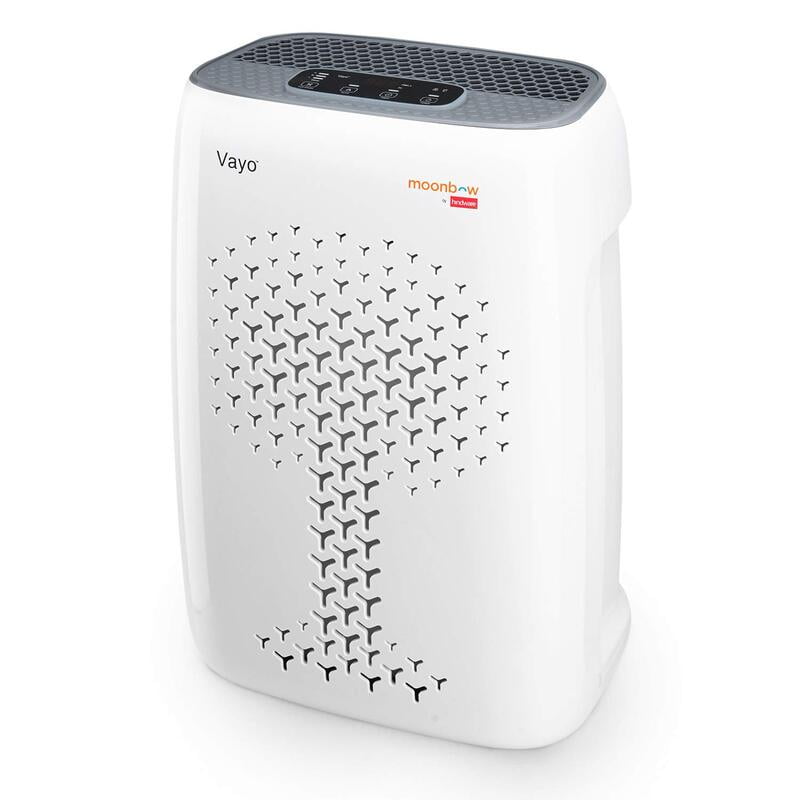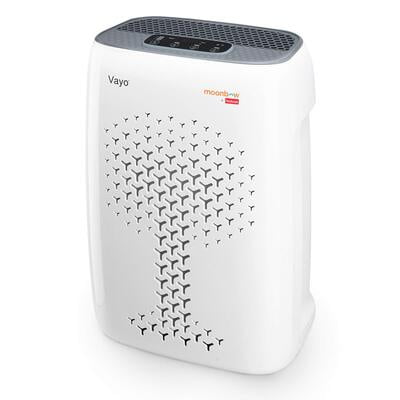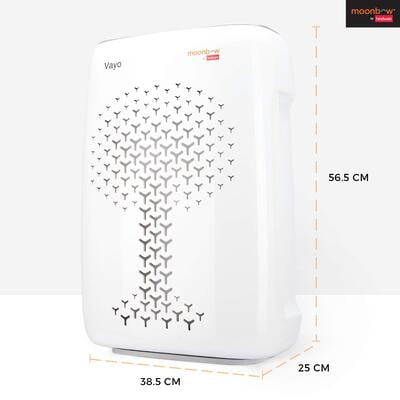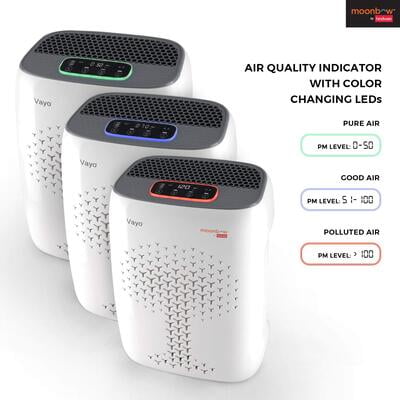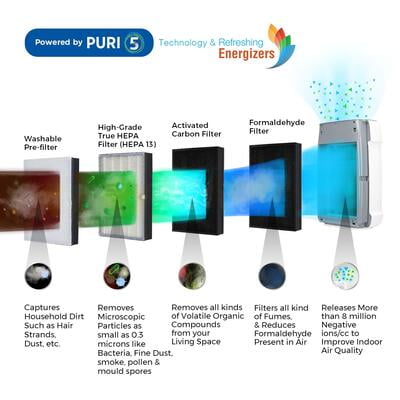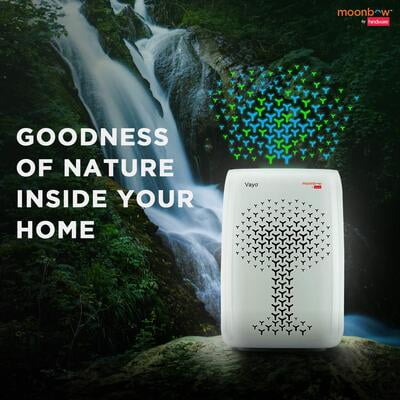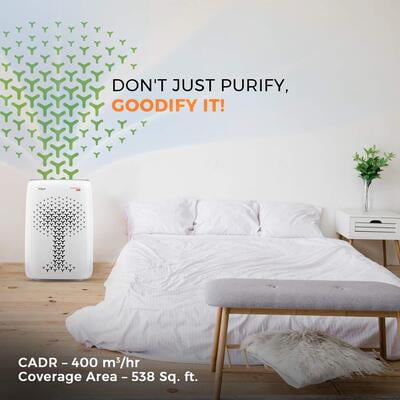 Moonbow by Hindware Vayo HS-KJ400 70-Watt Air Purifier
Get 100% Branded Products Only

7 Days Replacement Guarantee

A quality product from the house of hindware
Power: 70 watts
Operating Voltage: 220 - 240 volts
PM 2.5 indicator with LED display provides live update of PM level in your room

CADR (Clean Air Delivery Rate) of 400 m3/h, cleans air upto 5 times in an hour



Moonbow by Hindware Vayo HS-KJ400 70-Watt Air Purifier
Moonbow by Hindware Vayo air-purifier, with its patented Puri5-Technology and refreshing energizers comes with high grade true HEPA (HEPA 13) filter, which removes 99.9 percent of dust, mold allergen, viruses and filters 8 times smaller particles than PM 2.5. Additionally, the formaldehyde filter removes fumes and formaldehyde from the air. Moonbow Vayo is also equipped with PM 2.5 indicator with LED display and user friendly touch panel for convenience.
Clean Air Delivery Rate and Coverage Area
With a Clean Air Delivery Rate of 400 m3/h, Vayo cleans a coverage Area of 538 sq.ft in only 15 minutes.
High grade true HEPA(HEPA-13) Fillter removes microscopic particles as small as 0.3 microns in size such as fine dust, bacteria, pollen and smoke. It filters 8 times smaller particles than PM 2.5.
Activated Carbon filter freshens the air by removing all kinds of odours, harmful gases and volatile Organic compounds (VOC's) from your living space.
The formaldehyde filter, Filters all kind of smog, fumes and reduces formaldehyde present in air.
Add goodness of nature to make you feel fresh
| | | |
| --- | --- | --- |
| Brand | | Hindware |
| Model | | Vayo HS-KJ400 |
| Model Number | | Vayo HS-KJ400 |
| Generic Name | | Air Purifier |
| Manufacturer | | Moonbow by Hindware |
| Power | | 70 Watts |
| Operating Voltage | | 220 - 240 volts |
| Color | | White |
| Included Components | | Air Purifier and User Manual |
| Power Source | | Electric |
| Power Wattage | | 70 Watts |
| Filter Type | | HEPA 13 / Carbon / Formaldehyde |
| Refreshing Energizers | | Yes |
| Real-time PM2.5 Indicator | | Yes |
| Colour Changing LED | | Yes |
| Auto Mode | | Yes |
| Child lock | | Yes |
| sleep mode Indicator | | Yes |
| Clean Air Delivery Rate | | 400 m3/h |
| Coverage Area (upto) | | 50 m2 |
| Filter Replacement | | Yes |
| Warranty | | 4 Years |
| Country of Origin | | India |