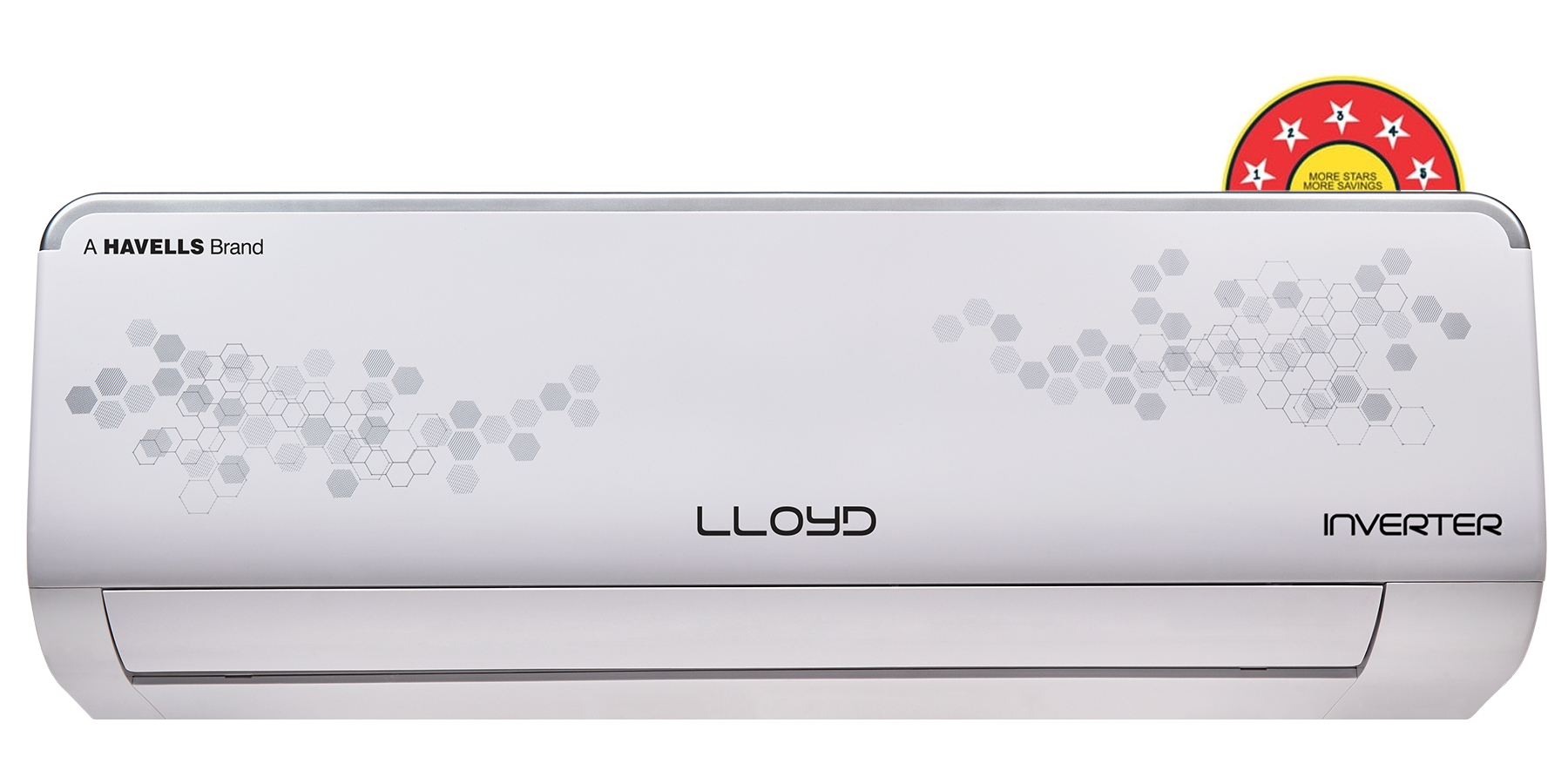 LLYOD Split AC Inverter - 1.5 - 5 Star (GLS18I56WFVR)
Get 100% genuine and authentic product
7 Days replacement guarantee
Anti Viral Dust Filter, Lloyd ACs traps the airborne contaminants including dust, pollen, spores, bacteria, viruses, etc. and gives you fresh, cool and clean air for a healthy living.
Hepa Filter
With rapid cooling this new-age AC cools faster than ever before. It takes just 45 seconds to give you a comfortable cooling of up to 18 °C. *(Under test conditions grill (air outlet of AC) temperature comes down to 18 °C after start of compressor, with indoor temperature at 25 °C and outdoor ambient at 35 °C)
Cools at 52 degree Celsius
Air Cooled Electric Control Box technology is used to effectively cool down the temperature of electric parts inside the outdoor unit, resulting in nonstop cooling at 52° C ambient temperature.
Upgrade your AC from normal to smart just by putting a small separate PCB. Double up the comfort of air conditioning in your homes.
"iD" - Intelligent Diagnosis
"iD" - Intelligent Diagnosis
"E5" - Low Gas Detection, the code enables engineers to identify the problem quickly.
LLYOD Split AC Inverter - 1.5 - 5 Star (GLS18I56WFVR)
| | | |
| --- | --- | --- |
| HIGHLIGHTS | | |
| Refrigerant | | R-32 |
| Comp. Type | | Duo Rotary |
| Star Rating | | 5 |
| | | |
| ELECTRIC DATA | | |
| Electrical Consumption (kWh) | | 891.66 kWh |
| Input current (Ampere) | | 6.14 A / 3.70 A |
| Power Supply (V / Hz / Phase ) | | 230 V /50 Hz / 1 Phase |
| | | |
| PERFORMANCE | | |
| ISEER | | 4.56 |
| ODU Noise (dB) | | 57 dB |
| IDU Noise (dB) | | 40 dB |
| Air Flow (m³/h) | | 880 m³/h |
| Input Power (W) | | 1392 W / 557 W |
| Cooling Capacity (W) | | 5250 W / 2625 W |
| | | |
| WEIGHT AND MEASUREMENT | | |
| ODU Net / Gross Weight (kg) | | 33.0 kg / 37.05 kg |
| ODU Dimension (L×W×H) in cm | | 89.8 cm x 36.3 cm x 59.3 cm |
| IDU Net / Gross Weight (kg) | | 12.3 kg / 15.0 kg |
| IDU Dimension (L×W×H) in cm | | 97 cm x 22 cm x 32 cm |