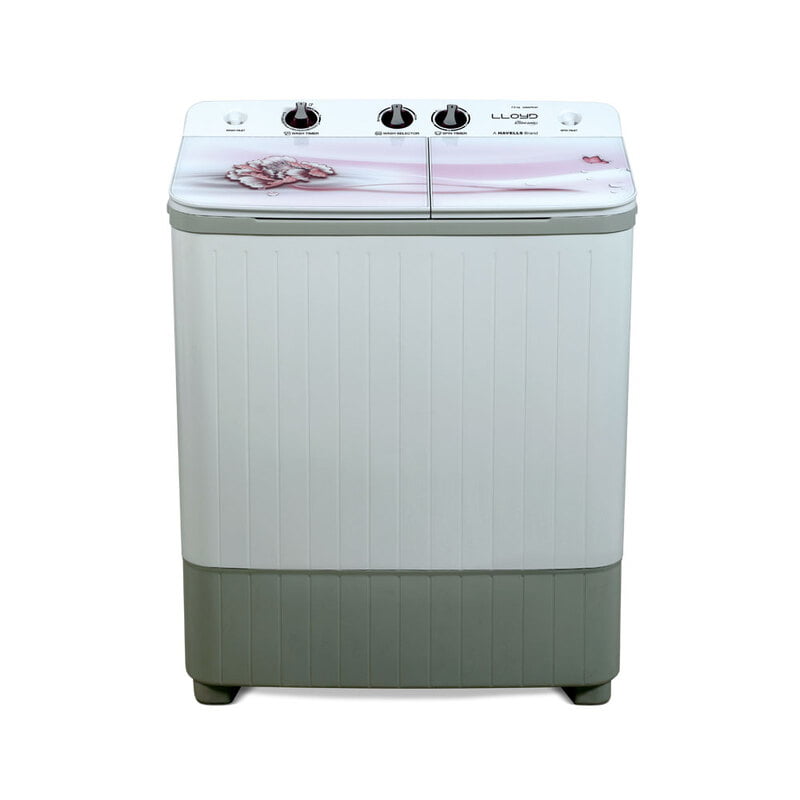 Lloyd LWMS70HE1 Semi Automatic 7Kg Washing Machine
Get 100% Branded Products Only

7 Days Replacement Guarantee




Toughened Glass Lids

F Shield Strong and Durable Motor

Powerful Pulsator with 6 Wings (Hexa Cyclone)

Active Soak

Powerful Pulsator with 6 Wings (Hexa Cyclone)

Magic Lint Filter

Spin Shower

Wash-end Buzzer

Castors

Lloyd LWMS70HE1 Semi Automatic 7Kg Washing Machine
This Lloyd LWMS70HE1 Semi Automatic 7.0 Kg Washing Machine comes with Toughened glass lids, F-Shield strong and durable motor, Active Soak, Powerful Pulsator with 6 wings (Hexa Cyclone), Magic Lint Filter, Spin Shower, Wash-end Buzzer and with castors.
This aesthetically Blue floral Pattern Toughened Glass lids are durable and allow hands free action.
F-Shield Strong and Durable Motor
F-Class insulation coating allows temperature to go up to 155 Degree centigrade which potentially increasing the life of the motor longer.
Helps in removing tough dirt and deep-seated stain by letting soak clothes in Detergent water before the washing begins.
Powerful Pulsator with 6 Wings (Hexa Cyclone)
Generate turbulent flow of water in the washing water which ensure best cleaning of laundry without tangling or twisting them.
Durable Magic Lint Filter ensures better collection of lint compared to conventional cloth filter, thus giving more hygiene wash every time.
Better rinsing as water sprays in your clothes during rinsing to remove detergent residue on all the clothes that have been washed. Thus it saves on additional rinsing time and water.
| | | |
| --- | --- | --- |
| Brand | | Lloyd |
| Model | | LWMS70HE1 |
| Model No | | LWMS70HE1 |
| Generic Name | | Washing Machine |
| Manufacturer | | Lloyd |
| Color | | White, Grey |
| Shade | | Light Grey |
| Capacity | | 7 Kg |
| Wash Program | | 2 |
| Frequency | | 50 Hz |
| Rated Voltage | | 230 V |
| Wash Motor (Wattage) | | 440 W |
| Spin Motor (Wattage) | | 160 W |
| Body Type | | Plastic |
| Machine Dimensions (w x d x h) | | 750 mm x 450 mm x 930 mm |
| Digital Display | | No |
| Display features | | Active Soak, Powerful Pulsator with 6 wings (Hexa Cyclone), Spin Shower |
| Lint Filter | | Yes |
| Other Convenience Features | | Magic Lint Filter, Wash-end Buzzer |
| Power Requirement | | AC 230 V, 50 Hz |
| Warranty | | 2 years on product and 5 years on motor warranty |
| Country of Origin | | India |