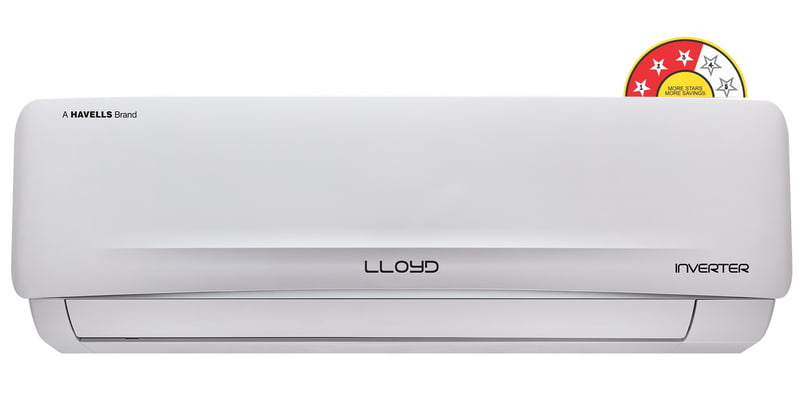 LLOYD GLS12I32WSEL 1 Ton 3 Star Split Inverter AC
Key Features

:-
PM

2.5

Air Filter
Rapid Cooling-18°C in 45 Second

Cools at 52°C

Golden Eva Coils

Two Way Swing

Hidden LED Display

Stabilizer

Free Operation



Valve Protection Cover

LLOYD GLS12I32WSEL 1 Ton 3 Star Split Inverter AC
Dillimall Provides you a wide range of Air Conditioner at reasonable price. The Lloyd GLS12I32WSEL 1 Ton Split Inverter AC comes with 3
Star
BEE Rating,
Golden Eva Coils and
Two Way Swing. The PM2.5 Air Filter in Lloyd ACs traps the airborne contaminants including dust, pollen, spores, bacteria, viruses etc. And gives you fresh, cool and clean air for a healthy living.
Rapid
cooling - 18°C in 45 second with rapid cooling this new-age AC cools faster than ever before. It takes just 45 seconds to give you a comfortable cooling of upto 18°C (Under test conditions grill (air outlet of AC) temperature comes down to 18°C after start of compressor with indoor temperature at 25°C and outdoor ambient at 35°C). Cools at 52°C air cooled electric control box technology is used to effectively cool down the temperature of electric parts inside the outdoor unit, resulting in nonstop cooling at 52°C ambient temperature.
PM

2.5

Air Filter
Rapid Cooling-18°C in 45 Second

Cools at 52°C

Golden Eva Coils

Two Way Swing

Hidden LED Display

Stabilizer Free Operation

Valve Protection Cover
Lloyd GLS12I32WSEL Inverter split AC Golden Eva coils protects the ACs from salty air, rain water and dust. It also helps in improving heat efficiency. Enjoy coolness in this summer heat with this two-way swing feature that directs the air flow in your AC horizontally by opening the air vane in the counter clockwise direction. A hidden Intelligent central digital dynamic LED display that indicates the operation status vividly. This smart feature makes use of technology smart and user friendly. Stabilizer free operation Lloyd Air Conditioners come with stabiliser free operation which prevents voltage fluctuations and also ensures safety, savings, ease and comfort. Volves in Lloyd Air conditioners are fully covered thus preventing gas leakage. Also it helps to prevent the mess of dripping water and stay clean and moist free.
| | | |
| --- | --- | --- |
| Brand | | LLOYD |
| Model | | GLS12I32WSEL |
| Model No | | GLS12I32WSEL |
| Generic Name | | Air Conditioner |
| Manufacturer | | LLOYD |
| Golden Eva Coils | | Yes |
| Stabilizer Free Operation | | Yes |
| Refrigerant | | R-32 |
| Comp. Type | | Rotary |
| Star Rating | | 3 |
| Input Current (Ampere) | | 5.02 A/ 2.53 A |
| Power Supply | | 230 V /50 Hz/ 1 Phase |
| ISEER | | 3.61 |
| ODU Noise (dB) | | 55 dB |
| IDU Noise (dB) | | 46 dB/ 43 dB/ 40 dB/ 36 dB |
| Air Flow (m³/h) | | 610 m³/h |
| Input Power (W) | | 1137 W / 475 W |
| Cooling Capacity (W) | | 3480 W / 1740 W |
| Warranty | | 1 year on Product & 10 years on Compressor |
| Country Of Origin | | India |