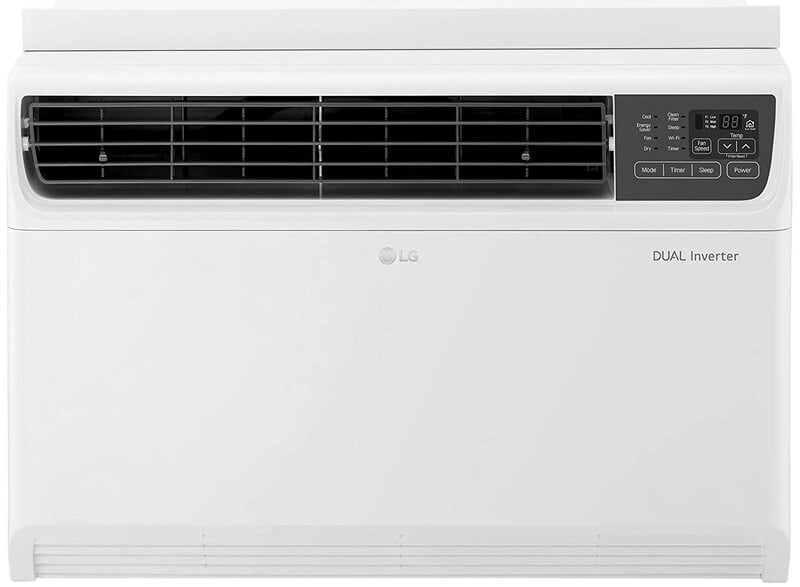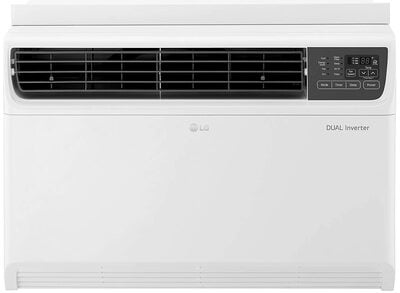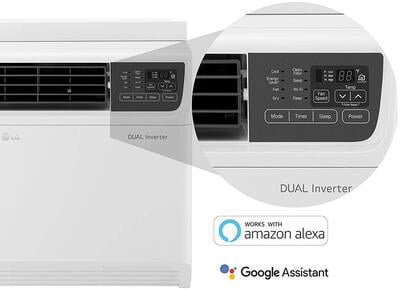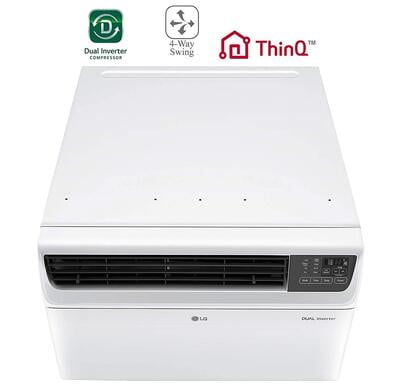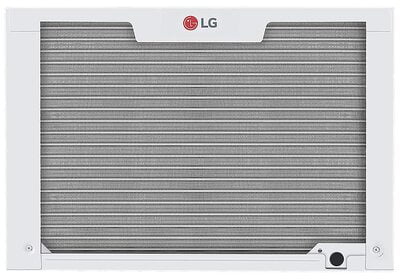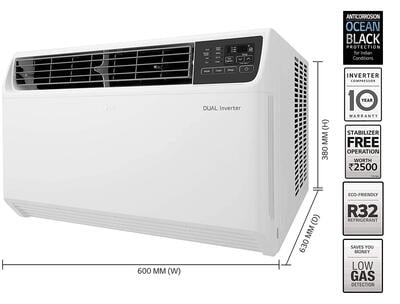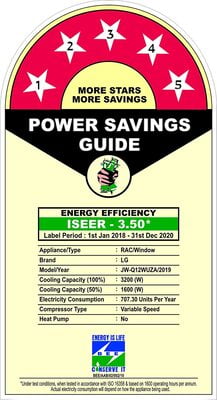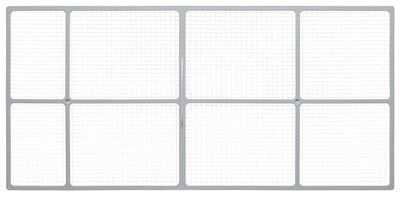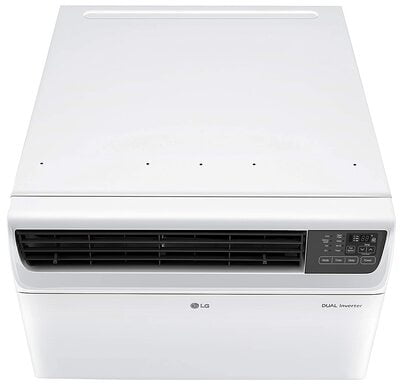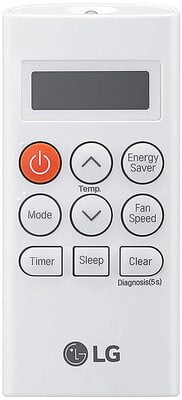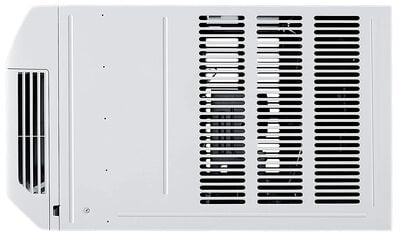 LG JW-Q12WUZA 1 TOn 5 Star Wi-Fi Inverter Window AC (2021 Model)
Key Features

:-
Windows AC with inverter compressor: Economical and easy to install. It has variable speed compressor which adjusts power depending on heat load and is energy efficient
Capacity: 1.0 Tonnage Range. Suitable for medium sized rooms (< = 110 square ft)
Warranty: 1 Year (Comprehensive), 10 Years (Compressor with Gas Charging *T&C)
Energy Rating: 5 Star. Best in class efficiency. Annual energy consumption: 707.30 units. ISEER value: 3.50 (please refer energy Label on product page or contact brand for more details)
Copper with ocean black protection: Prevents from Rust & Corrosion; Increase Durability ; Uninterrupted Cooling
Refrigerant gas: R32. Environment friendly - no ozone depletion potential and low global warming potential
LG JW-Q12WUZA 1 Ton 5 Star Wi-Fi Inverter Window AC
Dillimall Present The
LG JW-Q12WUZA Window AC
. It comes with
5 Star Wi-Fi Inverter Window AC
. 1.0 tonnage Range Capacity. Suitable for medium sized rooms (< = 110 square ft), It has variable speed compressor which adjust power depending on heat load and is energy efficient. 1 year comprehensive and 10 years compressor with gas charging *T&C.
LG JW-Q12WUZA 5 Star
Best in class efficiency. Annual energy consumption: 707.30 units. ISEER value 3.50. Copper with ocean black protection: Prevents from Rust & Corrosion; Increase Durability; Uninterrupted cooling. Refrigerant gas R32. Environment friendly - on ozone depletion potential and low global warming potential
Window AC with Wi-Fi inverter compressor
Annual energy consumption: 707.30 units.

Capacity: 1.0 Tonnage Range

Energy Rating: 5 Star

ISEER Value: 3.50

Copper with ocean black protection

Refrigerant gas:R32
Easily monitor and control your Air Conditioner at any time and from anywhere with LG's exclusive home appliances control app on your smartphone. LG DUALCOOL ThinQ models are compatible to your smartphones and AI speakers, such as Google Assistant or Amazon Alexa. From now on, you have to press a button, just say instead. LG will do the best. LG's stabilizer free technology ensures you saving, it also provide hassle free installation and enhances the aesthetics of your room by having less wiring installation. Stabilizer free operation protects the vital components of the machine becomes needless (145V~290V). However, if power fluctuation is beyond the mentioned limit then stabilizer is required. Top Air Discharge outlet and wider air flows helps in quick and uniform cooling throughout. Uses the latest R32 refrigerant gas which is environment-friendly and makes sure that you do not contribute to global warming while staying cool. low gas detection has several benefits, be it reducing inconvenience while trouble shooting or increasing durability which in returns increase air conditioner's life.

| | | |
| --- | --- | --- |
| | | LG |
| Model | | JW-Q12WUZA |
| Model No | | JW-Q12WUZA |
| Generic Name | | Air Conditioner |
| Manufacturer | | LG |
| Energy Efficiency | | 5 Star Rating |
| Capacity | | 1 Tons |
| Annual Energy Consumption | | 707.3 Kilowatt Hours |
| Noise Level | | 44 dB |
| Installation Type | | Window |
| Special Features | | Inverter,dust_filter,antibacterial_coating,dehumidifier,wifi_control |
| Colour | | White |
| Control Console | | Remote Control |
| Voltage | | 230 Volts |
| Material | | Steel |
| Included Components | | 1 AC Unit, 1 Remote, 1 Manuals, 1 Warranty Card, 2 Batteries |
| Batteries Included | | Yes |
| Batteries Required | | No |
| Battery Cell Type | | Zinc Carbon |
| Country of Origin | | India |