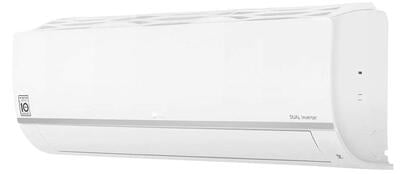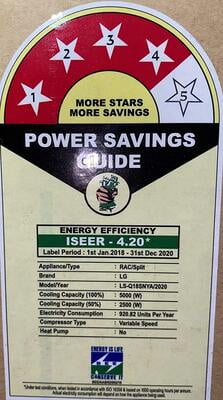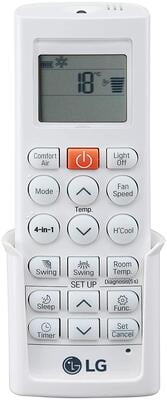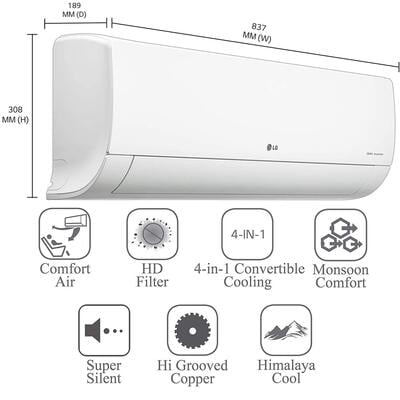 LG 1.5 Ton LS-Q18SNYA 4 Star Inverter Split AC
Get 100% Branded Products Only
7 Days Replacement Guarantee
Dual Inverter
4-in-1 Convertible Cooling
Ocean Black Fin
High Temperature cooling Score of 5
100% copper with Ocean Black Protection
Low Gas Detection
LG 1.5 Ton LS-Q18SNYA 4 Star Inverter Split AC
LG 1.5 Ton LS-Q18SNYA 4 Star Inverter Split AC.

Dual inverter compressor with rotary motor

LG LS-Q18SNYA 1.5T 4 star appraised split forced air system

with DUAL Inverter Compressor with Varied Speed Dual Rotary Motor has a more extensive rotational recurrence which saves more energy alongside higher speed cooling range. To offer incredible security against stickiness, dust, sand, smoke and substance present in climate,

LG DUALCOOL Air Conditioner

accompany Ocean Black Fins. This assistance to achieve expanded life expectancy for your forced air system and guarantees execution contrasted with ordinary blades. Accompanies the 4 Way air swing capacity (up-down + right-left) which blows the cool air in numerous ways to guarantee exhaustive cooling inside the room. Utilizations the most recent R32 refrigerant gas and ensures that you don't add to an Earth-wide temperature boost while remaining cool. low gas identification has a few advantages, be it lessening burden while investigating or expanding strength which in returns increment climate control system's life. HD Filter eliminates destructive substances from air, for example, microbes, dust, pet dander, residue, parasites and particles as little as 10 m in size, subsequently advantageous for wellbeing. EZ clean channel is intended for simple taking care of and speedy cleaning, prolongs the existence of your cherished Air Conditioner.
LG 1.5 Ton LS-Q18SNYA 4 Star Inverter Split AC
Unique sea dark assurance applied to both indoor and open air unit give extraordinary toughness to the climate control system in normal Indian locales influenced from sand, salt, mechanical smoke and poison.
| | | |
| --- | --- | --- |
| Brand | | LG |
| Model | | LS-Q18SNYA |
| Model No | | LS-Q18SNYA |
| Generic Name | | Air Conditioner |
| Manufacturer | | LG |
| Cooling Capacity | | 5000 W |
| Power Supply | | 220-240V, 50 - H |
| Compressor | | Dual Rotary/R-32 |
| ISSER Value | | 4.2 |
| Star Rating | | 4 Star |
| Air Circulation (CFM) | | 653/1093 |
| Noise Level (Indoor) | | 31 dB |
| Panel Display | | Magic Display |
| HD Dust Filter | | Yes |
| Auto Air Swing | | Up-Down/Left-Right Louvre |
| Dual Inverter | | Yes |
| Ocean Black Fin | | Yes |
| Ocean Black Protection | | Yes |
| Monsoon Comfort | | Yes |
| Himalaya Cool | | Yes |
| Low Gas Detection | | Yes |
| Comfort Air | | Yes |
| Smart Diagnosis System | | Yes |
| Ez Clean Filter | | Yes |
| Stabilizer Free Operation | | Yes |
| Warranty | | 1 year on Product & 10 years on Compressor |
| Country Of Origin | | India |