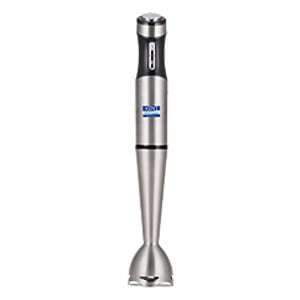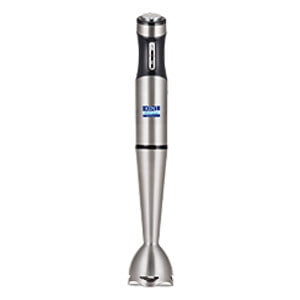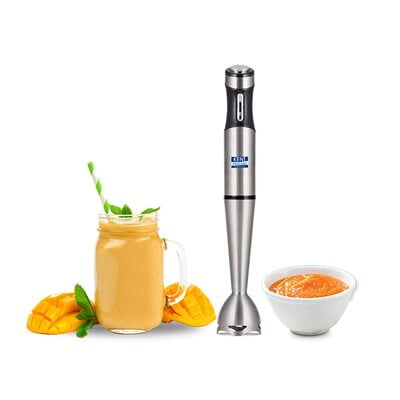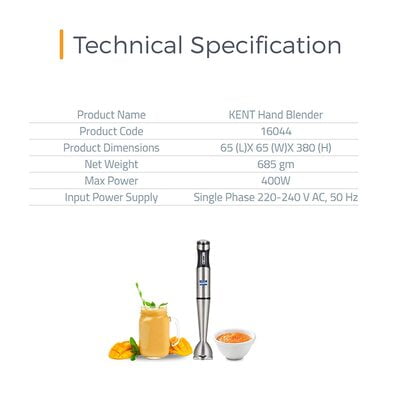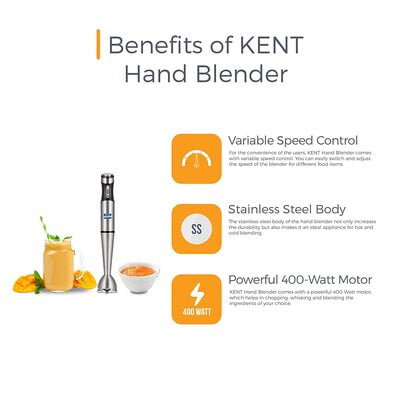 Kent Hand Blender SS-16044, 400 W, Silver
Kent Hand Blender SS-16044, 400 W, Silver
400 Watt power offers high speed
Comes with variable Speed Control
Stainless Steel Body suitable for hot and cold blending.
Has a Detachable Shaft
Easy to clean and store.
Warranty: 1 year warranty provided by the manufacturer from date of purchase
Power: 400 watts; Operating Voltage: 220 - 240 volts
Includes: Hand Blender with Power Cord- 01, User Manual.
Kent Hand Blender SS-16044, 400 W, Silver
KENT Hand Blender is ergonomically designed for convenience of handling. Using it will significantly speed up your cooking process as your ingredients, be it hot or cold, will get blended in no time. While the regular blenders and food processors that we mostly find in the market are cumbersome and difficult to use, the KENT Hand Blender offers both versatility and ease of use. To add on to that, its stylish design makes it the smart kitchen appliance that you've always wanted.