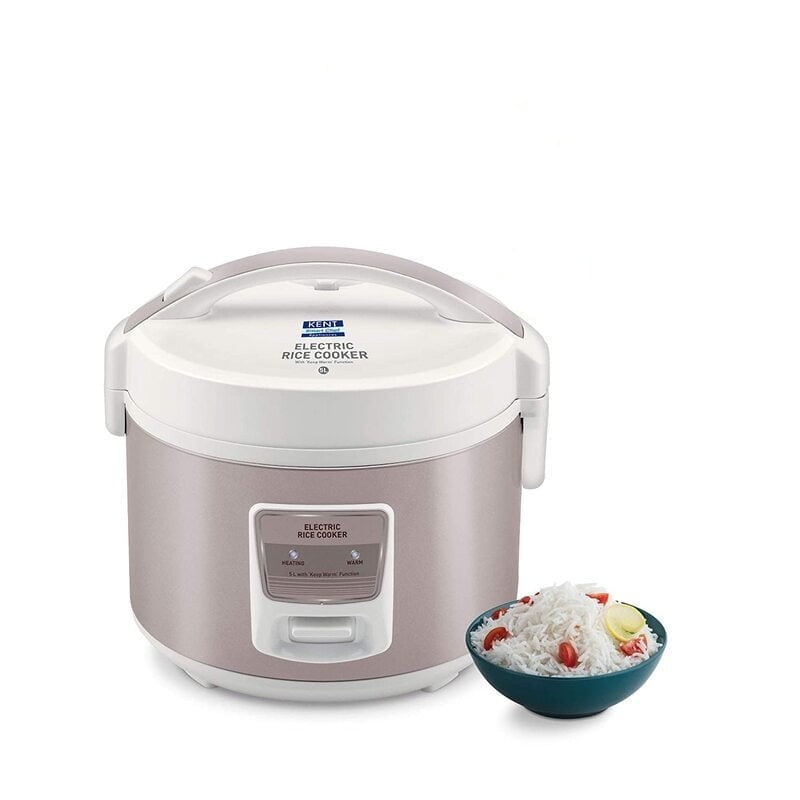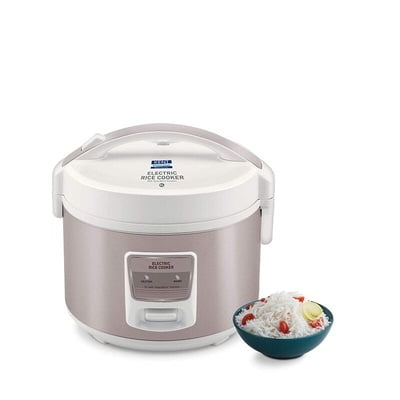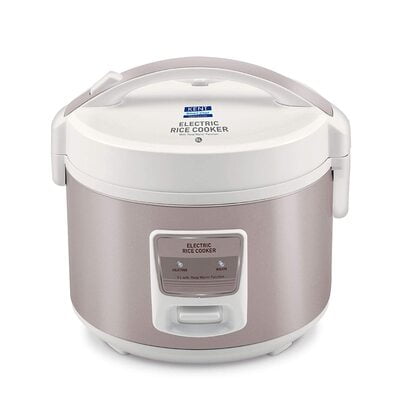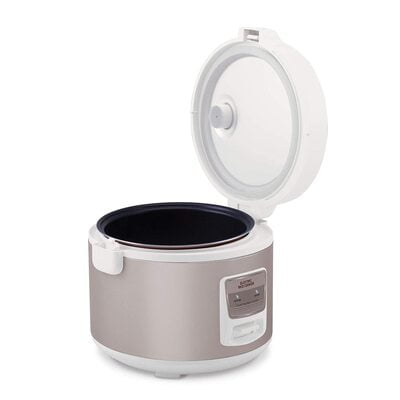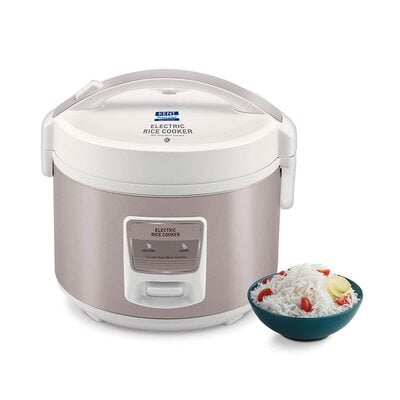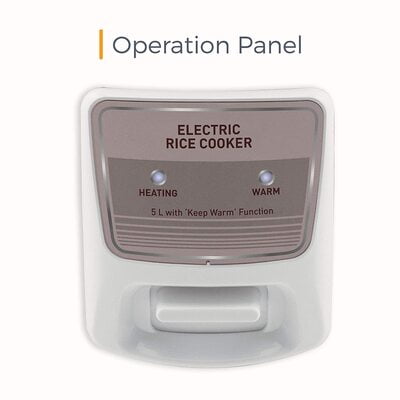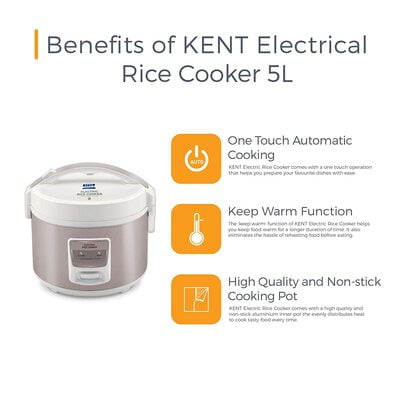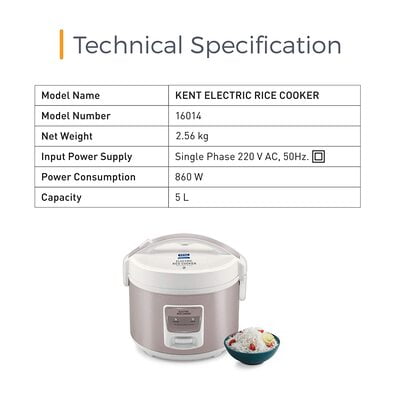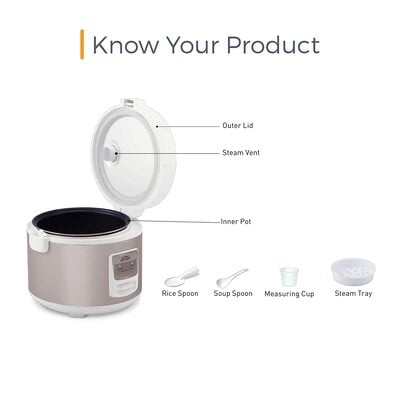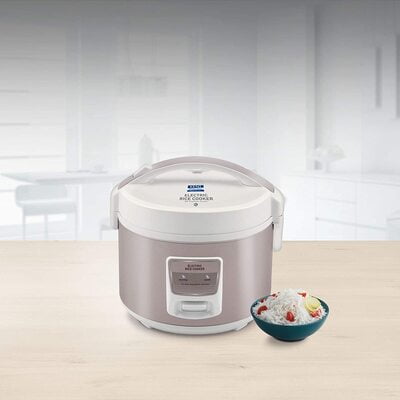 KENT Electric Rice Cooker 5-litres 700-Watt (White and Reddish Grey)
KENT Electric Rice Cooker 5-litres 700-Watt (White and Reddish Grey)
Kent Electric Rice Cooker comes with a one touch operation that helps you prepare your favourite dishes with ease
The 'keep warm' function of Kent Electric Rice Cooker helps you keep food warm for a longer duration of time. It also eliminates the hassle of reheating food before eating.
The innovative device not only makes cooking hassle-free but is also easy to clean and store making it the ultimate kitchen appliance
Capacity: 5 liters
1 Year Warranty
Power: 700 watts
Includes: Rice Cooker, Inner Pot, Steam Tray, Rice Spoon, Soup Spoon, Measuring Cup and User Guide
7 Days Replacement Guarantee
KENT Electric Rice Cooker 5-litres 700-Watt (White and Reddish Grey)
KENT Electric Rice Cooker-5L : Cook perfect rice, steamed vegetables and soups with the help of KENT Electric Rice Cooker, an innovative appliance that makes cooking easy and convenient. One Touch Automatic Cooking KENT Electric Rice Cooker comes with a one touch operation that helps you prepare your favourite dishes with ease. Keep Warm Function The 'keep warm' function of KENT Electric Rice Cooker helps you keep food warm for a longer
duration of time. It also eliminates the hassle of reheating food before eating. Easy to Clean and Store The innovative device not only makes cooking hassle-free but is also easy to clean and store making it the ultimate kitchen appliance. Cook and Serve Design KENT Electric Rice Cooker has an innovative cook and serve design. The grip handle makes it easy to carry the device wherever you need. High Quality and Non-stick Cooking Pot KENT Electric Rice Cooker comes with
a high quality and non-stick aluminium inner pot the evenly distributes heat to cook tasty food every time.
Kent Electric Rice Cooker
Now, forget the traditional way of cooking rice with the all-new KENT Electric Rice Cooker-5L. The smart appliance makes it easy to prepare rice as well as steamed dishes with a just a touch. Ideal for small families and bachelors, the rice cooker is also ideal for preparing steamed dishes such as momos and steamed vegetables.
What Makes Kent Electric Rice Cooker Unique ?
| | | |
| --- | --- | --- |
| | | |
| One Touch Operation | . | Keep Warm Function |
| KENT Electric Rice Cooker- 5L comes with one-touch operation which makes it easy to prepare your favorite dishes with convenience. All you need to do is add the ingredients and select the required function. | | For the convenience of the users, KENT Electric Rice Cooker- 5L comes with a unique 'Keep Warm' function. This helps in keeping the food warm for a long period of time, eliminating the need to reheat food. |
Non-Stick Coated, Aluminium Inner Pot

.

PAN India Service Network




For even distribution of heat, KENT Electric Rice Cooker- 5L comes with a non-stick coated, aluminium inner pot. This ensures that each grain of rice or any other food item is cooked to perfection.

For customers' complete peace of mind, KENT has more than 1500 service

centers

all over India. This makes it easy to get in touch with the trained technicians at a service

center

near you.
| | | |
| --- | --- | --- |
| | | |
| Advanced Induction Heating | . | Easy to Clean and Store |
| The appliance uses advanced induction heating technology which allows precise temperature adjustments within short span of time. | | Cleaning the cooking appliances is a hassle for many users. But KENT Electric Rice Cooker-5L is very easy to clean. All you need to do is use a wet tissue or soft cloth to wipe the inner pot. |
| | | |
| --- | --- | --- |
| | | |
| Ergonomic Handle | . | Cook and Serve Design |
| For the convenience of the users, KENT Electric Rice Cooker-5L comes with an ergonomic grip handle, which makes it easy to carry the device wherever you need. | | KENT Electric Rice Cooker has an innovative cook and serve design. You can easily detach the power cord and carry the appliance to the table to serve food. |