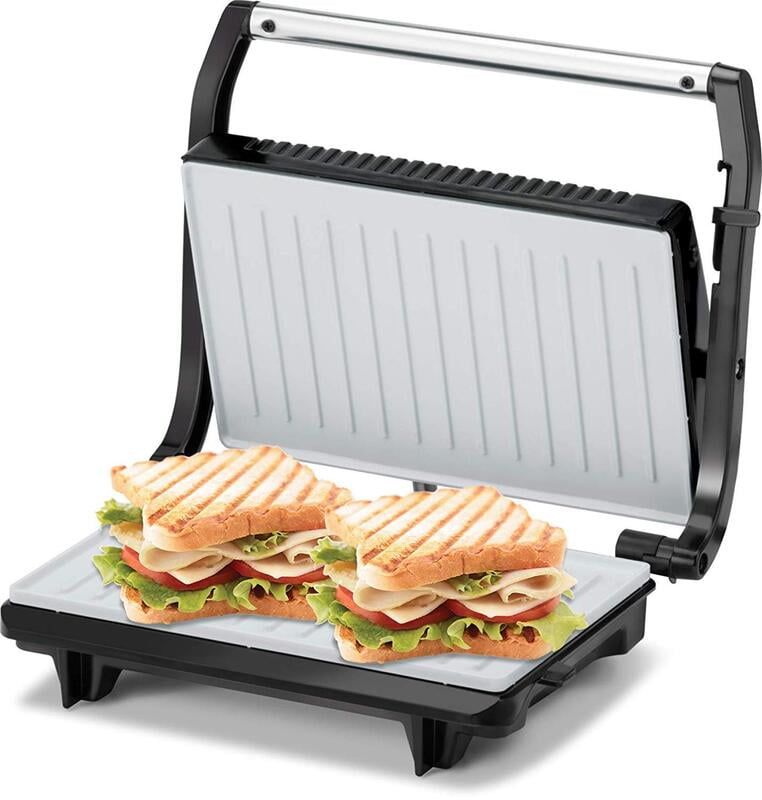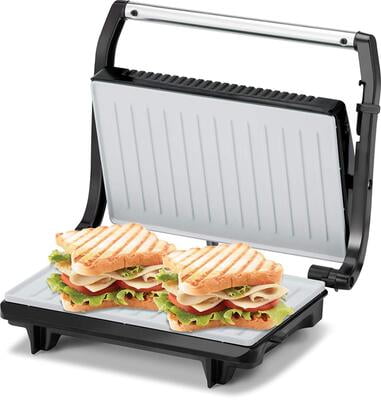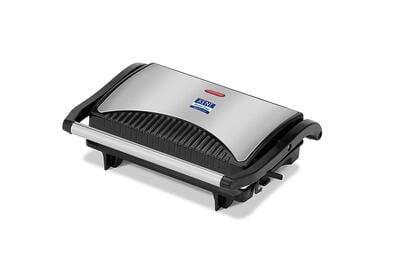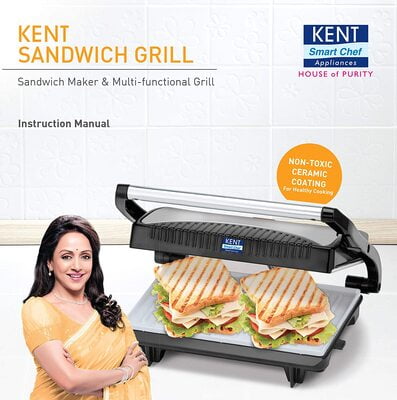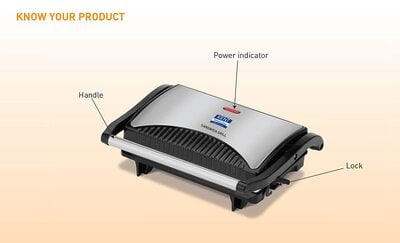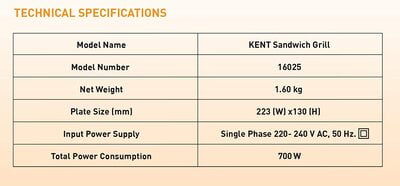 Kent 16025 700-Watt Sandwich Grill (Black)
Multi-functional grill, toaster and sandwich maker

Ergonomic handle with automatic temperature cut-off

Easy to use, clean and store

Warranty: 1 year on product

Power: 700 watts ; Input Power Supply Single Phase- 220- 240 V AC, 50 Hz.

Includes: Sandwich Grill and User Guide

Kent 16025 700-Watt Sandwich Grill (Black)
Kent sandwich grill make hot, tasty and delicious sandwiches within minutes. This compact sandwich maker also helps you prepare grilled dishes of your choice.
| | |
| --- | --- |
| KENT_Sandwich_Grill | |
| Multi-functional Appliance Now, ditch eating junk food and switch to healthy snacks with KENT Electric Sandwich Grill. Whether you need a perfectly grilled sandwich for breakfast or prepare grilled dishes for a small get-together, KENT Sandwich Grill is the right appliance for you. | |
What Makes Kent Sandwich Grill Unique?
| | | |
| --- | --- | --- |
| | | |
| Multi-functional Appliance | | Automatic Temperature Control |
| The smart kitchen appliance from KENT is ideal for grilling, toasting as well as making perfect cheesy sandwiches within minutes. | | KENT Sandwich Grill comes with an automatic temperature control feature with an LED indicator, which shuts off the appliance and notifies you when the sandwiches or grilled dishes are ready. |
| | | |
| | | |
| Easy to Clean | | |
| The non-stick coating makes it easy to clean the appliance. All you need to do is wipe the appliance with a moist cloth or tissue. | | |
| | | |
| --- | --- | --- |
| | | |
| Non-Toxic Ceramic Coating | | Adjustable Height |
| KENT Sandwich Grill has a high quality durable ceramic coating that doesn't release any hazardous gas onto the food or air to make food healthy and completely safe for consumption. | | The unique feature of the appliance makes it easy to adjust the height of the appliance according to the size of the food items. |
| | | |
| | | |
| Dual Cooking Surface | | |
| The appliance comes with a dual cooking surface which ensures that each side of the grilled snacks or sandwiches are cooked to perfection. | | |