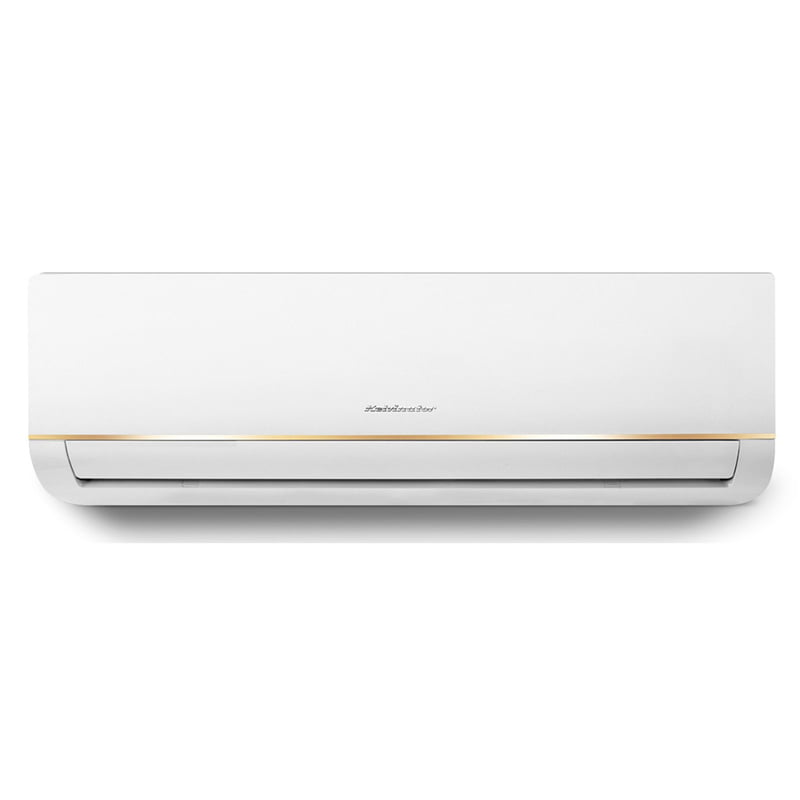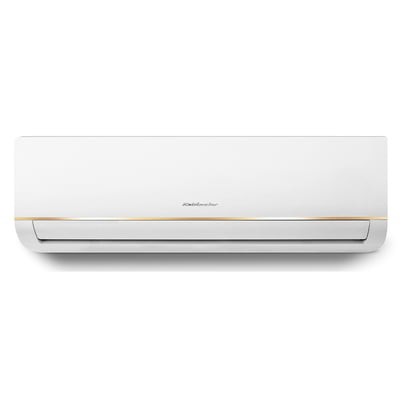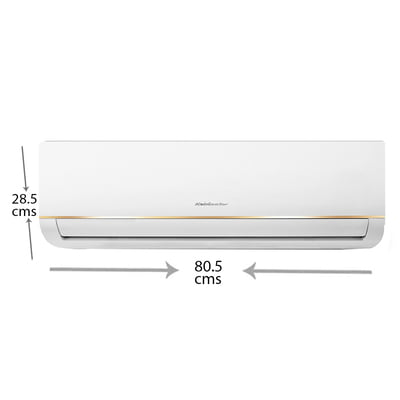 Kelvinator KAS-X12301B 1 Ton 3 Star Inverter Split AC
Key Features

:-
Golden Fin Coating
100% Copper Pure
Stabilizer free Operation
Self Diagnosis
Anti-Rust Outdoor Casing
Hidden Display Panel
Auto Restart
Anti-Bacterial Filter
Kelvinator KAS-X12301B 1 Ton 3 Star Inverter Split AC
Dillimall Present The Kelvinator KAS-X12301B 1 Ton 3 Star Inverter Split AC with Hidden Display Panel and stabilizer-free operation.
Advanced coating Fins with golden coating that repel water, there by increasing their longevity. Copper pure entails that all Kelvinator ACs use 100% copper across all their parts-be it the evaporator coil, condenser coil or the connecting tube. Pure copper has been used to improve cooling efficiency, fight against corrosion and save electricity.
Volt Stabilizer
Volt Stabilizer provides consumers with a stabilizer-free operation. Kelvinator ACs come with a voltage compressor that operates under a wide range of voltage fluctuations. So, even if your area is troubled with unpredictable electric surges and drops, Kelvinator ACs will always remain protected.
iClean
Automatically dries water and cleans dust particles from the coil when you press iClean/Self Clean on the remote.
iFollow
Senses the temperature around the remote and cools the air to reach the desired temperature when you press iFollow/Follow Me on the remote.
Eco Mode
Adjust airflow according to the default room temperature (24 degree C), thereby reducing energy bills.
Turbo Mode
Cools your room effectively by operating at the highest fan speed.
EcoGas
EcoGas helps more than just the environment. Kelvinator ACs use EcoGas – the R32 refrigerant – as it exposes people to lower toxicity and has a low global warming potential. EcoGas is the most preferred refrigerant in the market as it is less flammable and saves electricity.
TechVanced Inverter Compressor
TechVanced Inverter Compressor allows Kelvinator ACs to cool efficiently and save electricity. Unlike a conventional compressor, which draws high current every time it restarts to cool the air, Kelvinator's technologically advanced inverter compressor senses the room temperature and adjusts its operation accordingly to maintain optimum cooling.
| | | |
| --- | --- | --- |
| Brand | | Kelvinator |
| Model | | KAS-X12301B |
| Model No | | KAS-X12301B |
| Generic Name | | Air Conditioner |
| Manufacturer | | Kelvinator |
| ISEER Value | | 3.85 |
| Approx Room Size | | Upto 110 Sqft. |
| Condenser Coil | | Copper |
| Tonnage | | 1 Ton |
| Auto Clean Function | | Yes |
| DC Inverter Technology | | Yes |
| Filter Types | | Anti-Bacterial Filter |
| Max. Air Circulation | | 352.55 CFM |
| Input Power | | 2.05 KW |
| Refrigerant | | R32 |
| Noise Level | | 41.5 dB |
| BEE Star Rating | | 3 Star |
| Warranty | | 1 year |
| Country Of Origin | | China |